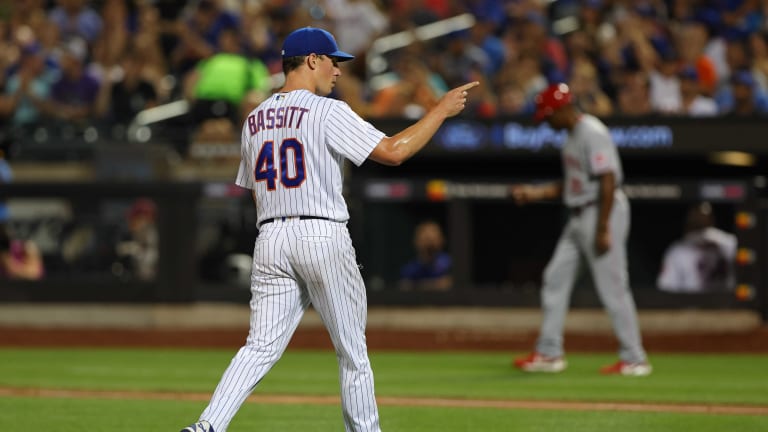 Cubs Interested in Chris Bassitt and Taijuan Walker
According to a report, two former All-Star pitchers could be on the Cubs' radar this offseason.
Per a report from Patrick Mooney and Sahadev Sharma of The Athletic, the Chicago Cubs have two former All-Star pitchers on their radar this offseason: Chris Bassitt and Taijuan Walker.
Taijuan Walker
Taijuan Walker has been a consistent middle-of-the-rotation-type pitcher in his entire 10-year MLB career. Last year with the Mets, the 30-year-old put up arguably his best season so far. Across 157.1 innings, the righty had a 12-5 record, 3.49 ERA, 132 strikeouts, 45 walks, a 1.195 WHIP, and a 111 ERA+ in 29 starts.
Walker has a history with Cubs starter Marcus Stroman. In 2021, the two hurlers played together with the New York Mets. Who knows, maybe Stroman gives Walker a call to help convince him to come over to Wrigley in the 2023 season?
The Cubs, like almost every other team this offseason, are looking to add pitching depth to their roster for next season. Walker could fit that bill easily by sliding into the third or fourth spot in the 2023 rotation.
According to Spotrac, Walker's estimated AAV is nearly $14 million. A nice two-to-three-year deal for the former Mets pitcher would make a lot of sense for the Cubs.
Chris Bassitt
Coming off a 2021 season that was the best of his career and included his first All-Star nod, Chris Bassitt followed up with another solid campaign in 2022.
In 30 games with the Mets, Bassitt pitched to a 3.42 ERA with 167 strikeouts, 49 walks, a 1.145 WHIP, a 113 ERA+, and an 8.3 K/9 across 181.2 innings. He also took the bulk of the innings load for a Mets' pitching staff that saw their two Cy Young Aces (Jacob deGrom and Max Scherzer) hit the injured list numerous times.
Bassitt has been a consistent pitcher throughout his eight-year career. Spending most of his time with the Oakland Athletics, he's posted a career 3.45 ERA and averages nearly 200 innings pitched per season.
Like Walker, Bassitt could slide into the two- or three-spot in the Chicago Cubs' rotation next season. But then again, he could prove to be the All-Star-caliber pitcher he was in 2021 with the Athletics and become the ace of the Cubs' staff. Either way, Bassitt would also be a solid addition to a Cubs' rotation that could always use a little more veteran leadership to complement its young and promising arms.