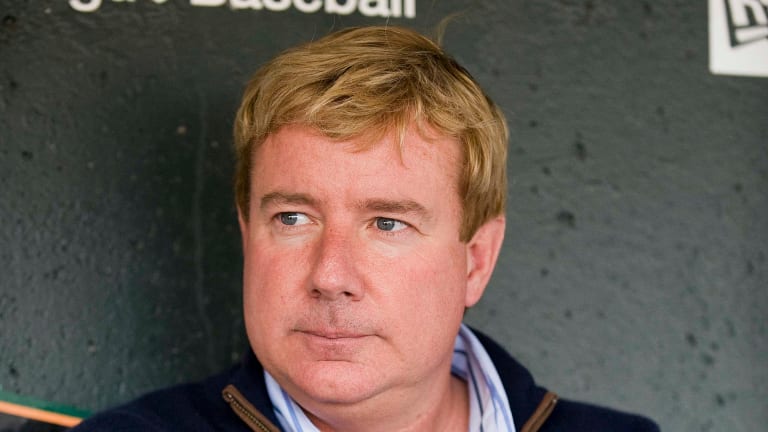 Jim Bowden Doesn't Believe the Cubs Will Land a Top Shortstop Unless...
Carlos Correa has been a hot topic in Cubs' offseason discussions. But what will it take to bring him to the North Side?
On Wednesday evening, I was getting some extra reading in, catching up on the latest free agency rumors involving the Chicago Cubs and the rest of baseball. What I came across on The Athletic truly puzzled me. Former MLB GM Jim Bowden answered a few questions in a free agency and trades mailbag.
A question was posed to him: "What's your best guess about the Cubs signing one of the big four free-agent shortstops? There's been so much back and forth about whether they would spend the money or (offer) the years, so an educated guess would be nice to hear." - Susan M.
Bowden's response is what threw me off a bit. Here's what he wrote.
Okay, so there's a lot to unwrap there. I don't necessarily think he's too far off track in thinking the Cubs will need to overpay in bidding wars against contending teams. However, is he trying to say each of the top four free-agent shortstops will request a 10-year, $300 million deal from the Cubs? If so, that sounds ludicrous to me.
I'm assuming that's different from what he means, considering he predicted the Seattle Mariners would sign Dansby Swanson to a six-year, $154 million deal ($25.67M AAV). But, a 10-year, $300 million deal to Swanson would come out to $30 million AAV. And so, I guess, it's not entirely out of the question that he's suggesting the Cubs or other nationally-viewed non-contending teams would need to shell out an extra four years and $4 million plus per season to acquire a top shortstop. 
Personally, I couldn't see someone like Swanson turning down a six-year, $166 million contract. That would be roughly two million more per season than Jim Bowden's predicted Mariners deal. And even then, I wonder if Swanson will cost that much. Most contract projections have Swanson valued between $22-$25 million AAV.
Selling Swanson or Xander Bogaerts on the idea of joining the Cubs isn't necessarily easy, but that's the next part I'm afraid I have to disagree with Bowden on. How hard do you need to sell a player on an organization when they're getting a long-term guaranteed contract and will enter a huge sports town and market like Chicago? They can tell that player, "If you take close to market value, we can add more impact players around you." Because, unlike most "non-contending" teams, the Cubs can afford to shell out much more money to become competitive quicker.
Bowden's thought process also undersells the Cubs' farm system and their current timeline. Things seem to be moving much quicker than an average rebuild.
More Free-Agent Shortstop Predictions From Bowden
Bowden predicted the other three top shortstops in the same article that he projected Swanson to the Mariners. He has Trea Turner going to the Los Angeles Angels on an eight-year, $264 million deal ($33M AAV). Xander Bogaerts finds a new home in Philadelphia, signing a seven-year, $196 million contract ($28M AAV) with the Phillies. And, here's where it gets fun, he predicts the Cubs will land Carols Correa on a 10-year, $327 million deal ($32.7M AAV). 
"The Cubs surprise everyone, especially me, and land Carlos Correa on a 10-year, $327 million deal, "wrote Bowden.
Wowza. That's a massive contract. It's close to most projections regarding the annual average salary ($32.7M). However, most predictions that show him landing that much money on a yearly basis predict eight to nine years in length. According to MLB Network's Jon Heyman, Correa was seeking $330 million to $350 million, and $330 million was the minimum before last offseason's lockout.
With all the smoke surrounding the four big-name free-agent shortstops, the Chicago Cubs are wrapped in a new report or prediction almost daily. Released Thursday morning on Marquee Network's YouTube channel, Sahadev Sharma of The Athletic predicts none of the four shortstops receive eight years or more, and the Cubs to sign Carlos Correa. Jon Morosi of MLB Network believes Correa desires to play for an iconic franchise and has always loved the Cubs.
What Will Happen?
Putting together the pieces, we have no idea how this will play out. If both what Morosi and Sharma say come to fruition, Carlos Correa may take closer to market value to sign with the Chicago Cubs. Indeed, Jim Bowden has many connections as a former MLB GM for the Cincinnati Reds and Washington Nationals. Still, how active is he in finding out what's transpiring behind the scenes, and who is leaking information leading him to believe the Cubs will need to overpay massively?
As Jim Bowden says, time will tell what will happen. The Cubs are in a good position to land one of the top shortstops on the open market, whether it means overpaying in dollars or years or paying the going rate. I tend to think it won't be as much of a market-topping deal as others believe. Generally, where there's smoke, there's fire. Nonetheless, it's a fun time of year, and more importantly, it's good to be a Cubs fan when it sounds like the team will be very active.