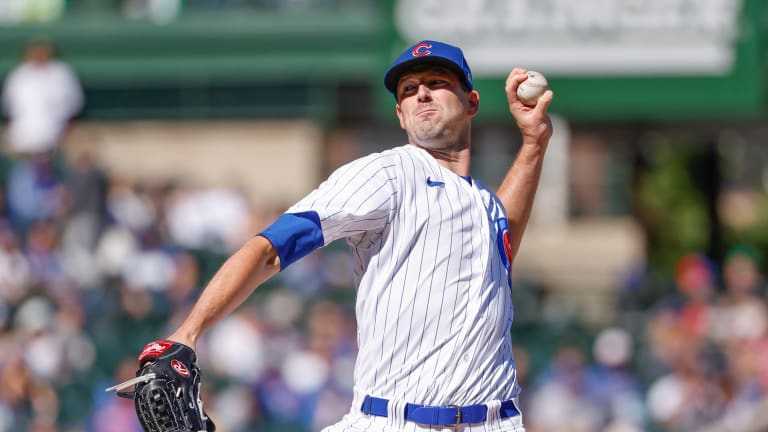 Cubs In Talks With/Front Runners For Drew Smyly, Tucker Barnhart
Following the Dansby Swanson signing over the weekend, it appears the Cubs are far from done in free agency.
Despite reports indicating the Chicago Cubs landed big-fish free agent Dansby Swanson, they are hardly done adding this offseason. According to a pair of reports over the weekend, the Cubs are nearing a deal with LHP Drew Smyly and are the front runners for catcher Tucker Barnhart's services. 
The Cubs began addressing their starting pitching needs this offseason by inking RHP Jameson Taillon to a four-year deal. However, depth in the rotation is still very much a need. After a fairly successful 2022 season in Chicago, it appears Smyly is going to be back for more with the Cubs in 2023. 
Smyly finished the 2022 campaign with a 3.47 ERA and 7-8 record in 22 starts. Although he dealt with some injuries, as most of the starting staff did early on, Smyly finished strong for the Cubs. His 91 strikeouts in 106.1 innings might not blow anyone away, but he only issued 26 free passes in comparison. Smyly gave the Cubs lengthy starts and chances to win every time he took the mound late in the season. His best run came in the month of August when he posted a 0.90 ERA over five starts. 
In addition, need for a catcher is no secret for the Cubs. With Willson Contreras' departure, and P.J. Higgins not likely ready to assume everyday No. 2 catching duties, adding an experienced veteran is key. Although most of the notable names have signed elsewhere, Tucker Barnhart is still available. Adding his defensive abilities as a platoon with Yan Gomes should benefit Cubs pitchers next season. 
Nothing is final yet. However, adding a defense-first catcher appears to be a priority for the Cubs, per reports. Yes, Barnhart isn't the flashiest name on the market. His stats are certainly lacking both with the bat and from an underlying perspective defensively. However, two Gold Gloves and a defensive mindset appear to be something the Cubs are interested in. Don't forget, David Ross and Craig Driver are former catchers, if anyone understands the ability to call a game behind the plate and it's importance for young starters (see the pattern?), those two certainly fit the bill. 
What's On Tap Next?
Ideally, the Cubs will get a few more smaller deals done before Spring Training. Adding a first baseman and third baseman may be in the cards. There is also a good chance they add one more bullpen arm. With that in mind, Jed Hoyer and company still have plenty of work to do. How much they'll get done before the holidays remains to be seen, but surely a move or two will be made before the Cubs Convention in a few weeks.