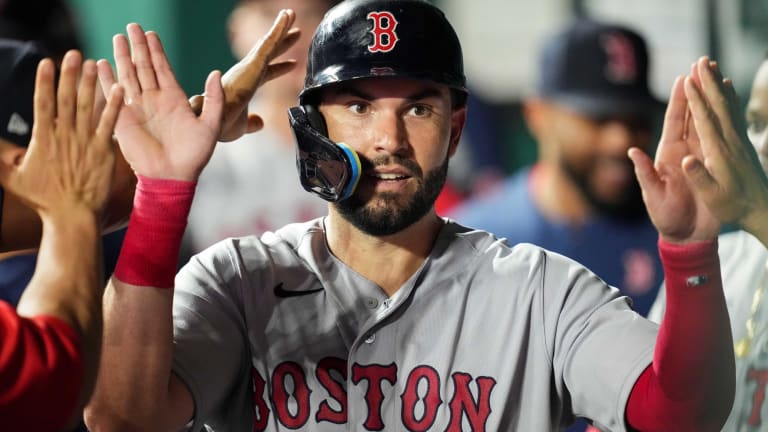 Cubs Make Hosmer Deal Official, Designate Leiter Jr.
The Cubs made the Eric Hosmer deal official on Friday, and designated reliever Mark Leiter Jr. for assignment.
The Chicago Cubs announced today that they have agreed to a one-year, major-league deal with first baseman Eric Hosmer.
After announcing a deal last week, it was only a matter of time before the Cubs made the Hosmer deal official. It's assumed that the four-time Gold Glove award winner will be the Cubs' starting first baseman on Opening Day.
Hosmer, a former World Series champion, will immediately provide veteran leadership to a rather young Cubs' clubhouse, and hopefully help minor leaguers, such as Matt Mervis, adjust to the majors once they are ready.
At the end of the day, Hosmer might not be the flashiest and most-thunderous bat in the lineup, but adding a four-time Gold Glover to a roster already filled with several other Gold Glove winners for the price of a cup of coffee (ok league minimum but you know what I mean), is never a bad thing.
Cubs Designate Mark Leiter Jr. for Assignment
To make room for Hosmer on the roster, the Cubs have designated relief pitcher Mark Leiter Jr. for assignment, according to Andy Martinez of Marquee Sports Network.
There's still a chance Leiter Jr. could return to the Cubs, if he clears waivers, and honestly a return to the Cubs bullpen in 2023 wouldn't be a bad thing. In 35 games with the Cubs last season, Leiter Jr. posted a 3.99 ERA with 73 strikeouts, 25 walks, a 1.138 WHIP, and a 103 ERA+ in almost 68 innings pitched.
Leiter Jr. was very impressive in the second half of the season as well. From August 4 to the end of the season, he appeared in 20 games, throwing up a 2.39 ERA with 29 strikeouts, 10 walks, and a .181 opponent batting average in just over 26 innings pitched.
With Cubs Convention kicking off today in Chicago, it's uncertain if Hosmer will make it to the convention. But who knows, maybe he'll be one of the surprise appearances tonight? You can check out the full list of events and activities at Cubs Convention here, which begins tonight at 5:00 p.m. CST with the Red Carpet Special.