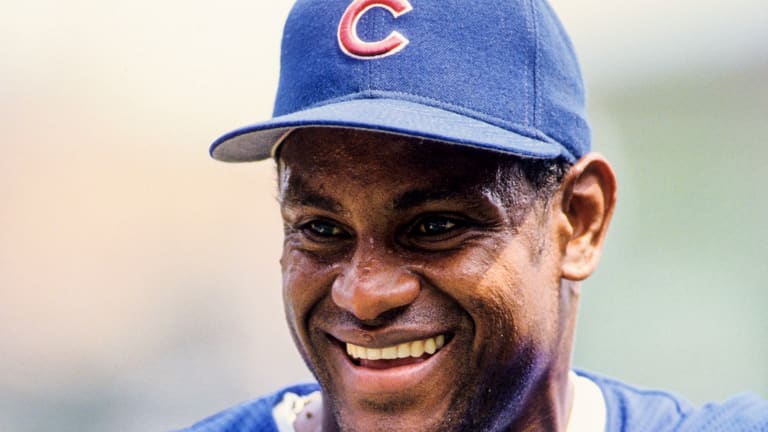 Reminiscing on the Last 5 Cubs MVP Winners
With MLB's MVP winners announced Thursday, let's look back at the last five Cubs to take home the award.
When MLB announced the 2022 MVP winners on Thursday night, it had me reminiscing over former Chicago Cubs greats to win the prestigious award.
Ever since the Baseball Writer's Association of America began voting on the award in 1931, Cubs players have won the MVP award nine times. Before 1931, players were awarded the Chalmers Award, which went to the most important and useful player to the club and the league. Let's look back at the amazing seasons of the last five Cubbies to win the honors.
Kris Bryant 2016
Kris Bryant was just one of several weapons for the Cubs' magical season in 2016, but the slugging third baseman stood out from the pack. Coming off seasons in which he took home NL Rookie of the Year (2015), Minor League Player of the Year (2014), and Golden Spikes (2013) awards, it was only fitting for Bryant to earn NL MVP honors in 2016.
Bryant made his MVP presence known early in 2016 with an impressive five-hit performance in early June against the Cincinnati Reds. The Las Vegas native smashed three home runs and two doubles, becoming the first player since 1913 with the accomplishment.
In 155 games, Bryant led the National League in WAR (7.3) and Runs (121) while adding 39 home runs, 102 RBIs, and a slash line of .292/.385/.554 with a .939 OPS.
Cubs fans can talk endlessly about all the players that helped contribute to the 2016 World Series championship, including an MVP-caliber season from teammate Anthony Rizzo (32 home runs, 109 RBI, .928 OPS), but it's safe to say that Bryant was the ringleader in 2016.
Sammy Sosa 1998
I am sick and tired of listening to people saying Sammy Sosa's summer of 1998 doesn't count because of steroids. It happened, and it was beautiful.
With MLB coming off a nasty strike in 1994, fans were looking for a reason to watch baseball again, and Slammin' Sammy helped the cause in a smashing way.
In 159 games, Sosa hit 66 home runs with 158 RBIs, 134 runs, and a slash line of .308/.377/.647 and a 1.024 OPS. He would also help the Cubs win the National League Wild Card and secure their spot in the playoffs.
If you had to pick one clip to watch of Sosa in 1998, look no further than his month of June. In 27 games, the slugger hit 20 home runs, breaking the record for the most home runs hit in a single month (which still stands today). He also recoded 40 RBIs, an .842 SLG, and a 1.173 OPS in that span.
With 30 first-place votes (98%) at the end of the season, it was no debate that Sosa was the clear MVP, even though Cardinals' slugger Mark McGwire may have hit more home runs (70).
Andre Dawson 1987
After allowing the Chicago Cubs to pay him just a little more than league average before the 1987 season, Andre Dawson was ready to prove to the organization just how much he was worth. I wish the Hawk would have finished out his career in Chicago, but at least Cubs fans got to see him in the middle of his prime.
The 1987 season was one for the trophy case for Dawson, and rightfully so. In 153 games, he hit 49 home runs with 137 RBIs, 24 doubles, and an .896 OPS. He also stood out in the outfield, winning his seventh Gold Glove Award as well as making his fourth All-Star game up to that point. He finished the season leading the MLB in both home runs and RBIs.
The icing on the cake for Dawson in 1987 could've been this impressive three-home run performance late in the season against the Philadelphia Phillies.
Ryne Sandberg 1984
After coming over in a 1982 trade with the Phillies that involved five-time All-Star Larry Bowa, Ryne Sandberg was almost considered an afterthought at the end of the deal. The future Hall of Famer would put those thoughts to bed rather quickly and planted his flag at Wrigley Field in 1984.
In 156 games, Sandberg batted .314 with 19 home runs, 19 triples (you read that right), 36 doubles, 84 RBIs, a .367 OBP, and an .887 OPS. He also led the National League in WAR (8.6) and Runs (114).
If you had to put a bow on Sandberg's 1984 season, look no further than a middle-of-the-summer classic Cubs fans like to refer to as the "Sandberg Game." On June 23, 1984, the Cubs battled it out against the St. Louis Cardinals on a Saturday afternoon at Wrigley Field. The Cubs would ultimately win the game 12-11 in 11 innings, mostly thanks to Sandberg's performance. In six at-bats, Ryno went 5-for-6 with seven RBIs and a pair of game-tying home runs in the ninth and 10th innings off Hall of Fame closer Bruce Sutter.
Ernie Banks 1958 & 1959
Chicago Cubs' Hall of Fame shortstop Ernie Banks was famously known for his "Let's play two" quote, but in 1958 and 1959 it was more like, "Let's win two MVPs."
Coming off a 1957 season in which Banks finished sixth in MVP voting, the Cubs shortstop was determined to capture the award the following year. He responded by smacking 47 home runs with 129 RBIs, 23 doubles, a .313 batting average, and a .980 OPS. He led the National League in home runs and RBIs, as well as games played (154), at-bats (617), and slugging (.614). He also finished second in all of MLB in WAR (9.3). Banks easily took home NL MVP honors by the end of the 1958 season.
To make things even more entertaining, Banks followed up his 1958 campaign with another monster season in 1959 that once again resulted in MVP honors. In 155 games, Mr. Cub hit 45 home runs with 143 RBIs, 25 doubles, a .304 batting average, and a .970 OPS. He led all of MLB in RBIs and WAR (10.2) and topped the National League in games played (155).
With an abundance of talent set to make the Cubs' major league roster in the near future, don't be surprised if a few current and future Cubs are in the discussion for MVP honors in the next several years. With guys like Matt Mervis, Brennen Davis, and Pete Crow-Armstrong itching to play in the big leagues, and the likes of Nico Hoerner and Ian Happ already making their case for top players in the MLB, the Cubs could have an MVP winner on their hands sooner rather than later.