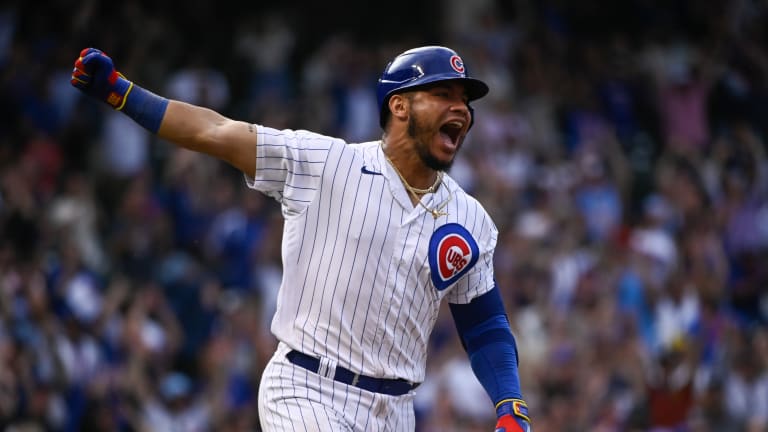 Cubs Reinstate Willson Contreras, Seiya Suzuki and More
With the final homestand of the season beginning on Tuesday, the Cubs made a number of moves before the series opener against the Phillies.
Monday's off day was very quiet for the Chicago Cubs. However, the team made up for it on Tuesday with a number of roster moves ahead of their series opener against the Philadelphia Phillies. Before Tuesday's game, the Cubs activated both Willson Contreras and Seiya Suzuki. Contreras is in the lineup for the Cubs as the designated hitter on Tuesday as well. 
As a result of the activations, the Cubs have designated Michael Hermosillo for assignment and returned Jared Young to Triple-A Iowa. The Iowa Cubs finish their season on Wednesday, allowing Young one more possible game before the season's conclusion. 
Hermosillo struggled for the Cubs this season. Despite missing time with injuries, Hermosillo failed to get in rhythm. His .115/.250/.148 slash line helps articulate said struggles. 
Young had a nice little run to begin his MLB career. Although only appearing in six games, Young was 5-for-19 with two doubles, three walks, and two runs scored. His numbers weren't outstanding, but it was a solid stint for the former 15th-round pick.
Contreras returns for the first time since August 30, when he last appeared before falling on the 10-day IL. These last nine games are important for the pending free agent as he looks to remind people of his value. 
For Seiya Suzuki, there is no certainty regarding when we'll see him in the lineup again. However, having him around the team for the final nine games will be good for the clubhouse morale. It will be even better if he can continue his excellent streak that he put together before taking a pitch to the hand in New York. Suzuki returns from the restricted list after a stint on the paternity list for the birth of his first child. 
What's On Tap Next?
The Cubs and Phillies open a three-game set on Tuesday night. Following the three-game series, the Cubs welcome Cincinnati to Wrigley Field for one final home series in the 2022 season. The Cubs venture to Cincinnati to end the season next week with a three-game set against the Reds.