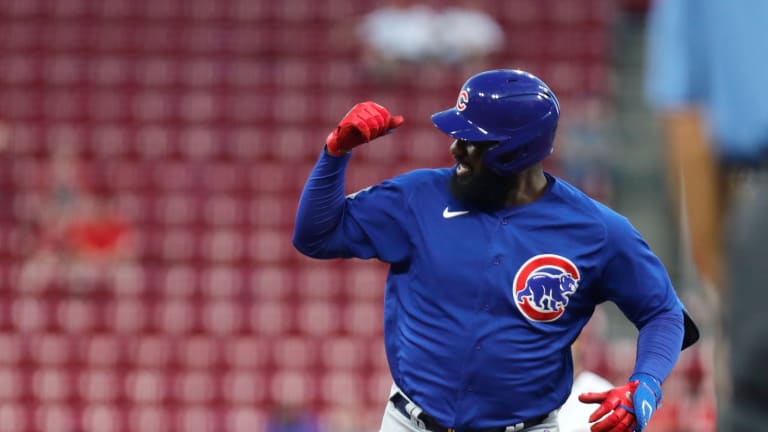 Cubs Roster Moves: 7 Players Outrighted, Franmil Reyes and Others Elect Free Agency
The Cubs are staying busy as bees.
The Chicago Cubs were busy shedding names from their 40-man roster on Thursday. The team announced that they outrighted seven players to Triple-A Iowa. Those names include midseason acquisition Franmil Reyes, utility infielder David Bote, and outfielder Narciso Crook for the position players. On the pitching side, Alec Mills, Steven Brault, Brad Wieck, and Anderson Espinoza were among the group.
During the season, the 60-day IL is sometimes a tool utilized to keep players on a team's roster that might otherwise get plucked by another club and claimed off waivers. Every player on the injured list needed to be reinstated or removed from the roster.
More importantly, clubs need to make room on their 40-man rosters for minor leaguers who need protection from the Rule 5 Draft. Nov. 15 is the deadline for teams to add minor leaguers to their 40-man roster.
Six of the seven players the Cubs outrighted to Triple-A have elected free agency. David Bote is the only exception, and he will likely remain with the organization due to his compensation.
David Bote
Bote's contract is guaranteed through the 2024 season on a five-year, $15 million deal he signed in 2019. The Cubs will pay him $4 million next season and $5.5 million in 2024. He has club options for 2025 and 2026. Technically, Bote could elect free agency, but he still needs to hit the five-year minimum service time required to retain his salary.
The Cubs can and most likely will add Bote back to the 40-man roster at some point next season. Injuries happen. Bote has suffered his fair share of them. Having a veteran (at this point) like Bote in the organization that can play three infield positions will help the team's depth. While consistency has been an issue, he's had some pretty electric moments over the years.
The 29-year-old hit .259 with a 109 OPS+ and 0.5 fWAR in 41 games with the Cubs last season. He also started to smash the ball over the final three weeks. Bote had a hard-hit ball in 13 of his final 14 games (52.6% HH), three homers, nine RBIs, and a 153 wRC+.
Notable Cubs Departing
Franmil Reyes
The 27-year-old Dominican needed a change of scenery after struggling mightily in Cleveland for most of the season. The Cubs took a shot on him and claimed him off waivers on Aug. 8. The big power hitter has two seasons of at least 30 home runs already under his belt and the Xubs desperately needed power.
Reyes performed better with the Cubs (93 OPS+ compared to 73 OPS+ with Cleveland). However, he tailed off a little and ended the season with a .234/.301/.389 (689 OPS) slash line with five homers and 19 RBIs in 48 games with Chicago.
MLB Trade Rumors projects his arbitration salary at $6 million for the upcoming season. There's a chance the Cubs will bring him back later, but they probably looked at his projected contract and thought it could be better spent elsewhere to improve the roster.
Narciso Crook
Crook has spent most of his time in the Reds' minor league system. The Cubs brought him in on a minor league contract last November. He got a little taste of the bigs this past season but played the majority of his games at Triple-A Iowa, where he hit .260/.345/.492 with 19 homers and a 120 wRC+.
Alec Mills
Mills struggled to stay on the field this past season, only pitching in seven games. The results could have been better too. Mills had a 9.68 ERA in 17.2 innings between the rotation and bullpen. The 30-year-old has sometimes pitched quality innings, highlighted by his no-hitter against the Brewers on Sept. 13, 2020.
If this is the last we've seen of Alec Mills in a Cubs uniform, he certainly deserves some appreciation and recognition. His birthday is right around the corner as well.
Steven Brault
The Cubs took a flier on Brault when they signed him to a cheap one-year deal shortly after the MLB lockout. Brault had a mini-breakout in 2020 with the Pittsburgh Pirates, throwing up a 3.38 ERA in 11 games pitched. However, he's been unable to stay on the field each of the last two seasons due to injuries. Brault was solid in nine relief appearances with the Cubs this past season (3.00 ERA), and the Cubs have a need in the bullpen for another lefty, so the two sides may reunite at some point. But for now, the musician is a free agent.
Brad Wieck
From one southpaw pitcher who's dealt with injuries to another. Wieck's case is frustrating. He's another lefty the Cubs could really use in the bullpen. Wieck is downright nasty when he's healthy. Much like Brault and Mills, however, he can't stay on the field. Whether it be heart procedures, hamstring strains, knee injuries, or, most recently, Tommy John surgery to repair his elbow, the big lefty can't catch a break.
He didn't pitch this past season and logged only one inning in 2020. It's unfortunate because he was utterly dominant in 2021. Wieck registered a 0.00 ERA with 28 strikeouts in 17 innings. Hopefully, he can get his body right, and we can see him pitch somewhere in the big leagues down the road.
Anderson Espinoza
Once one of the top prospect pitchers in baseball, Espinoza struggled to find his way on a major league roster because… care to take a guess? Injuries. He's undergone Tommy John surgery twice.
The Cubs landed Espinoza in a trade ahead of last year's deadline, sending depth outfielder Jake Marisnick to the San Diego Padres. The former Red Sox and Padres farmhand finally made his MLB debut in 2022 but struggled with a 5.40 ERA, and 5.61 xFIP in 18.1 innings pitched.
More 60-Day IL Activations
The players mentioned above included some 60-day IL activations. However, the Chicago Cubs activated five other players that remain on the 40-man roster for now: Kyle Hendricks, Codi Heuer, Ethan Roberts, Jason Heyward, and Rafael Ortega. The Cubs already announced Heyward will not return for 2023, so his removal from the roster is a matter of when and not if. I'd be surprised if Ortega sticks around as well.
The three pitchers, however, *should* remain with the Cubs organization. The Cubs are hopeful Kyle Hendricks will be ready to go by Spring Training. Heuer and Roberts are both recovering from Tommy John surgery. Their timelines for return are unknown, but it's likely the Cubs are trying to hold them on the 40-man roster until they can be moved back to the 60-day IL when Spring Training rolls around.
Busy Offseason Ahead
This is only the beginning. As mentioned, some players may return to the Chicago Cubs later. With the 60-day IL activations and outrights on Thursday, the Cubs cut their 40-man roster from 40 to 37(?). There seems to be confusion as to if it was 37 or 36 among Cubs reporters. The Cubs continued making newsworthy moves Friday, as they outrighted two more players to trim the roster to 35 (?). When looking at the Cubs ' website, I counted 35 players listed on the 40-man roster. Maybe people are already mentally removing J-Hey from the list, which makes sense.
Of course, a lot of these moves made sense, and most of them were all but guaranteed to happen. This will allow the Cubs room to wiggle and make additions via free agency. As always, we'll keep you posted here at On Tap Sports Net with any updates.