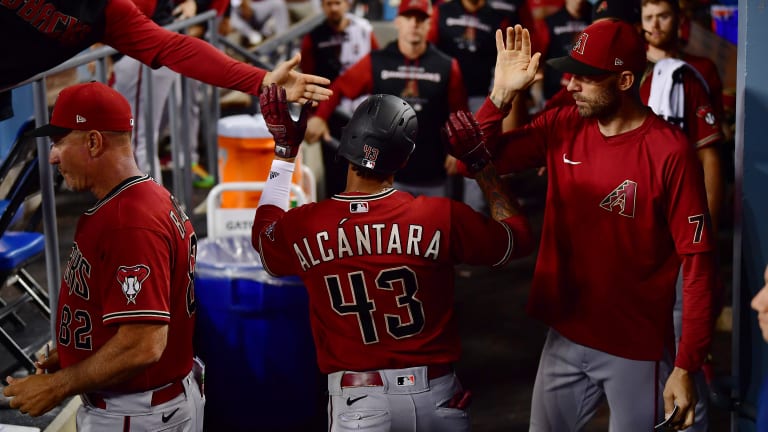 Cubs Sign Sergio Alcántara to Minor-League Deal
The Cubs welcomed shortstop Sergio Alcántara back to the organization, signing the 26-year-old to a minor-league deal.
The Chicago Cubs signed an old friend on Tuesday, nabbing shortstop Sergio Alcántara on a minor-league contract. Alcántara, 26, spent time with Chicago in 2021, playing in 89 games. After the 2021 season, the Cubs designated Alcántara for assignment to free up a spot on the 40-man roster, and the Arizona Diamondbacks picked him up for the 2022 season.
Of course, this is not a huge deal. Still, it's a good pickup for the organization. Luckily, the Cubs know what they have in Alcántara — a great glove who can play all around the infield and a below-average, switch-hitting bat. Having Alcántara as a guy who isn't taking up a spot on your 40-man roster but could easily come up to the big leagues and play good defense in a pinch is a no-brainer.
Furthermore, Alcántara had his best offensive season in 2022. Before he was waived by the Diamondbacks, Alcántara was slashing .241/.283/.406 with eight doubles, six home runs, and 26 RBIs in 186 plate appearances.
I mean, that's nothing to write home about, and he was absolutely awful with the San Diego Padres in a small sample size when they picked him up on waivers. Let's be honest, there's a reason teams weren't out there fighting to sign Alcántara to a big-league contract.
If the Cubs were signing Alcántara to a major-league deal, they'd likely be crucified. However, that isn't what this is. Now, Chicago will have a defensive-minded shortstop playing in Iowa, ready to join the MLB roster if needed.
Also, Alcántara is just 26 years old. I have five 26-year-olds in the Chicago Cubs' top 60 prospects. It isn't out of the realm of possibility that the Cubs could help Alcántara unlock some more consistency at the plate while playing in the minors. Even if that doesn't happen, it's hard to knock this move for Chicago.
We'll see how things play out, but signing Sergio Alcántara to a minor-league contract is so low risk that any benefit that comes from it is a clear win, and—if it doesn't work out—who cares? Depth is good to have, and depth that doesn't take up a 40-man roster spot is even better to have.