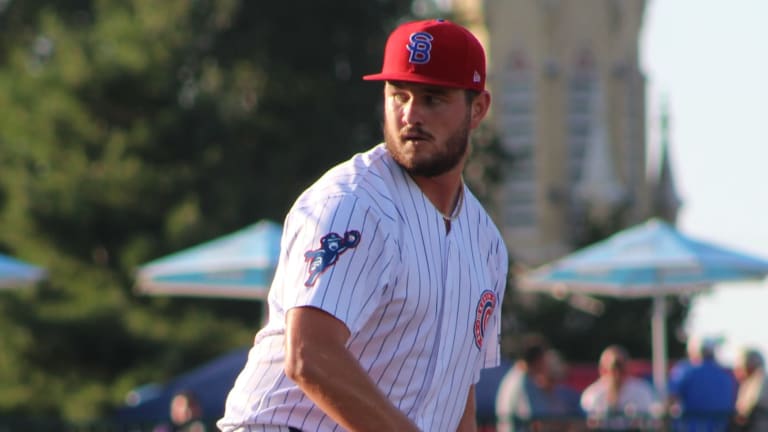 Chicago Cubs Around the Farm 20th Edition: 8/30/22
Check out the stars and underwhelming performers from around the Cubs' farm system on Tuesday, August 30.
The Chicago Cubs' farm system went undefeated on Tuesday, Aug. 30, which is exciting for all of the teams. Granted, Low-A Myrtle Beach had their game postponed, but they won that makeup game (more on that in Wednesday's edition), so it still counts!
Check out the highlights as Brennen Davis returned to Iowa, Zac Leigh continued his bullpen domination, and Luke Little continued looking more like a potentially legitimate starting prospect.
Triple-A Iowa Cubs: 4-0 Victory Over Columbus Clippers
Biggest Yes: Brennen Davis — 1/3, BB, HR (3)
Welcome back to Iowa, Brennen Davis! In the last edition of Around The Farm, we were just talking about Davis's slow start to catch up in High-A South Bend as he rehabs from back surgery. On Tuesday, though, Davis loudly announced he was back in Triple-A Iowa with an exclamation-mark home run in the seventh inning to put the Cubs up 4-0. It was a clutch long ball with two outs, and it was so nice to watch Davis round the bases after all the adversity he has faced this season.
Wyatt Short made a strong case for Biggest Yes Tuesday—5.0 IP, 2 H, 2 BB, 0 R, 5 SO—but you have to love the comeback storyline. As such, Davis, the Chicago Cubs' No. 2 prospect, gets the award here for Iowa.
Biggest Yikes: Luis Vazquez — 0/4, 2 SO, 4 LOB
Vazquez really struggled with the bat again on Tuesday. Not only did he leave four runners on base, but three of those also were in scoring position with two outs and Vazquez killed the scoring chance.
This season, the 22-year-old infielder started with Double-A Tennessee. Mostly due to his glove, he advanced to Iowa and has played the last 17 games at the Triple-A level. He swung a hot bat through July and the start of August for the Smokies, but he has struggled for the Cubs. Granted, Vazquez has some performances that are actually pretty solid at the plate, but those are counterbalanced with performances like Tuesday's.
Double-A Tennessee Smokies: 7-2 Victory Over Mississippi Braves
Biggest Yes: Zac Leigh — 1.1 IP, 0 H, 1 BB, 0 R, 3 SO
Leigh stepped onto the mound in the bottom of the eighth inning and effectively shut the Braves down through the end of the game. Three of the four outs he recorded were strikeouts—all of them coming in the ninth after surrendering a walk to Justin Dean to start the inning.
Leigh is just another one of the large pool of relievers the Cubs have in their farm system who seems like a really solid MLB arm in the near future. He pitched 17 games (23.0 innings) with High-A South Bend this season, during which he posted a 2.35 ERA, a 1.04 WHIP, and a .186 BAA. So far, in five games (5.2 innings) with Tennessee, Leigh is posting a 1.59 ERA, a 1.06 WHIP, and a .105 BAA. Oh, and he's struck out 10 over those 5.2 innings, good for a 17.31 SO/9.
Biggest Yikes: Cole Roederer — 0/5, 4 SO, 5 LOB
Yeah, this was a rough one for Roederer. Batting leadoff for Tennessee, Roederer never saw time on base and stopped potential runs right in their tracks. That's what happens when you ground into double plays, strike out 80% of the time, and leave runners in scoring position.
In the month of August, Roederer slashed .167/.239/.405. He struck out 19 times and only walked three times. It follows a July in which Roederer slashed .200/.275/.229. Not great for a guy recently viewed as a top prospect in the Chicago Cubs' system.
High-A South Bend Cubs: 4-3 Victory Over Lansing Lugnuts
Biggest Yes: Luke Little — 4.0 IP, 0 H, 0 BB, 0 R, 5 SO
Pete Crow-Armstrong (3/4, 2B, R, 2 RBI, SB) easily could have picked up his system-leading sixth Biggest Yes award. However, it was Luke Little's birthday! And he decided to go out and demolish Lansing batters for four perfect innings.
Little struck out the side in the top of the third and now has a 0.90 ERA in three starts (10 innings) for South Bend after crushing the competition in Myrtle Beach. Little, my 24th-best prospect in the Chicago Cubs' system, has a 0.90 WHIP and a .152 BAA in High-A, and he has yet to surrender a home run in 62.2 IP across both Low-A and High-A.
Biggest Yikes: Brad Deppermann — 0.2 IP, 2 H, 2 BB, 2 ER
Things were cruising along for the South Bend Cubs throughout this game. They were up 2-0 going into the fifth inning before Lansing picked up a run in the top of the fifth due to some control issues by Chris Kachmar, who was pitching at the time and walked in a run. Still, in the bottom of the fifth, Pete Crow-Armstrong doubled in Fabian Pertuz and Luis Verdugo singled to score PCA to make it 4-1.
Then, Deppermann came in to pitch the top of the ninth and collect a save. He started by walking Lawrence Butler. After inducing a groundout, he walked Jared McDonald. Deppermann got the second out on an infield fly, and it looked like he could get out of the jam. Unfortunately, Deppermann then gave up back-to-back singles to bring the game to 4-3. Luckily, Jarod Wright stepped in and—after some hiccups of his own—escaped the game with a Cubs win.