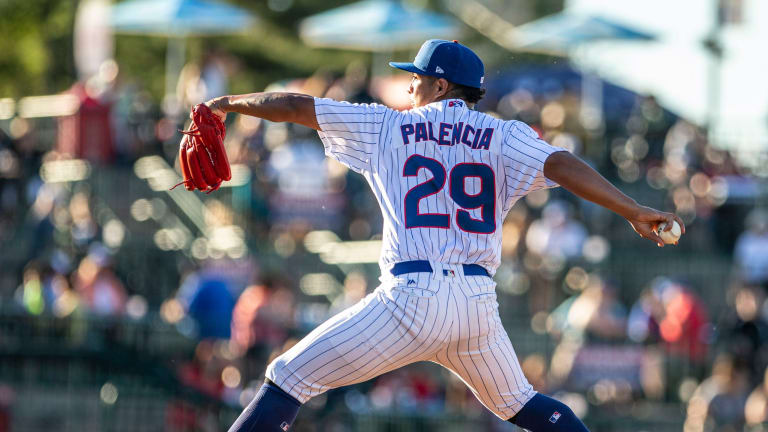 Chicago Cubs Around the Farm 35th Edition: 9/16/22
Check out the stars and underwhelming performers from around the Cubs' farm system on Friday, September 16.
Around the Chicago Cubs' farm on Friday, Sept. 16, South Bend moved on in the playoffs with a resounding 9-3 victory. Even as a hole was felt with Myrtle Beach not playing anymore after their elimination from the playoffs Thursday, there was a lot of fun to be had all around the Cubs' farm system.
Iowa joined South Bend as winners, and, even though Tennessee lost, the Smokies may have had the wildest game of all. Come on with as we dive into the best and worst performances of the day.
Triple-A Iowa Cubs: 7-6 Victory Over Memphis Redbirds
Biggest Yes: Esteban Quiroz — 3/4, HR (3), 3 RBI
Raise your hand if you predicted Esteban Quiroz collecting two Biggest Yes awards this season. After being, well, bad all season as the Cubs traded Harold Ramirez to the Tampa Bay Rays for him (oops), Quiroz has put together a solid September in Iowa. In 38 September at-bats, Quiroz had 12 hits, three doubles, and two home runs for a slash line of .316/.426/.553.
That's what the Cubs probably thought they were getting in Quiroz when they traded a 27-year-old outfielder with a similar batting average at the MLB level this season for him. Quiroz kept swinging a hot bat in this one, finding his way on base 75% of the time and smacking a sixth-inning home run to give the Cubs (up 5-3 at the time) some breathing room. It even propelled him to getting selected by the Cubs this weekend.
Biggest Yikes: Levi Jordan — 0/4, 2 SO, 2 LOB
Oof. Make it back-to-back Biggest Yikes awards for Levi Jordan. For the second-straight game, Jordan struck out in half of his plate appearances, and he left runners in scoring position when more runs could have been really comforting for the Cubs. It was the sixth inning after Quiroz hit his home run and Jordan struck out looking to end the inning with runners on second and third. He did get hit by a pitch and score a run in the first inning, so… there's that?
Double-A Tennessee Smokies: 12-13 Loss to Chattanooga Lookouts
Biggest Yes: Ben Brown — 4.0 IP, 5 H, 2 BB, 2 R, 1 ER, 8 SO
This game was a 12-13 offensive slugfest, so—you know—I gave Biggest Yes to a pitcher. If you look at Brown's stat line in comparison to the score, it actually makes his impressive performance stand out even more. Brown had three strikeouts in the first inning, another in the second, three in the third inning, and his eighth in the fourth inning.
Brown had a couple of rough performances in August when he was traded to Tennessee, but he has been outright dominant otherwise. Take out those two games on Aug. 12 and 21, and Brown has a 1.96 ERA in his other five starts. It's not his fault the Smokies' bullpen proceeded to give up 10 more runs when Brown was pulled.
Biggest Yikes: Peyton Remy — 3.0 IP, 4 H, 5 ER, 5 SO
Peyton Remy took over after Brown's solid outing and just got smacked. He gave up two home runs, a triple, and a double as part of his disastrous performance. He also had a 1-2-3 inning with two strikeouts in the sixth. That almost makes it worse that he was lit up for five runs. The good news in all of this is that Remy's five runs led to the excitement of a 13-inning game. The bad news is that those runs also very much led to the Smokies taking the loss.
High-A South Bend Cubs: 9-3 Victory Over Cedar Rapids Kernels
Biggest Yes: Daniel Palencia — 5.0 IP, 2 H, 0 BB, 0 R, 8 SO
In an elimination playoff game, Palencia came out and shut down the Kernels for five straight innings. It only took him 63 pitches to do so along the way. I have Palencia as the 24th-best prospect in the Chicago Cubs' system, and he showed why he may be rising further up the rankings. Essentially, there were two phases of at-bats while Palencia was on the mound:
1. Palencia throws the ball very fast.
2. Kernels batters missed it.
He only gave up two singles to Cedar Rapids, and one could very much have been an out. The Cubs' offense got off to a hot start, too, and they never had to worry about the Kernels catching up thanks to Palencia's work.
Biggest Yikes: Kevin Made — 0/4, 2 SO, 5 LOB
You know who didn't contribute to the offense getting off to a hot start? Yep. It is the sixth-time Biggest Yikes award winner Kevin Made. The dude just cannot catch a break offensively in High-A. The glove has been very solid, but he hasn't flashed the impressive defensive impact that has led to him ranking highly on Cubs' prospect boards all around. He's down at No. 38 for me, and I'm not convinced he shouldn't be lower.