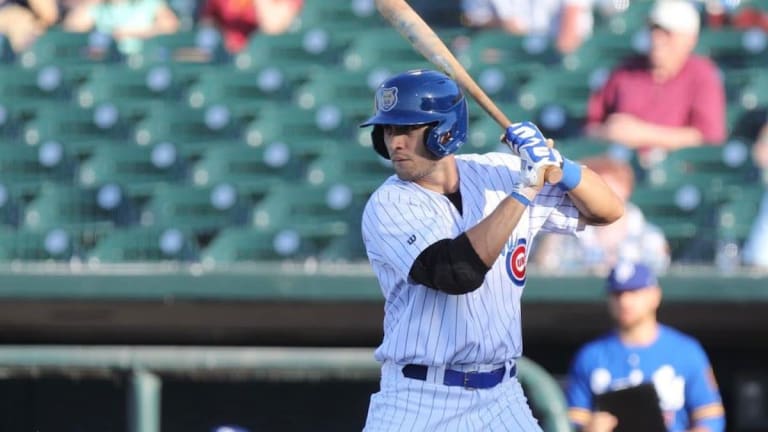 Chicago Cubs 2023 Prospect Profile: Darius Hill
The Cubs have tough decisions to make regarding their 40-man roster during the offseason. Outfielder Darius Hill is one possible addition.
The Chicago Cubs are going to face a 40-man roster crunch this offseason. While MLB-ready prospects with star potential aren't plentiful in Chicago's farm system, there are more players than roster spots for those who can contribute in the majors sooner rather than later. One of those prospects is 25-year-old outfielder Darius Hill.
Right now, in my top Cubs' prospects, Hill slots in as the 31st-best in the system. I have the hit tool as Hill's highest grade at 60 while his power comes in below average at 35. Everything else comes across as pretty decidedly average to slightly below average. Still, the hit tool is incredibly appealing; it's tied for the best in the Cubs' farm system with top-prospect Pete Crow-Armstrong.
In the 45 editions of my Around the Farm series this season, Hill took home four Biggest Yes awards, which left him tied with the fourth-most in the farm system in 2022. Three of those came in August when Hill hit a whopping .342 for the month with the Iowa Cubs.
Hill the Player
The Cubs selected Darius Hill out of West Virginia University in the 20th round of the 2019 MLB Draft. Right off the bat in college, Hill showcased his proficiency in making contact and putting balls in play. In fact, he never dipped below a .300 batting average in his four years there.
Since turning pro, Hill rarely missed a beat becoming the same type of player. He hit over .300 in his first season (2019) in the Cubs' rookie league and with the Low-A Eugene Emeralds. Hill actually advanced all the way to High-A South Bend in 2019, but that was really the only time and place he struggled with the bat, hitting just .224 in 94 plate appearances.
In 2022, Hill started the season with Double-A Tennessee without much buzz around him. To be fair, Cubs' fans had Brennan Davis, Pete Crow-Armstrong, Kevin Alcantara, and Alexandar Canario to be talking about when it comes to outfield prospects. Still, Hill slashed .308/.360/.487 with 13 doubles and six home runs in 201 plate appearances with the Smokies. It was enough to earn a promotion to Triple-A Iowa for the majority of the season.
Hill continued to do more of the same for Iowa. In fact, by some metrics, he did even better in Triple-A than he did in Double-A. The Iowa slash line for Hill was .318/.359/.434 with 23 doubles and three long balls in 373 plate appearances, and it became all the more clear who Darius Hill is as a player.
The player profile is pretty simple. Offensively, Hill is a left-handed bat with a compact swing that's designed to put balls into play. Watching him, his swing and approach at the plate are both very similar to what Cubs' fans see from Nico Hoerner and Nick Madrigal. I'd essentially qualify Hill as an outfield version of Tommy La Stella when he was in Chicago.
Hill is substantially better against right-handed pitchers than he is against lefties. 32 of Hill's 41 extra-base hits came against righties in 2022, and his batting average was under .300 with both Iowa and Tennessee against left-handed pitching. Interestingly, though, Hill still batted .284 in 87 plate appearances against lefties in Triple-A, indicating growth in that area.
Darius Hill's Splits

| Splits Against | BA | OBP | SLG | 2B | 3B | HR |
| --- | --- | --- | --- | --- | --- | --- |
| AA Tennessee LHP | .229 | .327 | .375 | 1 | 0 | 2 |
| AA Tennessee RHP | .336 | .372 | .526 | 12 | 1 | 4 |
| AAA Iowa LHP | .284 | .326 | .383 | 8 | 0 | 0 |
| AAA Iowa RHP | .328 | .368 | .450 | 15 | 4 | 3 |
In terms of speed, Hill is just about average. He won't swipe 20 bags like Hoerner, but Hill also won't be a total liability due to his speed in the outfield. Hill is a prototypical utility outfielder defensively. Left field is likely his best position, but he can at least manage right field and center if needed.
Hill's Fit on the 40-Man Roster
Whether or not the Chicago Cubs add Darius Hill to their 40-man roster this offseason, he will likely spend time at the MLB level next year. That is, as long as the Cubs can hold onto him.
At the very least, Hill will likely be placed on the 38-man Triple-A Iowa reserve list, which means he would only be eligible for the major-league phase of the Rule 5 draft. Still, when there are teams like the Oakland Athletics and Texas Rangers in desperate need of MLB-ready talent, taking a flier on a young, contact bat like Hill seems appealing.
Hill's usefulness to the Cubs will also depend on their other offseason moves. Likely, Hill could join the Cubs right now as a utility bat off the bench and hit over .250. If he had done that this past season, Hill would have had the seventh-best batting average on the Cubs. The issue is that you don't want to base a player's 2023 usefulness to the Cubs on the team's 2022 results. You don't want to just settle for, you know, a little better than bad.
Still, Hill is an intriguing name to watch as the Cubs (hopefully) move on from Rafael Ortega and other fringe-MLB players. As a left-handed bat with a ton of success batting leadoff in the minors, Hill could be compelling for Chicago.
On the other hand, Hill's offensive profile is so similar to Nico Hoerner and Nick Madrigal. While Hoerner is showing improved pop at the plate and stellar defense, the old-school batter with a high contact rate is not necessarily the player built for success in today's game.
40-Man Status Going Into 2023: Fringe 40-Man Roster; Certain 38-Man Reserve List