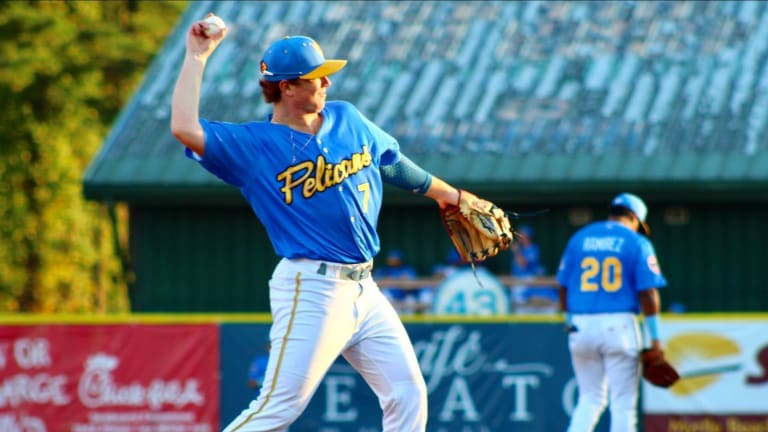 Chicago Cubs Around the Farm 21st Edition: 8/31/22
Check out the stars and underwhelming performers from around the Cubs' farm system on Wednesday, August 31.
The Chicago Cubs' farm system played five games Wednesday because the Myrtle Beach Pelicans had a doubleheader. I was excited about it because it was more baseball to watch Wednesday, but I was also upset because it helped the Cubs go 3-2 around the farm instead of their favorite record of 2-2. (If you're new to this series, this may not make much sense, but I swear the Cubs' farm system goes 2-2 like 75% of the time).
Of course, they went undefeated in the 20th edition, so I guess I am okay with the Cubs' farm not going 2-2 sometimes. Check out some excellent pitching performance recaps and more. Let's dive in.
Triple-A Iowa Cubs: 0-7 Loss to Columbus Clippers
Biggest Yes: Hayden Wesneski — 5.0 IP, 1 H, 1 BB, 0 R, 3 SO
After Anderson Espinoza dug Iowa a huge hole (more on that later), Wesneski came out of the bullpen for the first time with the Cubs and completely silenced the Clippers' bats. Right when Wesneski got to Iowa, he had a really rough start (8 ER in 1.2 IP and 4 ER in 4 IP). 
However, he has been shoving it ever since. Over his last 15 innings pitched, Wesneski has only given up one run and four hits. He's also struck out 15 for a K/9 of 9.0. It is certainly possible we see Wesneski in Chicago before the end of this season, so these are very encouraging performances to build on, even though the team got shut out and lost.
Biggest Yikes: Anderson Espinoza — 2.2 IP, 6 H, 1 BB, 6 ER, 3 SO
Espinoza got rocked out there. He gave up a home run in the first inning before pitching a clean second, but then the third inning came and things fell entirely off the rails. He got it to two outs and just a 0-2 hole, then he allowed two singles, threw a wild pitch, and walked a batter. When Espinoza was removed from the game, it was 0-4, but Blake Whitney gave up a home run in relief which scored the inherited runners from Espinoza.
So, theoretically, Espinoza didn't technically give up all six of the runs attributed to him, but he's tagged with them nonetheless. This makes four straight Triple-A appearances in which Espinoza has been lit up. That isn't a great sign.
Double-A Tennessee Smokies: 3-1 Victory Over Mississippi Braves
Biggest Yes: Riley Thompson — 5.0 IP, 2 H, 2 BB, 0 R, 3 SO
Riley Thompson has "stuff." He has a 60-grade fastball and an above-average curveball. His command has just not been there. Thompson's 5.55 BB/9 and eight home runs surrendered stand out when explaining his 5.36 ERA this season.
I still have him as my 40th-best prospect in the Chicago Cubs' system because of the weapons he has in his arsenal, and this game was an important example of why Thompson still has great potential. Even though he wasn't striking guys out as frequently as he typically does, Thompson still went through five innings without surrendering a run, and that makes all the difference in such a close game.
Biggest Yikes: Yonathan Perlaza — 0/4, 2 SO, 2 LOB
Perlaza continues his boom-or-bust ways, and this one was a bust. To contextualize that, Perlaza has three Biggest Yikes awards in August, and his slash line to end August? .274/.336/.604 with seven home runs. That's just the ebb and flow of Perlaza's bat.
I think I am a bit higher on Perlaza than others as I have him as the Cubs' 28th-best prospect. While he struggled immensely in April and May, Perlaza has been swinging a much better bat ever since, and I think he's got a future spot as a utility outfielder in Chicago, but this game was not great.
High-A South Bend Cubs: 4-2 Victory Over Lansing Lugnuts
Biggest Yes: Porter Hodge — 5.0 IP, 3 H, 1 BB, 0 R, 6 SO
Porter Hodge is ridiculous, man. He continues to pitch even better with South Bend than his already dominant showings with Myrtle Beach.
Hodge, my 23rd-ranked prospect in the Chicago Cubs' farm system, came out of the bullpen for the first time as a Cub and stopped any momentum the Lugnuts could build in its tracks. Of course, you know things are just working when you can execute a double play like the one in the clip above. Bravo, Hodge. Bravo.
Biggest Yikes: Fabian Pertuz — 0/3, 2 SO, 1 LOB
Poor Fabian Pertuz. He just picked up his farm-leading fourth Biggest Yikes award mostly because everyone else did better than him. Yes, Pertuz couldn't get on base, and he struck out 67% of the time. Still, that stat line usually wouldn't be enough to earn a Biggest Yikes. Unfortunately, everyone else either got on base or struck out less, and the pitchers were solid. Sorry, Pertuz.
Low-A Myrtle Beach Pelicans Game One: 1-5 Loss to Charleston RiverDogs
Biggest Yes: James Triantos — 2/3, HR (6), SB
I mean, the Pelicans only scored one run, so… let's give Biggest Yes to the guy who was solely responsible for it? Triantos hit a solo shot in the fifth inning, and he swiped his 16th bag of the season.
After a scorching hot start to the season, Triantos has struggled in June, July, and August. I have Triantos at No. 14 in the Cubs' top prospects, and he's still shaping up to be a legit threat at the plate as a top-of-the-order guy. Games like this one show that.
Biggest Yikes: Moises Ballesteros — 0/3, 2 SO, 1 LOB, E, PB
You guys, we have Around the Farm history here: Koen Moreno made an appearance and didn't get the Biggest Yikes award. I mean, he could have. Moreno pitched three innings and allowed up two hits, five walks, and two earned runs, but he did strike out four. Instead, Biggest Yikes goes to Ballesteros.
Not only did he put up nothing at the plate, but Ballesteros also had a throwing error, a passed ball, and he gave up five stolen bases on five attempts. I have Ballesteros as the Cubs' 20th-best prospect, but it is based entirely on the bat. He needs to clean up his game behind the plate to project as an impact catcher in the MLB.
Low-A Myrtle Beach Pelicans Game Two: 5-2 Victory Over Charleston RiverDogs
Biggest Yes: Chase Watkins — 3.0 IP, 3 H, 0 BB, 0 R, 4 SO
Watkins came into the game in relief after Luis Rodriguez gave up two runs in three innings. Over the next three innings, Watkins maneuvered through the RiverDogs' lineup and shut them down. That allowed the Pelicans to build upon their lead and get out of the game with the win.
Watkins, a ninth-round pick of the Cubs in 2021, is part of Chicago's plethora of legit bullpen prospects. The 22-year-old lefty has a 3.10 ERA, 1.32 WHIP, and .232 BAA in 52.1 innings pitched. We haven't touched on him in this series yet, but I always like to point out the absurd amount of depth the Cubs have in the farm when it comes to pitching.
Biggest Yikes: Moises Ballesteros — 0/4, 1 SO, 5 LOB
Ballesteros goes back-to-back with Biggest Yikes on the same day—a first in Around the Farm's history. He was the DH, so he couldn't commit fielding errors or have a bunch of runners steal bases on him, but he still managed to falter at the plate. Ballesteros left two runners in scoring position with two outs, left five on base, and never got on base. Yeesh, Ballesteros. Not a great look.