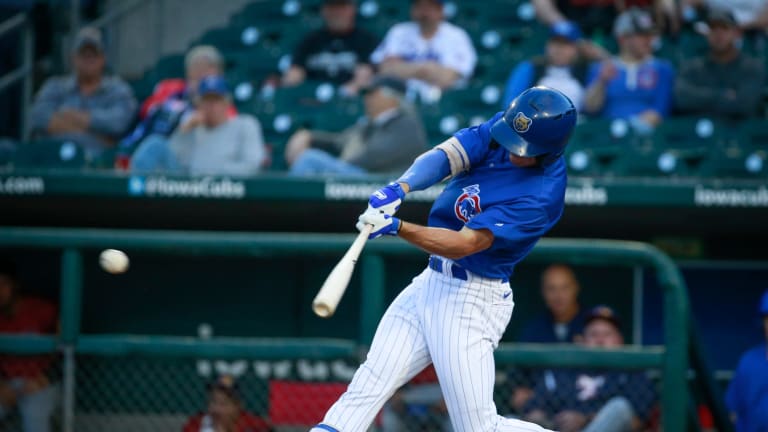 Chicago Cubs Around the Farm 45th Edition: 9/28/22
Check out the stars and underwhelming performers from around the Cubs' farm system on Wednesday, September 28.
Guys, this is the 45th edition of Around the Farm, and it is the final one of the season as both Triple-A Iowa and Double-A Tennessee ended their 2022 campaigns.
Iowa found a way to end a frustrating season on a high note with a walk-off win. Meanwhile, Tennessee—unfortunately—ended a promising season with disappointment, losing in the Southern League Championship. Even so, as always, there were pros and lows in these games, so let's check those out.
Triple-A Iowa Cubs: 4-2 Victory Over Toledo Mud Hens
Biggest Yes: Jared Young — 2/5, HR (17), 2 RBI
Fun! Jared Young ended the Iowa Cubs' season with a victory by hitting a walk-off home run. He's had an up-and-down season with Iowa, so it's also cool that he got to end his season on such a high note. This marks Young's fourth Biggest Yes award, but he's also had three Biggest Yikes awards, and I wasn't sold when Chicago called him up to the majors.
To his credit, Young performed admirably with the Cubs, slashing .263/.364/.368 in 22 plate appearances. Then, he came back to Iowa and did this. Good for you, Young!
Biggest Yikes: Matt Mervis — 0/4, 1 BB, 2 SO, 7 LOB
Mervis earned his 11th Biggest Yes award in the 44th edition of Around the Farm after hitting his 36th home run of the season. It's a shame he couldn't end on a higher note in the finale—I'm sure it's eating at him.
Mervis, who has frequently been one of the most clutch batters in the minor leagues, came up empty several times with runners on base. It didn't change the outcome of the game, but you still expect your potential player of the year in the Chicago Cubs' farm system and MiLB RBI leader to deliver in those situations. He didn't.
Double-A Tennessee Smokies: 4-11 Loss to Pensacola Blue Wahoos
Biggest Yes: Cole Roederer — 2/3, BB, HR, RBI
I really, really wanted Tennessee to bring home the Southern League Championship. They did not, and—while it really boiled down to their pitching once again failing them—the Smokies' offense also faltered in this one. Roederer stands out, though. He got on base 75% of the time, and he hit a solo home run. Granted, it was when the game was already out of reach, but the outfielder never gave up.
The 23-year-old really put together a quality postseason for the Smokies. In six games, Roederer slashed .316/.480/.684 with six walks vs. seven strikeouts and two home runs. I'm excited about it. He's showing what he can do when he's healthy, which hopefully bodes well for the future.
Biggest Yikes: Bailey Horn — 1.1 IP, 4 H, 3 BB, 4 ER, 3 SO
I literally just got done singing Bailey Horn's praises in the 43rd edition of Around the Farm. To that point, he had accumulated five Biggest Yes awards—third most in the Cubs' system—and was lights out in the playoffs. In this one, with the championship on the line (the Smokies were only down 3-6), Horn blew it.
To his credit, Horn was phenomenal in the sixth inning. He gave up a walk but then picked off the runner trying to steal. Then, Horn struck the next two batters out. In the seventh, though, it was death by a thousand paper cuts. Horn was giving up singles and walks as the Blue Wahoos built up their lead. After a double and another walk, he was finally pulled. Riley Martin let the fourth run cross the plate, but Horn did all the work to get that runner there.