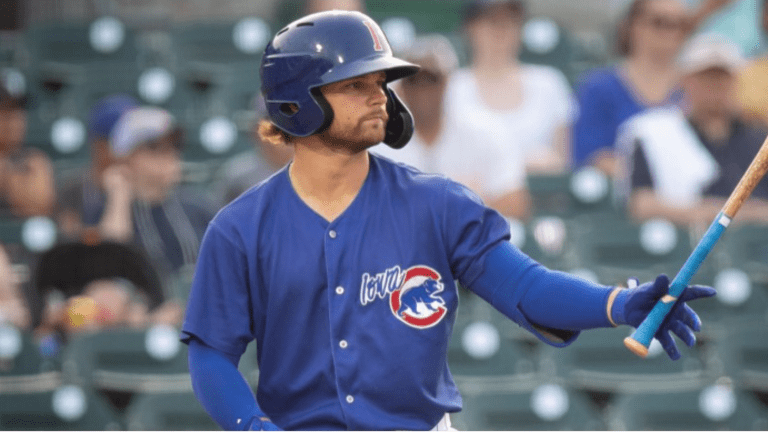 Chicago Cubs Around the Farm 37th Edition: 9/18/22
Check out the stars and underwhelming performers from around the Cubs' farm system on Sunday, September 18.
Around the Chicago Cubs' farm on Sunday, Sept. 18, we had multiple baseball games again! Iowa even gave us two games in Triple-A after Saturday's game was postponed. They lost both, but—you know—it's the thought that counts.
The South Bend Cubs lost their playoff game as their entire pitching staff collectively decided to pitch batting practice to the Lake County Captains. At least the Tennessee Smokies came through with a resounding win! Let's look at the highs and lows all around.
Triple-A Iowa Cubs Game One: 4-8 Loss to Memphis Redbirds
Biggest Yes: Levi Jordan — 2/3, 2 BB, HR (7), 2 R
After two straight Biggest Yikes awards, it's exciting to see Jordan come out and have a much-needed great game. Jordan, 26, has been up and down all season at the plate, but he has completely crushed lefties all year. That makes it even more encouraging that his home run came against a right-handed pitcher.
Jordan is Rule-5 eligible this offseason, and it will be interesting to see what the Cubs do with him. I don't think there's enough there to say he needs to be protected, but I also don't really see another club poaching him this year. He could be a candidate to join the big league club at some point in a utility role in the next couple of years depending on their moves in free agency. He'll make a more compelling case if he has more games like this one.
Biggest Yikes: Cam Sanders — 2.0 IP, 3 H, 3 BB, 5 ER, 1 SO
I'm upset this game had a rain delay and had to restart because I would have loved to see Caleb Kilian (3.0 IP, 2 H, 2 BB, 0 R, 2 SO) continue to go deeper in the game. Alas, that didn't happen, and Sanders had an opportunity to pitch in the sixth and seventh which he may or may not have had otherwise. Either way, he sure blew it out there.
It all happened in the sixth inning when Sanders surrendered a couple of walks before giving up a single, double, and home run all in a row. He got out of it eventually, but not before the Cubs were suddenly losing 5-1. He did get out of the seventh inning quickly for some redemption, but his five runs allowed were too much to overcome.
Triple-A Iowa Cubs Game Two: 1-3 Loss to Memphis Redbirds
Biggest Yes: Bryan Hudson — 2.0 IP, 0 H, 1 BB, 0 R, 3 SO
It's hard to pick a Biggest Yes when a team only scores one run and the starting pitcher gets rocked by home runs. However, Hudson came into the game after Anderson Espinoza surrendered three runs over 4.1 innings and locked things down.
With two men on base when he entered the game, Hudson gave up a walk to load the bases. However, he immediately got a double play after that to end the inning. Then, Hudson collected four straight outs with three strikeouts and a groundout. He was dominant.
Biggest Yikes: Anderson Espinoza — 4.1 IP, 3 H, 3 BB, 3 ER, 4 SO
Espinoza is a flamethrower. He had four strikeouts in this one and the batters looked almost entirely helpless on all four of them. However, Espinoza also surrendered two home runs, both solo shots, on his way to giving up three runs for his outing. Scott Hurst—who is having somewhat of a breakout season of his own—got him in the third inning, and Pedro Pages hit a home run in the fourth. The 24-year-old continues to have the "stuff" but the command continues to be a struggle.
Double-A Tennessee Smokies: 11-4 Victory Over Chattanooga Lookouts
Biggest Yes: D.J. Artis — 2/3, 2 BB, 3B, 2 RBI, 1 R, 2 SB
If you feel like you haven't heard Artis's name all season, you're probably right. The 25-year-old outfielder was activated from the injured list on Sept. 13, and this was just his second game of the season. He certainly made the most of it. Not only did Artis get on base in 80% of his at-bats, he was also a menace on the base paths.
The stolen bases make sense—speed is Artis's primary calling card. What I liked even more was the clutch bat. Artis's triple came with runners on first and second and two outs in the sixth. Yes, the Smokies were up 7-3 at the time, but Chattanooga hung 13 on Tennessee a couple of games ago—minor league games are almost never truly over until the game officially ends.
Biggest Yikes: Luis Vazquez — 0/5, 4 LOB
Luis Vazquez picked up a couple of Biggest Yikes awards with Triple-A Iowa before being demoted back to Tennessee. Now, the infielder picks up the third Biggest Yikes of this series with the Smokies. In a game that featured tons of offense for the Smokies, Vazquez did not contribute at all to it. He left runners on base and in scoring position, and he followed up a ton of good stuff from Artis with momentum killers.
High-A South Bend Cubs: 8-11 Loss to Lake County Captains
Biggest Yes: Kevin Made — 2/3, 2B, HR, 2 RBI, 2 R
Ladies and gentlemen, it happened. Kevin Made—system-leading six-time Biggest Yikes award winner—has won a Biggest Yes award. He absolutely deserved it here, too.
Made's first-inning double was part of the Cubs' 5-0 hot start. His home run in the fourth inning tied the game up at 6-6. Usually, Made is the one dragging the Cubs' offense down. However, this time, Made is the one who couldn't get any help.
Biggest Yikes: Kohl Franklin — 3.1 IP, 7 H, 3 BB, 5 ER, 5 SO
Starting the 2022 version of Kohl Franklin in a playoff game is not a winning strategy. South Bend did it anyway, and—well—it wasn't a winning strategy. Now, Luke Little shares in this Biggest Yikes award through and through, but Franklin spent the first 3.1 innings of this game getting decimated out there. He was finally pulled in the fourth inning after giving up four singles.
Little came in with the bases loaded and ensured all of the runners Franklin put on came home. Thanks, Luke! It was pretty devastating to see the lead the Cubs built right away in this game slowly disappear over the course of that fourth inning. The pitching staff as a whole struggled, but Biggest Yikes is going to the starter who set the tone.