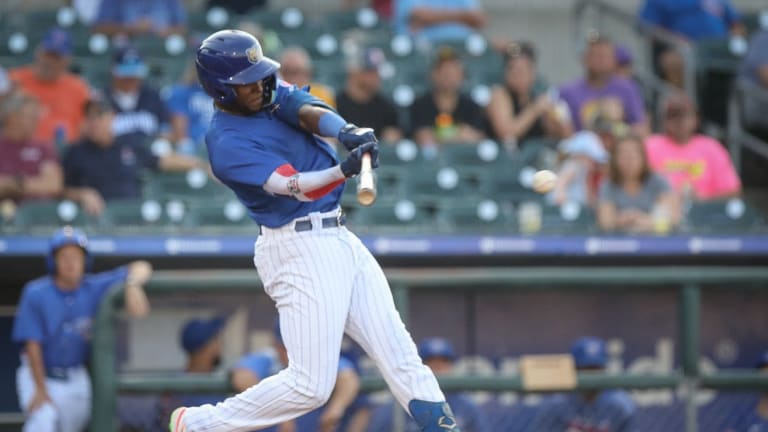 Chicago Cubs Around the Farm 44th Edition: 9/26/22 and 9/27/22
Check out the stars and underwhelming performers from around the Cubs' farm system on Monday, September 26 and Tuesday, September 27.
So, I realized with one game going on per day, reading Around the Farm may not have felt as fulfilling in regards to learning about what's going on in the Chicago Cubs' minor leagues. So, around the Cubs' farm on Monday, Sept. 26 and Tuesday, Sept. 27, we got some action in Iowa and Tennessee with sad results. Everyone lost and Iowa managed to lose twice! Still, there were plenty of solid performances to go along with straight-up duds. Let's dive in.
Triple-A Iowa Cubs 9/26: 5-8 Loss to Toledo Mud Hens
Biggest Yes: Matt Mervis — 2/5, HR (15), 2 RBI
Matt Mervis continues to produce and produce with power. I've said it before, and I know my voice is just one of many saying Mervis is making it harder and harder for Chicago to justify leaving him off their 40-man roster and giving him a chance to make the big-league team.
In this one, he had his 36th home run across the three levels he has played at this year. With the season winding down, it looks like he's going to finish his minor league season batting over .300 with a slugging percentage over .600.
Biggest Yikes: Danis Correa — 1.0 IP, 2 H, 2 BB, 4 R, 3 ER, 1 SO
Correa also took home a Biggest Yikes in the 33rd edition of Around the Farm (weirdly enough, Mervis won Biggest Yes that time, too). In that one, Correa had an odd Biggest Yikes where he picked up the win, but everyone else did well and he had no command on the mound.
This time, Correa came out in the 10th inning of a 4-4 game. He immediately walked a batter, then—though he got the next batter to hit a grounder right back to him—he had a throwing error to score the first run. Throughout his inning, Correa gave up a single, a double, and had a wild pitch as he surrendered four runs, which was too much for the Cubs to overcome.
Triple-A Iowa Cubs 9/27: 5-7 Loss to Toledo Mud Hens
Biggest Yes: Alexander Canario — 2/5, HR (5), 2 RBI, 2 R
On the 26th, Matt Mervis slugged his 36th home run of the year. Canario wanted to make sure to do his part to catch up, so he smacked home run No. 36 in this one. While Mervis has seamlessly transitioned up each level, Canario has really struggled in Triple-A. As such, it is always nice to see him have such a great game.
It will be interesting to see if Canario—who is already on the 40-man roster—gets called up to Chicago once Iowa's season ends on Wednesday. Either way, he was more than solid in this one.
Biggest Yikes: Dakota Mekkes — 0.1 IP, 1 H, 2 BB, 5 R, 2 ER, 1 SO
Don't let the three-run difference between earned runs and runs fool you. The error that led to those three runs was made by Mekkes himself. He gave up a couple of walks, hit a batter, got a strikeout (score), then surrendered a double. He was pulled from the game with runners on second and third.
Jonathan Holder did his part to hurt Mekkes's stat line by letting those runners score, but Mekkes is the guy who put them on base. This was a rough one for him.
Double-A Tennessee Smokies: 1-7 Loss to Pensacola Blue Wahoos
Biggest Yes: Riley Thompson — 5.0 IP, 2 H, 2 BB, 0 R, 8 SO
The fact that Riley Thompson decimated Pensacola for five innings, then got almost no run support and a bullpen that surrendered seven runs over the next four innings is a shame. Thompson tumbled a little bit down my prospect rankings throughout a super inconsistent season. While he started in the top 30, Thompson now sits at No. 42. He may still rise after this one, as Thompson has been cruising pretty much since the start of July.
In this one, though, Thompson showed why there's hype surrounding him. He still has a lively fastball in the mid-90s and a killer curve. When he can command his stuff, he produces like this. It's telling that the playoffs have been a tale of two Thompsons. He got Biggest Yikes back on Sept. 20 and now picks up a Biggest Yes in his last performance of 2022.
Biggest Yikes: Michael McAvene — 0.0 IP, 4 H, 1 BB, 5 ER
McAvene left this one with an infinite ERA. Not great! He came on in the sixth inning with two outs to try to shut the Blue Wahoos down. He did not. McAvene gave up three singles in a row, a walk, and then a fourth single before being pulled after four runs (three on McAvene's stat line). Hunter Bigge let the other two runs come home, but McAvene put them on base. This is one he's going to want to forget.