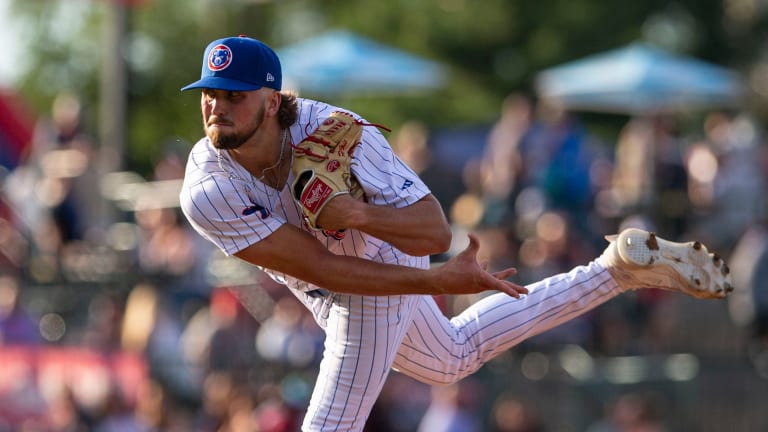 Chicago Cubs Around the Farm 28th Edition: 9/8/22
Check out the stars and underwhelming performers from around the Cubs' farm system on Thursday, September 8.
Around the Chicago Cubs' farm on Thursday, Sept. 8, the trend of postponed games continued. At least this time, only one contest was wiped out as the Iowa Cubs had their game suspended.
The Myrtle Beach Pelicans emerged victorious on Thursday in Low-A, but the Double-A Tennessee Smokies lost thanks to their pitching faltering. Meanwhile, the High-A South Bend Cubs dropped their game due to a lack of offense. We have the breakdown for you regardless, so let's dive in.
Triple-A Iowa Cubs: PPD
Double-A Tennessee Smokies: 6-11 Loss to Pensacola Blue Wahoos
Biggest Yes: Riley Thompson — 5.0 IP, 5 H, 0 BB, 0 ER, 5 SO
Yes, you are reading this correctly. Thompson—the 43rd-best prospect for the Cubs on my list—went five shutout innings, and the Smokies still gave up 11 runs. For his part, though, Thompson shut down the Blue Wahoos. He went 1-2-3 in the first, struck out the side in the third, and limited any possible damage when Pensacola batters got on base.
While he has a season ERA of 4.85, Thompson has been really freaking good in short bursts since July. His ERA between July and now sits at just 2.81, and he has a 9.46 K/9. Deservedly so, Thompson picks up his second Biggest Yes award during this dominant stretch.
Biggest Yikes: Eduarniel Nunez — 0.2 IP, 5 H, 5 ER, 1 SO
You knew Biggest Yikes would be a pitcher, right? After Thompson dominated for five innings, the Smokies' bullpen gave up 11 runs over the next 3.2 innings. Nunez was at the center of that.
When Nunez entered in the seventh, he inherited a bases-loaded situation. He promptly gave up a grand slam. Three of those runs were attributed to Peyton Remy, who left the runners on base. He did, though, get out of the inning after that.
Somehow, the Smokies decided it would be a great idea to have Nunez pitch again in the next inning, so he went on to let four more runs score before being pulled without recording an out in the eighth. That was one of the toughest pitching outings I've had to watch covering the Chicago Cubs' farm system.
High-A South Bend Cubs: 1-2 Loss to Cedar Rapids Kernels
Biggest Yes: Porter Hodge — 5.0 IP, 5 H, 1 BB, 2 ER, 6 SO
Porter Hodge had one of those weird outings in which he was the losing pitcher but earned the Biggest Yes award. However, if you look at the stat line, it's evident that Hodge had a very good outing.
The only runs he gave up came in the fifth inning when he surrendered a single and a home run. That's not great, but my Cubs' 23rd-best prospect still struck out six and was dominating otherwise. It isn't Hodge's fault the Cubs could barely get runners on base.
Biggest Yikes: Luis Verdugo — 0/4, 2 SO, 2 LOB
Verdugo was just one of many Cubs' players who couldn't muster anything offensively. He gets the Biggest Yikes award by striking out twice and leaving two on base in the process, including his strikeout to end the eighth inning with BJ Murray on first base.
Verdugo is my 46th-best prospect in the Cubs system as a 21-year-old who just slashed .292/.395/.406 in the month of August. However, he's off to a freezing cold .158/.227/.211 start in September where he hasn't managed a hit in his last three games. Yikes.
Low-A Myrtle Beach Pelicans: 8-2 Victory Over Carolina Mudcats
Biggest Yes: Parker Chavers — 3/5, 2 2B, RBI
Parker Chavers picked up his third-career Biggest Yes award, which is super impressive for the Chicago Cubs' 2021 seventh-round pick. While he's a top-60 prospect in the Cubs' system, Chavers isn't quite the caliber of prospect that Kevin Alcantara, Luis Devers, and Porter Hodge are. Still, he's now tied with them and others for the fourth most Biggest Yes awards.
Chavers had his bat going in this one, but his biggest contribution was his glove. As seen in the video above, Chavers was out there showing off his biggest tool thus far as a professional baseball player. Combine that with two doubles, and Chavers gets a well-deserved award here.
Biggest Yikes: Pedro Ramirez — 0/4, 2 LOB
This is not how I wanted to introduce Pedro Ramirez to this series, but Myrtle Beach crushed the Mudcats, and Ramirez happened to be one of the only Pelicans players to not register a hit. He did reach on a hit-by-pitch in the first inning, but he still falls victim to the Fabian Pertuz curse of doing poorly when most everyone else did really well.
Ramirez, 18, is my 48th-ranked prospect in the Chicago Cubs system, and his bat is a big reason why. That just didn't show this time.