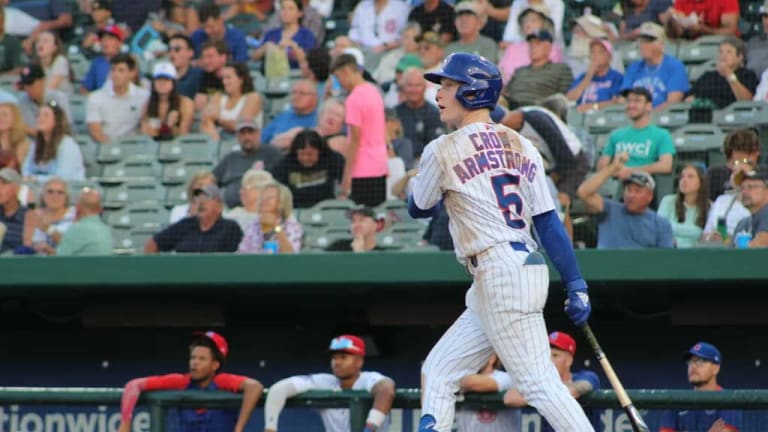 Chicago Cubs Around the Farm 38th Edition: 9/20/22
Check out the stars and underwhelming performers from around the Cubs' farm system on Tuesday, September 20.
Around the Chicago Cubs' farm on Tuesday, Sept. 20, we had multiple playoff games. They went differently for Tennessee (boo) and South Bend (yay!) Iowa had an incredibly fun game full of offensive firepower and terrible pitching. Take a look at the highs and lows around the farm.
Triple-A Iowa Cubs: 12-11 Victory Over Omaha Storm Chasers
Biggest Yes: Alexander Canario — 3/5, BB, 3 HR, 4 RBI
Canario has been on the struggle bus as he has started off in Triple-A. The learning curve has been steep for the 22-year-old after he breezed through High-A and then swatted 24 home runs with Double-A Tennessee.
Before Tuesday, Canario hadn't connected on a Triple-A home run. I guess he decided enough was enough. Canario, my fourth-best prospect in the Cubs system, smashed three long balls and was responsible for a fourth of the Cubs' runs, which is saying something because they scored 12 runs. The game looked like it could be a turning point for Canario.
Biggest Yikes: Steven Brault — 0.0 IP, 4 H, 1 BB, 4 ER
Steven Brault had a hilariously bad performance. The MLB veteran entered the game in the sixth inning with an 11-5 lead. This is how it went: double, single, wild pitch, single, single, walk. Then, Brault was pulled with the score at 11-7. Brendon Little came in to relieve him and gave up the other two runs charged to Brault with a single and a sacrifice fly, and that was that. Yeesh.
Double-A Tennessee Smokies: 5-9 Loss to Rocket City Trash Pandas
Biggest Yes: Yonathan Perlaza — 3/4, BB, HR, 2 SB
Yonathan Perlaza is so freaking good. I love watching him play—he's just so athletic with his mix of power and speed. He showcased both in this one. My 27th-best prospect in the Cubs system found his way on base again and again to start the Division Series even as the pitching staff struggled.
He even started off the bottom of the ninth with a solo home run to start a potential comeback that, obviously, didn't happen. Still, kudos to Perlaza as he picks up his fourth Biggest Yes award.
Biggest Yikes: Riley Thompson — 4.1 IP, 8 H, 7 ER, 3 SO
I have no idea how Riley Thompson stayed in this game for as long as he did. He gave up a home run in each of the first two innings, then had four runs tagged onto his final line in the fifth inning. To be fair, one of those runs came off a Hunter Bigge wild pitch. However, that was still Thompson's baserunner.
The craziest thing about Thompson's stat line is that he didn't surrender a single walk and still gave up seven earned runs. Usually, batters struggle with Thompson's stuff, but he has a tough time with his command. In this one, he was throwing a ton of strikes. The Trash Pandas were just hitting them.
High-A South Bend Cubs: 4-3 Victory Over Lake County Captains
Biggest Yes: Pete Crow-Armstrong — 3/5, 2B, HR, SB
Pete Crow-Armstrong makes an emphatic re-entrance into this series by leading the Cubs to a victory, evening their series with the Captains. It's been almost a month since PCA picked up his last Biggest Yes award on Aug. 26. In this one, Crow-Armstrong just had the bat working, plain and simple.
He doubled in the third inning, singled and stole a base in the fifth inning, then hit the game-deciding home run in the ninth inning. At the time, it put the Cubs up 4-2. However, Michael McAvene—who got the save pitching the entirety of the bottom of the ninth—gave up a run to make it 4-3. Without Crow-Armstrong's power in this one, who knows if South Bend would have emerged with a fighting chance in the Midwest Championship Series.
Biggest Yikes: Fabian Pertuz — 0/5, 4 SO, 1 LOB
Fabian Pertuz witnessed Kevin Made pick up a Biggest Yes in the previous edition of Around the Farm. He knew he had a chance to capitalize and even things out at the top of the Biggest Yikes leaderboard. Well, Pertuz certainly succeeded. The 22-year-old infielder picked up his sixth Biggest Yikes award in spectacular fashion—looking sufficiently overwhelmed every time he came up to the plate.
Pertuz struck out in 80% of his at-bats. He also continued his hitless streak in this series. Worst of all, Pertuz did it from the leadoff spot in the order; any momentum he could have started was over almost before they started.