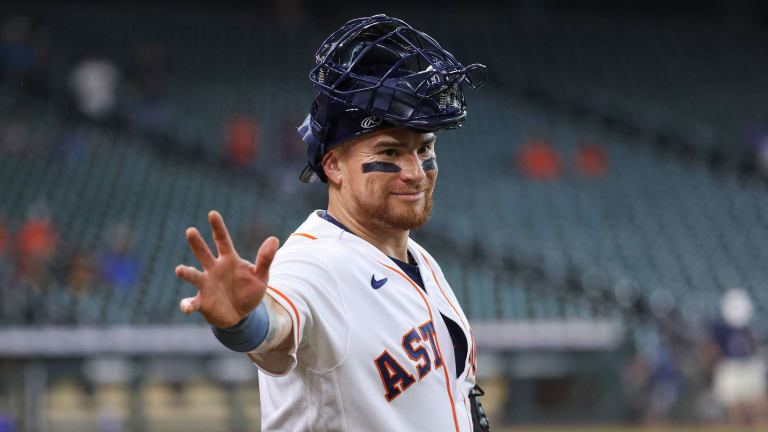 Cubs Offered Christian Vazquez Same Contract as Twins, Per Report
The veteran catcher signed a three-year, $30 million contract with Minnesota.
Wednesday on the Kap & J. Hood show, ESPN's Jesse Rogers stated that the Chicago Cubs offered former free-agent catcher Christian Vazquez the same contract he signed with the Minnesota Twins.
Following the departure of Willson Contreras, the Cubs are in need of a backstop to share catching duties with veteran Yan Gomes. With former Oakland A's backstop Sean Murphy off the board after a trade to the Atlanta Braves, the crop of available catchers is becoming slim. Vazquez seemed like a no-brainer for the Cubs, but thanks to the Twins, another catcher is unavailable.
If Rogers' claim is true, it raises the question: what kept Vazquez from signing with the Cubs if they offered him the same contract (three years at $30 million) that he signed with the Twins?
Maybe Christian Vazquez digested the pitch from Jed Hoyer and wasn't convinced of the "plan" Cubs fans have heard about for the past two years. Perhaps he felt like he had a better shot at winning with the Twins than he did with the Cubs, and if that's the case, that's a punch to the gut for fans.
After last night's bombshell announcement of Carlos Correa signing his megadeal with the San Francisco Giants, another gut punch for many Cubs fans, it makes one wonder: what exactly is Hoyer's plan? Are free agents scared to sign with the Cubs because they're unsure what the future looks like in Chicago?
There's still time for Hoyer to make some moves this offseason that could improve the Cubs' roster in 2023. But with reports like this coming out, it raises questions about what's going on with the front office and what exactly is coming next.
It's like what Harvey Dent said in The Dark Knight, "It's always darkest just before the dawn." Maybe, just maybe, Hoyer has a bombshell of a move in the works that's going to blow Chicago Cubs fans' socks off. It is Christmas after all, the season of perpetual hope.
Stay strong Cubs fans.