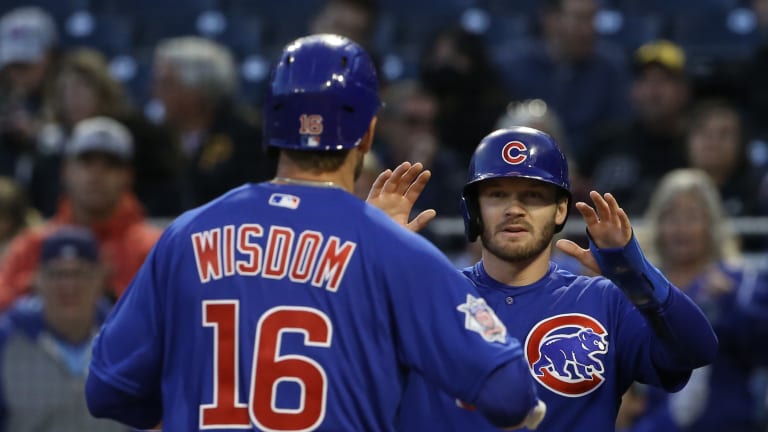 Weekend Roundup: Cubs Take 3 of 4 from Pirates
The Cubs got several clutch contributions en route to a strong weekend in Pittsburgh.
The Chicago Cubs finished off their four-game weekend series against the Pittsburgh Pirates with an 8-3 win and took the series three games to four. There were several positive notes to take from the road series that can't go unnoticed. Let's dive into them.
Wesneski Continues to Shine in Starter Role
Cubs' prospect Hayden Wesneski has been one of the most consistent and productive pieces of the pitching staff ever since coming over from the New York Yankees via trade. Thursday night's outing was just another reminder of that.
In 6.1 innings pitched the righty struck out six while only giving up two runs, two walks, and five hits. He also showed just how dominant he can be by throwing an immaculate fifth inning.
Since coming over to the Cubs, Wesneski has pitched 22 innings while making two starts, with a 2.45 ERA, 24 strikeouts, and four walks. With nine games left in the season, and Wesneski scheduled to start on Wednesday against the Philadelphia Phillies, there's a good chance we could see him make two more starts. Either way, he's proven to be a viable option for the Cubs' pitching rotation in 2023.
Wisdom, Quiroz, and Morel Bring the Clutch Offense
Cubs' infielders Patrick Wisdom and Esteban Quiroz and utility man Christopher Morel all came up in the clutch a few times this weekend against the Pirates. Each delivered RBIs when needed most.
Morel kicked off the series Thursday with a clutch two-run double to jumpstart the Cubs' offense. The North Siders would eventually win 3-2. Morel finished the series going just 2-for-5, but his two-RBI double in the opener would eventually help lead to a series win.
For the series, Wisdom only had two hits, but they were both home runs. He went deep on Friday and Sunday and helped the Cubs pick up wins in those games. The Cubs' third baseman finished the weekend with five RBIs.
Quiroz contributed to Friday's victory with a pair of RBI singles. He also added an RBI single in Sunday's win. The Cubs' second baseman went 5-for-11 with three RBIs, three walks, and two runs scored.
At this point in the season, Cubs' fans would've liked to see things look differently in the NL Central standings than they currently do. However, it's nice to see this team continue to compete and put up great at-bats against opponents.
Thompson Continues Strong Return
Since returning from the injured list, Keegan Thompson has primarily been used in a bullpen role, which is how he started the 2022 season. After a strong three-inning performance against the Miami Marlins last Wednesday, Thompson returned to the mound on Sunday and continued his success. In two innings, Thompson gave up zero runs on zero hits while striking out three and walking only one.
Thompson has proven this year that he can be a quality pitcher as both a starter and a reliever. The upcoming offseason will raise several questions regarding who will fill out the Cubs' starting rotation in 2023. Depending on whether the Cubs make a splash this offseason and sign a few starters, or if they decide to start with a prospect in the rotation like Wesneski or Javier Assad, Thompson could be on the move to the bullpen to start next year.
Honestly, I don't mind it. A multi-inning strikeout pitcher entering the back half of games? Yeah, I'll take that.
What's On Tap Next for the Cubs?
The Chicago Cubs will have an off day on Monday. They return to Wrigley Field on Tuesday to host a three-game series against the playoff-contending Philadelphia Phillies. Right-hander Marcus Stroman will take the ball for Chicago against the 2021 NL Cy Young runner-up, Zack Wheeler. First pitch is at 6:40 PM CT and the game will air on Marquee Sports Network.