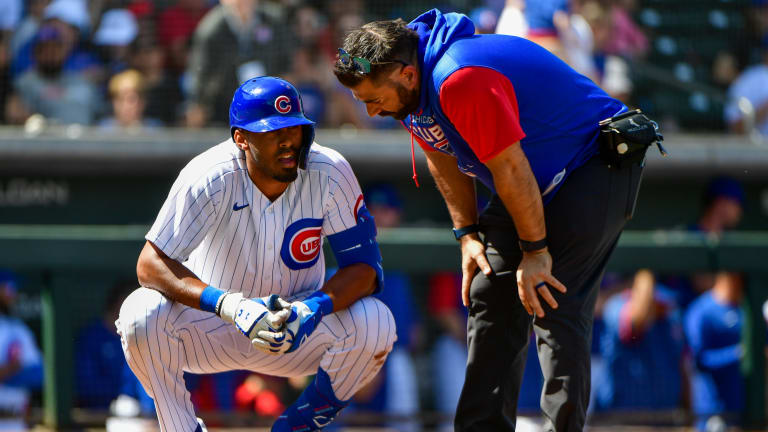 Chicago Cubs' Prospects Injury Updates: Canario, Davis, and More
Chicago Cubs Vice President of Player Development shared some injury updates on a few important prospects.
At GM Meetings on Monday, Nov. 7, Chicago Cubs Vice President of Player Development Jared Banner provided updates on several injured Cubs prospects when he met with the media at the Conrad Las Vegas at Resorts World, according to Jordan Bastian.
If you're a hound for Cubs news, you probably already know the information I'm about to regurgitate in this article. But for those of you that might not have caught it, this article is for you. As I typed that, I thought of the late-great Cubs broadcaster Harry Caray. "This Bud's for you."
Alexander Canario Underwent Surgery
The first update comes without a timetable. The Cubs' ninth-ranked prospect outfielder Alexander Canario suffered gruesome injuries during a Dominican Winter League game on Oct. 27. While running out a grounder, Canario landed awkwardly on the first base bag. He injured his left ankle and left shoulder on the play.
VP of Player Development Jared Banner said Canario underwent surgery to repair the fractured ankle and will have another surgery soon for a dislocated left shoulder, according to Jordan Bastian.
"We expect him back at some point next year, back to his normal self," Banner said. "We expect a full recovery."
It's a sad way for Canario's 2022 year to end. The 22-year-old hit tanks at every level of the minors, finishing the season with the second-most home runs in MiLB to only Moises Gomez. Canario started the year at High-A and worked his way as far as Triple-A by the season's end., flashing enormous power and speed on the bases (37 home runs, 23 stolen bases).
Although he won't be ready to start the 2023 season, it's positive news that the Cubs expect a full recovery and that he should play at some point. His progress this past season put him on the verge of a big league callup. Hopefully, the injuries don't hinder his development too much.
Brennen Davis Should Be Ready by Spring Training
The Cubs' No. 2 ranked prospect outfielder Brennen Davis underwent back surgery on Jun. 2 to alleviate lower back discomfort and leg pain. Davis missed most of the minor league season but returned to action on Aug. 15, playing at the Arizona Complex League. After five games there, Davis played five games at High-A South Bend. Then, he returned to Triple-A Iowa for the final 21 games. He slashed .188/.361/.344 with two home runs to finish the season.
Seeing that he missed a ton of action this season, the Cubs wanted him to get more playing in the Arizona Fall League. However, he was limited to five games there because of "general soreness." Fortunately, Jared Banner told the media Davis is "pretty close to 100 percent now." It sounds like the move to keep his playing time limited to five AFL games was more precautionary. Expect Davis to be ready to go by Spring Training.
Miguel Amaya Will Probably Catch in Spring Training
The Cubs' No. 16 prospect has yet to be able to catch a break. Due to the COVID pandemic, there wasn't a minor league season in 2020. Then in 2021, Amaya missed the last few months of the season due to what was initially described as a right forearm strain. However, in late November 2021, the Cubs announced that Amaya needed Tommy John surgery.
Fast forward to 2022, Amaya was able to return on Jul. 1 as a DH at the Arizona Complex League. Although he could not resume catching duties for the entirety of the season, Amaya logged 40 games as a DH between Rookie ball and Double-A Tennessee. Amaya slashed .261/.369/.455 (.824 OPS) with six homers and 23 RBIs.
However, in mid-September, Amaya suffered a Lisfranc fracture in his left foot, which put him out of action for the remainder of the minor league season.
It sounds like Cubs VP of Player Development, Banner, is not overly concerned about Amaya's injuries and that he hasn't played catcher since early 2021. "It hasn't really affected his timeline at all," Banner told reporters. "Obviously, if he had been able to play in the Fall League, he would have caught, and he hasn't had a chance to do that yet. That'll probably take place for the first time in Spring Training. But physically, he'll be ready to go."
It was good to see Amaya flash some power and hit relatively well upon his initial return this season. He was the Cubs' No. 4 ranked prospect when he underwent Tommy John surgery. Now, he is listed as the team's 16th-best, according to MLB.com. Not only that, but Moises Ballesteros surpassed him as the team's top-ranked catching prospect. Still, Ballesteros just turned 19 years old yesterday. He's not nearly as close to a big league callup as Amaya.
Ed Howard Could Resume Light Baseball Activity Soon
20th-ranked prospect shortstop Ed Howard suffered a season-ending hip injury in May after only 23 games played. According to Banner, Howard could resume "light baseball activity" after Thanksgiving. The former 2020 first-round draft pick started the season slowly and finished with a .244/.323/.317 slash line. However, in his final 14 games before sustaining the hip injury, Howard hit .320 with one home run and a .822 OPS.
Howard was on a strict off-season program leading up to the 2022 season. Unfortunately, he sustained an injury that needed surgery as he began to make offensive strides. Hopefully, he can get fully healthy and continue developing into the potential the Cubs saw to select him with a first-round pick.
Wrap Up
There you have it. Those are the injury updates that needed to be written, more for the people not in the everyday weeds of Cubs news and also for the website itself. It's nice to have the updates posted as if they are stored in a file cabinet, so we can go back and look at the timeline of events later.
For the most part, aside from the Alexander Canario news, these are positive reports. Prospect development is excellent, but you can only develop if you can stay on the field.