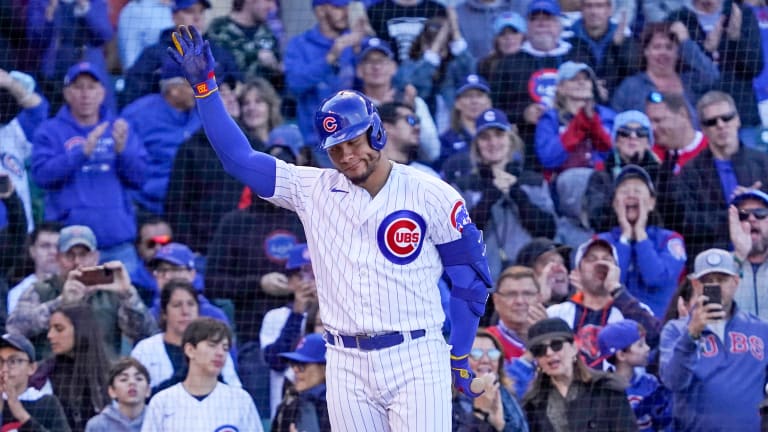 Willson Contreras Declines Qualifying Offer, Hits Free Agency
Cubs' catcher Willson Contreras declined the Cubs qualifying offer today, making him a free agent.
According to Jon Heyman of MLB Network, Chicago Cubs catcher Willson Contreras denied the $19.65 million qualifying offer and is now a free agent.
The news comes as no surprise to Cubs fans, as many people thought the 2022 NL All-Star starting catcher was expected to be traded by the deadline. It's still disappointing that both Contreras and the Cubs couldn't reach a deal on an extension.
Contreras had an exceptional 2022 season for the Cubs, and it's assumed that he will be a highly touted piece for a team looking for an offensive boost from the catcher's spot. In the first half of last season, the right-handed slugger easily convinced voters to pick him for the starting spot at catcher for the NL All-Star team. In 78 games he smashed 13 home runs with 35 RBI, 17 doubles, 35 walks, and a .821 OPS.
Contreras' second half of the season wasn't as dazzling as his first half, a lot of that could be thanks to a few nagging injuries that kept him out for several games, but he still finished the season on a good note. In 113 games he posted a slash line of .243/.349/.466 with 22 home runs, 55 RBI, 23 doubles, and a .815 OPS.
If 2022 just so happens to be Contreras' last season for the Cubs, he will arguably go down as one of the greatest Cubs catchers of all time. Debuting in 2016, he made his presence known early as he homered in his first at-bat of what would eventually be a magical year for the Cubs.
For his career with the Cubs, impressive is just an understatement for Contreras. After being signed by the Cubs as a third baseman, the Venezuelan native transitioned to the catcher position, and his bat didn't downgrade. In 734 games with the Cubs he smacked 117 home runs, 133 doubles, 365 RBI, with a career .256 batting average and a .808 OPS. The right-handed slugger also made 3 All-Star teams for the Cubs, including last season with his brother William Contreras of the Atlanta Braves, and helped the Cubs break their World Series slump in 2016.
Where Will Willson Contreras Go?
There's no clear leader in the Wilson Contreras sweepstakes yet. There's still a possible chance that the Cubs could work a deal with him. As of now according to Jon Morosi of MLB Network, the Detroit Tigers could potentially be interested in his services.
You can't blame Contreras for testing the free agent market and getting the money he feels he deserves. Entering his age 31 season, he still has a lot of good years left of baseball and can continue to help a pitching staff behind the plate as well as provide a solid bat in the lineup. 
Offensive production from the catcher's spot is a rare and sought-after commodity. You can bet teams will be jumping on the phone to try and make a deal for Contreras.