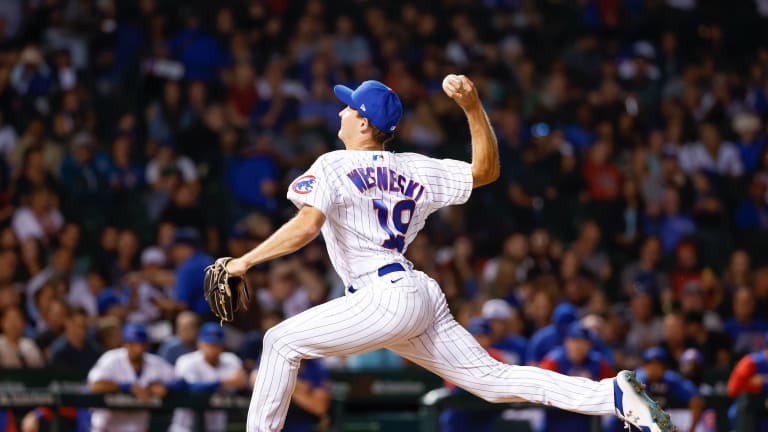 Hayden Wesneski to Start on Saturday for Cubs
The Cubs' No. 12 prospect, who has appeared twice out of the bullpen since being promoted, will make his first start on Saturday against the Colorado Rockies.
The moment many Chicago Cubs fans have been waiting for is finally going to occur. After making two appearances out of the bullpen for the Cubs, RHP Hayden Wesneski will make his first start on Saturday against the Colorado Rockies. 
Originally, LHP Wade Miley was set to start Saturday's game. By following the pattern, it's easy to assume fans were in store for another piggyback appearance from Wesneski. However, as noted by Zach Zaidman, the Cubs will have the 24-year-old make his first start instead. 
Wesneski's two appearances this year were fairly different. In his debut, the Cubs' No. 12 prospect went 5.0 innings of scoreless ball while allowing only two hits and one walk. In addition, he struck out eight batters, becoming the first Cubs' pitcher since at least 1901 to have such a spectacular debut with seven or more strikeouts and no runs allowed. He also picked up his first win.
However, his second appearance wasn't as magical. Although he only allowed four hits and one walk, Wesneski was beat up by two home runs. Three earned runs over 3.2 innings credited the young right-hander with his first loss. 
Now, the slate is wiped clean. Wesneski will get a chance to start, showcasing his talents in the role that most fans project him in going forward. The Rockies present the first test in the young pitcher's development. This is certainly a reason to tune in to Cubs baseball if fans are struggling to watch the team this late in the season. 
What's On Tap for the Cubs?
Before Wesneski's debut on Saturday, the Cubs open the series with the Rockies on Friday at 1:20 p.m. CDT at beautiful Wrigley Field. Marcus Stroman takes the bump for the Cubs against German Marquez to open the three-game set.