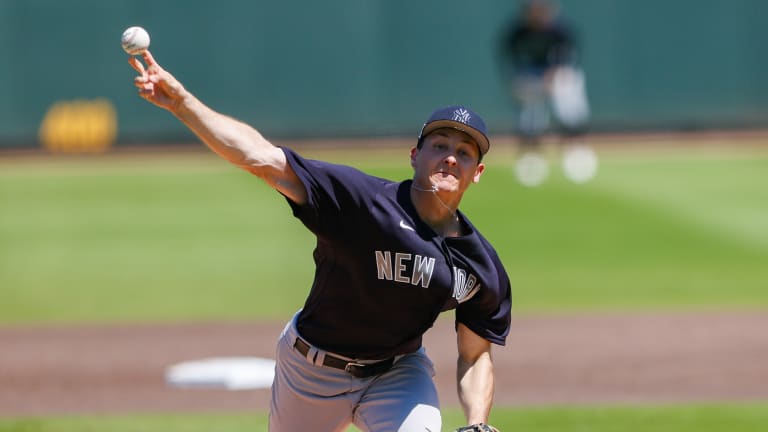 Hayden Wesneski Will Be Available Out of the Pen for Cubs
Despite projecting as a starter in the future, RHP Hayden Wesneski will first be available out of the bullpen for the Chicago Cubs.
RHP Hayden Wesneski's promotion to the majors has been awaited since he was acquired for RHP Scott Effross back in August. That said, many fans are anxiously awaiting his first start for the Chicago Cubs. However, it appears that day will have to wait. Manager David Ross indicated on Tuesday that Wesneski will initially be available out of the bullpen. 
The most intriguing part of the report is the lack of certainty regarding Wesneski making any starts at all this season. This isn't necessarily a bad thing for the young righty. 
Worth a reminder, Wesneski has actually been coming out of the bullpen for the Iowa Cubs as well. In his recent Triple-A appearances, the former Yankees prospect has thrived. After a rough first two starts, Wesneski has settled in nicely over his last three outings. 
Hayden Wesneski's stats from his first two starts compared to his last three starts at Triple-A Iowa. 

Stats from MiLB.com

| Starts: | Innings Pitched: | Earned Runs: | ERA: | Hits Allowed: | Strikeouts: |
| --- | --- | --- | --- | --- | --- |
| First 2 Starts | 5.2 | 12 | 20.77 | 13 | 8 |
| Last 3 Starts | 15.0 | 1 | 0.60 | 4 | 15 |
As noted above, Weneski's Iowa Cubs career has two different storylines. That said, his recent performances are more indicative of the player the Cubs traded for at the trade deadline. 
Hayden Wesneski's Game
Wesneski was interviewed by Marquee Sports Network on Tuesday after joining the team at Wrigley Field. The question at hand was about his game, and how he approaches pitching on a daily basis. He had the following to say: 
He "gets after it." Sometimes, that's actually what teams want out of a pitcher, whether in the bullpen or as a starter. As he indicates, his pitch selection is a variation of three fastballs (cutter, sinker, four-seam) in addition to his slider. However, his slider is nasty and by far a wipeout pitch for the 24-year-old. 
Fans might see Wesneski as early as Tuesday for the Cubs. With Wade Miley just returning from a long IL stint, there is no guarantee he lasts more than a few innings. Wesneski is a perfect piggyback candidate to pair with the veteran in Tuesday's series opener.