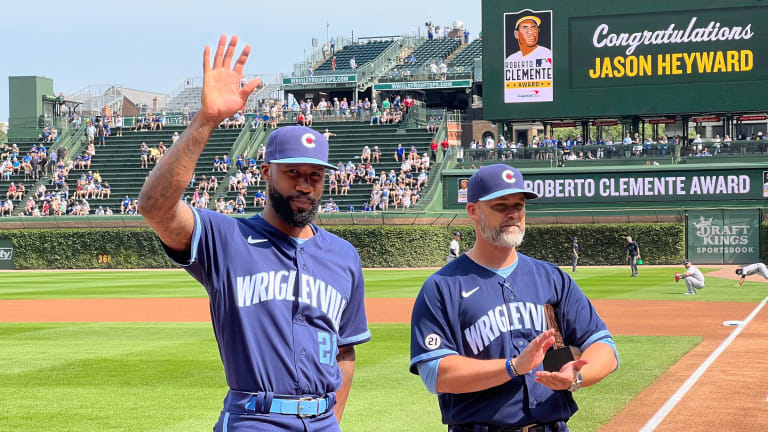 Jason Heyward Plans to Play in 2023
Jason Heyward spoke with reporters today about his appreciation for the Cubs' franchise and playing in 2023.
Before today's game against the Philadelphia Phillies, Chicago Cubs outfielder Jason Heyward spoke with the media about his plans for the 2023 season. According to Taylor McGregor of Marquee Sports Network, the veteran outfielder plans to play next season.
Heyward, who hasn't played in a game since June 24 because of a knee injury, was informed earlier this year by team president Jed Hoyer that the Cubs would be parting ways with him at the end of the 2022 season. The two-time Gold Glove winner and 2016 World Series Champion spoke with media members today about how he wasn't surprised the organization wanted to move on, and he appreciated them being real with him.
"I'll appreciate that they're real," Heyward said. "I appreciate being able to have that. It's tough when you don't have those things, showing up for any job or living life."
After signing an eight-year, $184 million contract in 2016, Heyward went on to post a slash line of .245/.323/.377 in a little over six seasons with the Cubs, with 62 home runs, 289 RBI, 111 doubles, and 32 stolen bases. Was it the greatest production ever from an eight-year contract? No, but many fans would argue that without Heyward, the Cubs would've never won a World Series for the first time in 108 years in 2016.
"I feel like I'm in a select group of players that have earned bad contracts," Heyward said. "I also know I had my hand in a lot of winning baseball in Chicago."
Heyward continued to say he plans to play in 2023 and that he will "wait to see what opportunities present themselves." He also plans to continue to live in Chicago.