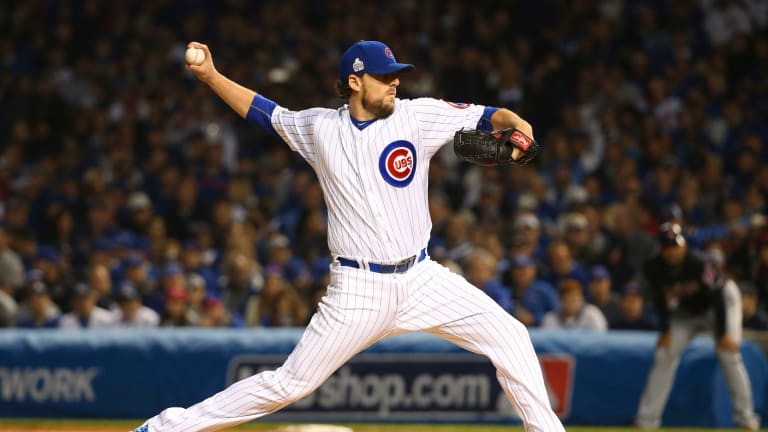 John Lackey Among New Names on Baseball Hall of Fame Ballot
The former Cubs World Series champion has been added to the Hall of Fame ballot for 2023.
Former Chicago Cubs starting pitcher John Lackey is one of the 14 new selections for the Baseball Writers' Association of America's Hall of Fame Ballot this year.
Among the other new selections announced Monday are Huston Street, Carlos Beltran, Jered Weaver, R.A. Dickey, Francisco Rodriguez, Matt Cain, Jayson Werth, Mike Napoli, Bronson Arroyo, Jacoby Ellsbury, J.J. Hardy, Jhonny Peralta, and Andre Ethier.
Coming into the Major Leagues in 2002, Lackey spent most of his career with the Los Angeles Angels. In eight years with the Halos, Lackey posted a 3.81 ERA with 1,201 strikeouts, 102 wins, and an All-Star appearance in 2007. The right-hander also helped the Angels win a World Series in 2002.
The 2007 campaign was arguably Lackey's best season of his career. In 33 starts, he posted a 19-9 record with a 3.01 ERA, 179 strikeouts, 52 walks, and a 150 ERA+ in 224 innings pitched. As a result, he finished third in the AL Cy Young voting.
Lackey had stints with the Boston Red Sox and St. Louis Cardinals over the next five seasons, winning his second World Series ring with Boston in 2013. In just over 150 games in that six-year span, Lackey posted a 4.08 ERA with 764 strikeouts and 268 walks. He finished ninth in 2015 NL Cy Young Award voting.
Coming off a 2015 season in which the Cubs were runner-ups in the National League Championship, Theo Epstein and co. were looking to add veteran pitching depth to a young team that had their eyes set on jewelry in 2016. Enter John Lackey.
The former World Series champion knew a thing or two about pitching in big games and helped create a veteran presence in the Cubs' clubhouse along with former Red Sox teammates Jon Lester and David Ross.
In 2016, Lackey helped the Cubs win their first World Series championship since 1908 by adding depth to a starting rotation that won nearly 80 games during the regular season. In 29 starts, Lackey posted an 11-8 record with 180 strikeouts, 53 walks, a 3.35 ERA, a 1.057 WHIP, and a 125 ERA+ in 188.1 innings.
Lackey finished his career playing his final two seasons with the Cubs. In his short, ring-winning tenure with Chicago, he posted a 3.94 ERA with 329 strikeouts, 106 walks, 359 innings pitched, a 109 ERA+, and a 1.162 WHIP.
Lackey will always be remembered as a fiery, veteran presence on the mound that gave his best every start. He always wore his heart on his sleeve and was never scared to have the "tough" conversations on the mound when he had to.
It's hard to say whether Lackey will get voted into the Hall of Fame while he's on the ballot, but he should at least be able to stay on the ballot for 10 years.
Although he doesn't have flashy numbers such as 3,000 strikeouts or 300 wins, Lackey has a few impressive stats. For his career, he ranks 57th in strikeouts with 2,294. He spent four seasons in the top 10 in ERA, WAR for pitchers, and innings pitched, as well as five seasons in the top 10 in complete games and shutouts.
Whether John Lackey makes the Hall of Fame or not, the Texas native had an excellent career that should always be recognized. Thank you, John, for a magical year in 2016, and congratulations on making the Hall of Fame ballot.
NEXT: Ian Happ, Marcus Stroman Inducted into Cape Cod Baseball League Hall of Fame