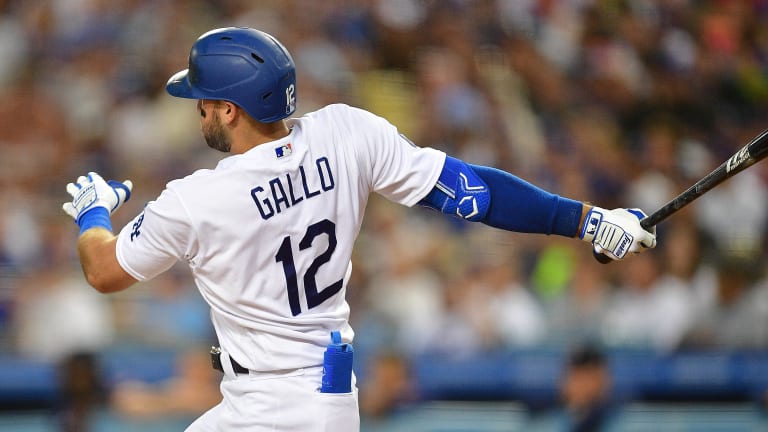 5 Free-Agent Lefty Bats the Cubs Should Consider for 2023
To offset a predominantly right-handed lineup, there are a few left-handed bats the Cubs should consider in free agency.
The Chicago Cubs were short on left-handed bats in their lineup throughout the 2022 season. Other than switch-hitting All-Star Ian Happ playing left field just about every game last year, the North Siders' lineup primarily consisted of right-handed hitters.
It's not a necessity for the Cubs to have lefties in the lineup, but it does help against a league that is full of right-handed pitching. With that in mind, here are five free-agent left-handed bats that the Cubs should consider signing for the 2023 season.
1. Adam Frazier 2B/OF
Adam Frazier has been a solid left-handed hitter in any lineup he's resided in since coming to the big leagues in 2016. He's not going to break any home run records, but he's proven to be a high-contact, on-base machine, and he's been a quality leadoff guy. For his career, he's averaged a .336 OBP per season, and from the leadoff spot, he's hit .272 with a .334 OBP.
The leadoff spot has been a question mark for the Cubs over the last few seasons. Perhaps Frazier could be the answer. Though he endured a down season in 2022, he had his breakout campaign in 2021. In 155 games between the Pittsburgh Pirates and Seattle Mariners, Frazier batted .305 with a .388 OBP and 46 extra-base hits.
If the Cubs decide to not pull the trigger on one of the free-agent star shortstops available this offseason, instead sticking with Nico Hoerner in 2023, Frazier wouldn't be a bad option for a utility role.
2. Joey Gallo LF/RF
The Los Angeles Dodgers, like several teams this offseason, will have a lot of decisions to make regarding who to bring back and who to let go, including former MVP Cody Bellinger. And although Bellinger would be a nice addition to the Chicago Cubs' lineup if he did become a free agent, I don't see the Dodgers parting ways with him. If that's the case, I wouldn't be surprised if left-handed slugger Joey Gallo becomes available this winter.
Gallo has experienced a bit of a downfall since being traded away from the Texas Rangers in 2021. However, a sizeable portion of his dip in prudction resulted from constant defensive shifts against him. The 2023 season and beyond will be a different story as a result of MLB's new rules that essentially ban the shift.
With those rule changes, Gallo should experience an increase in his offensive numbers across the board. He's proven to be an offensive threat before, averaging 30 home runs a season from 2017 through 2021. If I was Jed Hoyer, I'd consider giving Gallo a call to play the corner outfield and maybe even a little first base at Wrigley Field in 2023.
3. Matt Carpenter 1B/2B/3B
Matt Carpenter was an offensive juggernaut last year for the New York Yankees when he was healthy. In 47 games, the veteran batted .305 with 15 home runs, 37 RBIs, nine doubles, and a 1.138 OPS. I know it's hard to picture the former St. Louis Cardinal in a Cubs uniform, but the man can hit.
With questions about who will play first base for the Cubs until highly touted prospect Matt Mervis makes his debut, why not Carpenter? Imagine Carpenter, thick mustache and all, traveling to the boring city of St. Louis with the Cubs on a road trip, and crushing the hearts of Cardinals fans with a multi-home run performance. And with 12 years of MLB experience, Carpenter could help Mervis – and the other young players in the Cubs' organization – transition to the big leagues.
I know it would take a bit for fans to get used to seeing Carpenter in Cubs' pinstripes, but when the dust settles, I think his numbers would be all the persuasion that's needed.
4. Kevin Kiermaier CF
Kevin Kiermaier may not have the best bat among this list of lefties, but his glove definitely makes up for it. The Chicago Cubs will enter Spring Training 2023 with the same question they had at the beginning of last year's camp: who will be the starting center fielder?
Christopher Morel played 57 games in center for the 2022 club, but he also saw a lot of action at second, short, and third. Depending on the moves the Cubs make this offseason, he may be better suited in an infield spot. And with the recent reports of Cubs' prospects Brennan Davis and Alexander Canario dealing with injuries, who knows if we see them on the MLB roster in 2023?
A hip injury limited Kiermaier to 63 games in 2022, but when he's healthy, he's a difference-maker and arguably one of the best defensive center fielders in the league. He's not going to light up the stat page with offensive numbers, but if he can mimic his .308 career on-base percentage, he can set the stage for others in the lineup to drive him in. Also, the three-time Gold Glove winner could help guys like Morel, Davis, and Pete Crowe-Armstrong with their defensive play.
Kiermaier has a club option for 2023, but I don't see the Tampa Bay Rays picking up the $13 million tab on it. A short, one-year $10 million deal with an option for 2024 would make sense for the Cubs.
5. Joc Pederson LF/RF
Joc Pederson continued his consistent career in 2022 by putting up solid numbers for the San Francisco Giants and earning his second All-Star nod. In 134 games for the Giants, Pederson hit 23 home runs with 70 RBIs and posted an impressive slash line of .274/.353/.521 (.874 OPS).
If the Cubs decide to kick off the 2023 season with a combination of Morel and Happ manning center field, Pederson could provide help in left field and as a designated hitter. The lefty slugger is no stranger to Wrigley Field after spending half of the 2021 season with the Cubs, and I don't think fans would have a problem seeing him return if the price was right.
Bonus: Anthony Rizzo 1B
There's NO way I could make this list and not have Anthony Rizzo on it, right? I don't see the Chicago Cubs' legend returning to the North Side in 2023, but don't be surprised if Jed Hoyer doesn't at least give his agent a call to see what the asking price is when he opts out of his current deal with the New York Yankees.
With rumors suggesting that the Cubs could possibly target Jose Abreu, as well as the potential for a Matt Mervis call-up in 2023, it wouldn't make sense in Hoyer's plan to spend a boatload of money to bring Rizzo back.
That being said, I would gladly welcome back Tony-Two-Chains to the Cubs in 2023. Coming off a season that saw the lefty hit 32 home runs with 75 RBIs and an .817 OPS, he would easily provide some left-handed thump in the Cubs' lineup. However, I'm not getting my hopes up for it.
RELATED: 10 Bullpen Free Agents the Cubs Should Consider for 2023
Who do you want to see the Cubs target in free agency? Let us know on Twitter @CubbiesOnTap.