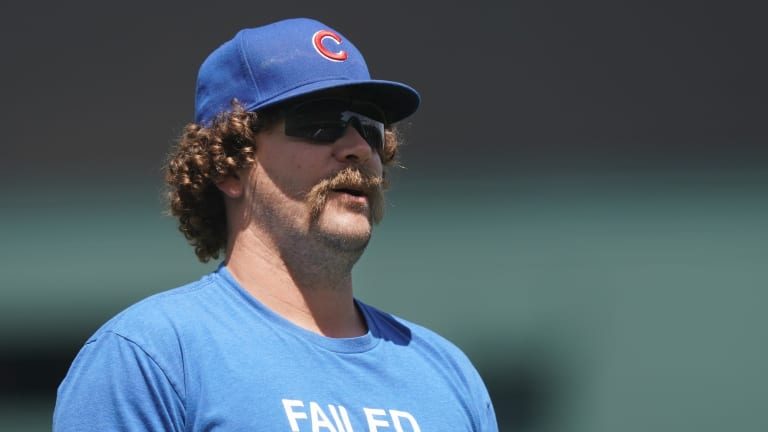 10 Bullpen Free Agents the Cubs Should Consider for 2023
Left and right, there are several available arms that could boost the Cubs' bullpen in 2023 without breaking the bank.
The Chicago Cubs showed several positive signs at the end of the 2022 season. An effective bullpen contributed to a 3.30 team ERA during the second half of the season and finished in the top five in MLB post-All-Star break.
After signing the likes of David Robertson, Mychal Givens, and Chris Martin only to deal them all by the trade deadline, there were questions heading into the second half of the season about who would get outs from the bullpen. In an encouraging development, the cast of Brandon Hughes, Keegan Thompson, Mark Leiter Jr., and even Adbert Alzolay rose to the occasion.
However, it's always tough to tell if a relief pitcher will be able to carry success from one season over to the next. With a plethora of bullpen arms becoming available this offseason, there are a few guys the Cubs should consider calling.
1. Rafael Montero
After struggling to find his way early in his career, Rafael Montero has been a reliable arm for the Houston Astros this season. In 71 games, he owns a 2.37 ERA, 1.024 WHIP, and 0.4 HR9 with 73 strikeouts and 23 walks across 68.1 innings pitched.
According to Spotrac, his market value (AAV) is estimated at a touch over $8 million, which isn't bad for a reliable arm that can throw a lot of innings. If Montero can mimic anything close to what he's done this year, that price tag would be a bargain for a guy that can limit the long ball and get outs.
2. Brad Hand
Brad Hand has put up solid numbers throughout his 10-plus-year career. His 2022 campaign featured more of the same. In 55 games, the 32-year-old southpaw posted a 2.80 ERA and 0.4 HR9 with 38 strikeouts, 23 walks, and five saves across 45 innings. He's proven to be a consistent reliever through the years with a 3.62 career ERA.
Hand is making just $6 million this season, so there's a good chance his agent is going to be asking for a lot more, and you can't blame him. Productive left-handed bullpen help is a hot commodity. With Brandon Hughes serving as the only productive lefty reliever for the Cubs in 2022, a contract for Hand might be worth the squeeze.
3. Tommy Kahnle
After spending the majority of the 2022 season battling injuries (forearm), Tommy Kahnle was able to finish on a strong note. In 13 games, the right-hander held a 2.84 ERA, 0.632 WHIP, and 9.9 K/9 with 14 strikeouts and three walks across 12.2 innings pitched. No, it's not the largest sample size, but Kahnle has proven throughout his eight-year career that he has good enough stuff to be an effective reliever.
The forearm issue he dealt with earlier this year raises questions, but it could be attributed to recovery from Tommy John surgery. He underwent the procedure in 2020 and missed the entire 2021 season. I don't see anything wrong with the Chicago Cubs taking a chance on Kahnle with a small one-year deal.
4. Jose Alvarez
The 2022 season wasn't too kind to San Francisco Giants' reliever Jose Alvarez, but his struggles may be a result of multiple trips to the injured list.
In 21 games, Alvarez posted a 5.28 ERA with 15 strikeouts, nine walks, and 17 hits across 15.1 innings pitched. If you take the 2022 season out of the equation, however, the lefty has a solid career track record. In 10 seasons, he owns a 3.47 ERA with 360 strikeouts in just over 420 innings.
Entering his age-34 season, a one-year deal for the veteran could be all the motivation he needs to get back on track.
5. Carl Edwards Jr.
Carl Edwards Jr. arguably had one of the most underrated seasons for a relief pitcher in 2022. That's probably because he played for the lowly Washington Nationals, who finished dead last in MLB.
In 62 innings, the righty had a 2.76 ERA with a 3.6 BB/9, and 8.1 K/9. These are solid numbers for any relief pitcher, but they're even more impressive considering his putrid support cast.
A return to Wrigley in 2023 for the former World Series champion would be nice, and it likely wouldn't break the bank for the Cubs.
6. Zack Britton
Anyone who has watched baseball for the past 10 years knows just how good Zack Britton has been. After his days as a dominant closer for the Baltimore Orioles, the lefty has spent the last five years as a middle reliever/setup man for the New York Yankees.
Britton spent most of the 2022 season on the injured list and didn't seem to have his best stuff when he returned at the end of the year. Appearing in just three games, Britton had one strikeout in 0.2 innings pitched.
However, there's still more in the tank for the veteran, who will be 35 at the start of the 2023 season. With questions regarding who will close out games for the Cubs next year, who knows? Maybe Britton could rise to the occasion. At this point in his career, you can bet he wants to show that he still can be the dominant closer he was in Baltimore.
7. Chad Green
Chad Green is another Yankees' reliever who spent most of the 2022 campaign dealing with injuries. After landing on the IL due to forearm issues in May, it was announced that he would have to undergo Tommy John Surgery and miss the rest of the season.
When he did play, however, Green was effective. In 14 games, the righthander had a 3.00 ERA with 16 strikeouts, five walks, and a 9.6 K/9, rate while allowing just one home run across 15 innings pitched.
There's a good chance Green won't be healthy to begin the 2023 season, but that doesn't mean he can't be ready by the All-Star break. To spend seven seasons as a relief pitcher in New York is an accomplishment, and it wouldn't be a bad idea if the Chicago Cubs took a chance on him regardless of a potentially delayed return date.
8. Andrew Chafin
Andrew Chafin is another Cubs reunion that I don't think fans would have a problem with. In 2022, Chafin was one of the few bright spots in what was a disappointing season for the Detroit Tigers. In just over 57 innings, the lefty held a 2.83 ERA, 3.06 FIP, 1.169 WHIP, and 10.5 K/9. He recorded 67 strikeouts and allowed just 19 walks.
Chafin is familiar with the Cubs, having spent 2020 and part of 2021 in Chicago. The southpaw would fit in well with the bullpen and help bolster the team's chemistry. He has a player option for 2023, but if he decides he doesn't want to play in Detroit anymore, Chicago would be a nice fit.
9. Seth Lugo
Seth Lugo is another New York relief pitcher who found success in 2022. With the Mets, the right-hander posted a 3.60 ERA, 1.169 WHIP, and 9.6 K/9 with 69 strikeouts and 18 walks across 65 innings pitched. For his career, he holds a 3.48 ERA with 508 strikeouts in nearly 495 innings pitched, which is pretty impressive for another guy that has spent his entire career in New York (seven seasons).
No, Lugo probably won't be cheap, but it might be worth it for a Cubs' bullpen that could be looking for help in 2023.
10. Scott Alexander
Call me crazy, but Scott Alexander has been one of the most consistent and underrated left-handed relief pitchers in the past seven seasons. He doesn't post the huge strikeout numbers that many flashy names do, but he limits runs and the long ball.
Alexander was as consistent as usual in 2022, albeit in a small sample size. In 17 games, the lefty notched a 1.04 ERA, 2.88 FIP, 0.5 HR9, and a 0.750 WHIP with 10 strikeouts and one walk across 17.1 innings pitched.
At just 33 years old, Alexander still has plenty of innings left to give. He's a left-handed arm that the Chicago Cubs could probably get on a cheap deal.