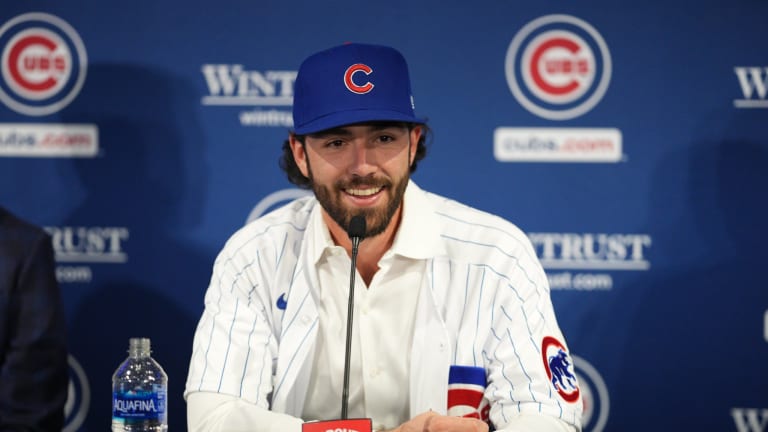 REACTION: Dansby Swanson Meant to be a Cub
Following Dansby Swanson's introductory press conference, it seems like the new Chicago Cubs shortstop was meant to be on the north side.
Without a doubt, fans were excited over this past weekend when the Chicago Cubs and shortstop Dansby Swanson reportedly agreed to a seven-year contract worth $177 million. However, excitement ascended further into the stratosphere on Wednesday when the team introduced their new shortstop in a major introductory press conference. 
With excitement at an all-time high, let's take a look at some of the major highlights and the reaction surrounding some major moments from the press conference. 
Winning is the Priority
There are a number of things that can lure a free agent to a new city. Sometimes it takes the big ticket contract, or a nice city to live in, or other external factors. However, for Dansby Swanson, it takes a plan to win and the goal of winning to sell him. 
Swanson mentioned a number of times throughout his press conference that winning is something he strives for. If an organization cannot show and convince him of a plan to win and contend for years to come, it won't interest him. Clearly Jed Hoyer and Carter Hawkins did a good job of laying out the future plan for contention. 
"Winning is the priority", said Swanson in the press conference. This guy is a true competitor and has the burning desire to win. What a get for the Cubs and what a plan for the future if it helped sell Swanson. 
The Desire to Improve
Perhaps one of the most intriguing asks that Swanson desired is the Cubs' ability to help him improve as a ball player. It's very easy as a big free agent to lean on what landed you the contract and not worry about how to improve as a player. For Swanson, he wants to build on his incredible 2022 campaign and continue improving. 
In 2022, Swanson was named to his first All-Star game, captured his first Rawlings Gold Glove award, and saw a huge uptick in other personal statistics for an Atlanta Braves team that chased down the New York Mets for the NL East Division crown. Although Swanson's best season came in 2022, both he and the Cubs believe there is more to be untapped in his game. 
Swanson admitted he wants to work on lowering his strikeouts, hitting for higher average, and increasing his on-base percentage. All three areas are certainly areas where the All-Star can improve. However, the more impressive factor is the self awareness and burning desire to improve in those areas. Swanson is already ahead of the game. After all, he is a former No. 1 pick. The talent and ability is not fully realized just yet. 
It's Truly Different Here
Wrigley Field, the beauty of Wrigleyville, and the appeal of playing in Chicago are all things that certainly weighed on Swanson's mind. Swanson expressed his excitement as a kid on Christmas morning with gifts under the Christmas tree. 
"Chicago Cubs fans are, like, the best fans in baseball." Scream it from the rooftops, Dansby. The former Brave is well aware of what playing at Wrigley Field not only means from a tradition standpoint, but also from a fan's perspective. It's a special place. Day games at Wrigley truly hit different. In addition, great plays from great players in the Friendly Confines also hit different. Dansby Swanson gets it, it's different here. 
Destiny is Real
For those that don't believe that things are meant to be, that destiny is real, are likely reeling on those thoughts. Not only does Mallory Pugh, Dansby's newly wedded wife, play in Chicago for the Red Stars, but Swanson's grandfather also had quite the admiration for the Chicago Cubs. Through WGN, Swanson's grandfather always had the Cubs on, as shared in his press conference. Here is the full clip about Dansby's relationship with his grandfather and what playing for the Cubs really means. 
Swanson won a World Series in his hometown with the Atlanta Braves, and celebrated doing so with his family. Now, he has the opportunity to bring a championship to the Cubs, his grandfather's second-favorite team, and fulfill a quest of destiny as he honors his grandfather. As Dansby said, "being a Cub means more to me than people realize."
Closing Thoughts
Following Swanson's press conference, it's hard to contain one's excitement about the upcoming season. Although there are still pieces needed to round out the 2023 club, let alone very competitive teams in the near future, Swanson's presence for seven years will be monumental for the franchise. In addition, add him up the middle with Nico Hoerner, Cody Bellinger, and Yan Gomes (who Swanson spoke very highly of) and the Cubs are solid defensively where it matters most. 
Get ready Cubs fans, good things are coming to Wrigley Field very, very soon.