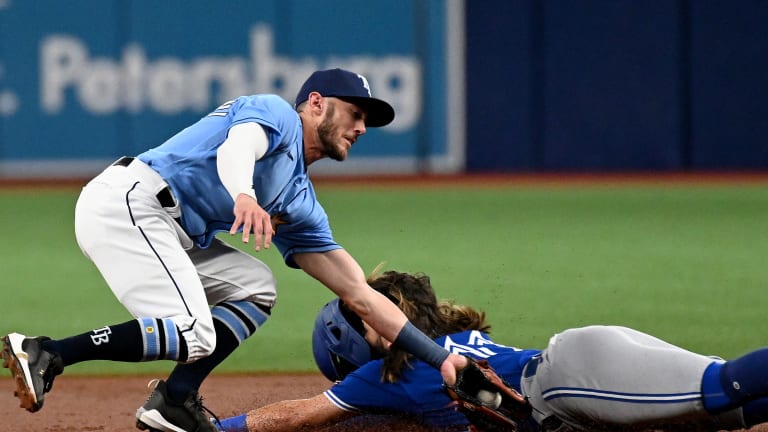 Report: Cubs Acquire Miles Mastrobuoni from Rays
The Cubs and Rays were said to be in trade talks. It appears a small deal is happening between the two clubs.
Chicago Cubs fans are waiting for the big news to drop. They're hoping for a Carlos Correa, Trea Turner, Dansby Swanson, or Xander Bogaerts signing. However, the first roster move to occur, other than internal moves, is none other than a trade with the Tampa Bay Rays. For Tyler Glasnow? No. Instead, the Cubs are acquiring 2B Miles Mastrobuoni in exchange for what is currently reported as a minor league pitcher. 
For the Rays, this helps with their 40-man roster jam. For the Cubs, it might be a similar case. They might identify a Class A pitcher who isn't a part of the future who will be heading back to Tampa. For those concerned, this means a Myrtle Beach pitcher, and most of the Cubs' top arms that began there in 2022 have already ascended in the organization. According to reports, it appears Alfredo Zarraga is heading back to Tampa Bay.
Mastrobuoni has only played eight games in the majors. He debuted with the Rays in late September and slashed .188/.235/.188 with a run scored and a stolen bag. That said, Mastrobuoni had a breakout season at the Triple-A level. With the Durham Bulls, the 27-year-old slashed .300/.377/.469 with 16 home runs and 64 RBI. In addition, he scored 92 runs and stole 23 bases in 129 games. 
This move is a nice depth addition for the Cubs. With the need for quality middle infielders now that the shift is going away, Mastrobuoni presents a case as a player with a chance to have a change of scenery. The Rays and Cubs are no strangers to these type of deals, making the trade involving Harold Ramirez and Esteban Quiroz this past season. 
This is certainly not the move fans have been waiting for. However, it signals the start of what many expect to be a busy offseason for Jed Hoyer and company. 
UPDATE:
It appears the trade is official now, per the Cubs.