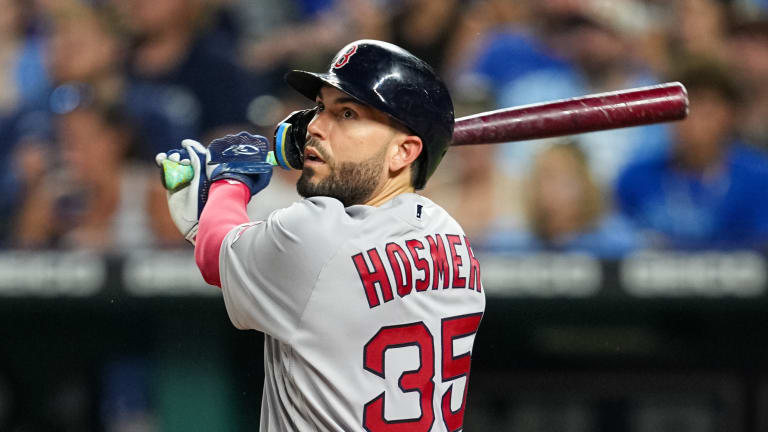 REPORT: Cubs, Eric Hosmer Nearing a Deal
According to Jon Heyman, the Cubs and 1B Eric Hosmer are nearing a deal.
While the MLB hot stove cooled off during the holidays, the Chicago Cubs appear to be reigniting the stove just days into the new year. According to MLB Insider Jon Heyman, the Cubs and free agent first baseman Eric Hosmer are nearing a deal. 
Although not the sexiest name on the market, Hosmer brings a veteran presence to the first base position. Currently, speculation pencils Matt Mervis in at the position come the start of the season. 
Reports surfaced days ago that Hosmer and the Cubs were potentially going to strike a deal. Hearing that the two are nearing a deal should come as little surprise given those previous reports. 
Fans had a hunch the team would be in on another player to platoon for 2023, but many fans were hoping for Trey Mancini, or others, rather than Hosmer. However, his numbers aren't the worst thing fans have ever seen. 
Hosmer's career numbers are indeed quite good. A .277/.336/.428 slash line with nearly 200 home runs and well over 300 doubles is quite the line. Include his 879 RBI, and four Gold Glove awards, Hosmer makes sense for a team that needs help at the position, especially for little-to-no money. 
Recently, Hosmer's numbers are down from the career norms, especially on the slugging front. However, if Hosmer can bring the Cubs the same value he brought the San Diego Padres early last season (.727 OPS), then maybe he's worth the flier for one season. Add in the mentorship that brings for a player like Mervis and this becomes a signing that is easier to stomach for Cubs fans. 
Fans will have to wait patiently to see the final details of the contract. However, don't expect it to be egregious for the Cubs, especially with the Padres helping pay Hosmer handsomely.