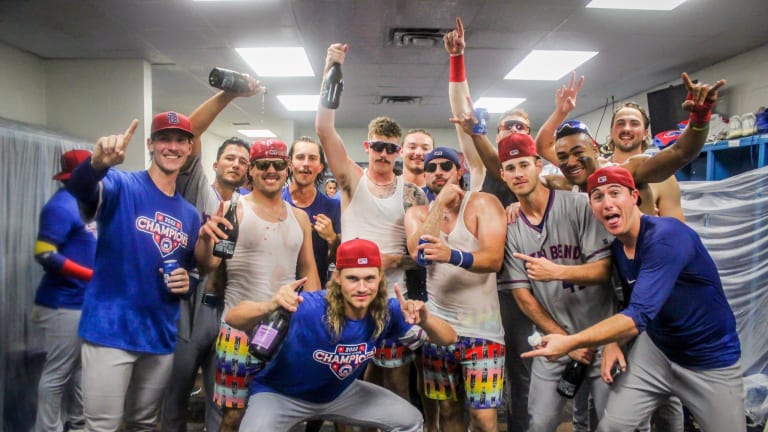 Chicago Cubs Around the Farm 39th Edition: 9/21/22
Check out the stars and underwhelming performers from around the Cubs' farm system on Wednesday, September 21.
Around the Chicago Cubs' farm on Wednesday, Sept. 21, the South Bend Cubs were crowned champions, the Tennessee Smokies were off for the day, and the Iowa Cubs took home a W. That made it a perfect 2-0 day for Cubs minor league baseball fans.
Iowa was supposed to play two games, but the second game of the doubleheader was canceled. That's okay though because—not sure we mentioned this—the South Bend Cubs won the Midwest League Championship! Let's take a look at the highs and lows around the farm.
Triple-A Iowa Cubs: 6-3 Victory Over Omaha Storm Chasers
Biggest Yes: Alexander Canario — 2/3, 2 BB, R
In the Sept. 20 edition of Around the Farm, I mentioned Alexander Canario seemed to have hit a turning point in Triple-A. Now, Canario has back-to-back Biggest Yes awards and three overall.
My fourth-best prospect in the Cubs' system didn't do anything overwhelming in this one, but he got on base in 80% of his plate appearances. In a seven-inning game where anything could happen, all the time Canario spent on base, making pitchers face another batter, certainly mattered.
Biggest Yikes: Brennen Davis — 0/3, 1 BB, 1 SO, 5 LOB
Brennen Davis's tumultuous 2022 continued in this contest. Obviously, back surgery took away most of his season. Then, after returning, Davis has looked mostly like a shell of himself at the plate. It's gotta be so frustrating for him. Many people predicted Davis, my No. 2 prospect in the Cubs' system, would be in Chicago at this point.
Instead, he continues to struggle at the plate in Triple-A. While Davis got on base in this one, he consistently left runners on base and couldn't connect with his bat.
Double-A Tennessee Smokies: OFF
High-A South Bend Cubs: 7-4 Victory Over Lake County Captains
Biggest Yes: Luis Verdugo — 2/4, HR, 2 RBI
First of all, the South Bend Cubs are Midwest League champions again. Major hats off to the entire team for going out there and claiming a Game 3 victory to take the title. Verdugo was part of the bomb squad that made it happen. Verdugo (my 46th prospect in the Cubs' system) was joined by Owen Caissie (8) and Pablo Aliendo (36), who both had home runs in the third inning. It was an outburst of power from some big bats in the Chicago Cubs' system.
Verdugo's fifth-inning home run was the exclamation mark. It put the Cubs up 7-3 at the time, and it provided more than enough cushion for South Bend to win the game and the championship. A lot of the Cubs' best prospects are chilling in South Bend, including top-overall prospect Pete Crow-Armstrong, 12th-best prospect Luis Devers, Yohendrick Pinango (16), Porter Hodge (22), and Luke Little (23). There are several more we could name, but it was cool to see Verdugo, a lesser-known prospect, get the Biggest Yes here as the Cubs won it all.
Biggest Yikes: Kevin Made — 1/4, 2 LOB, E
It's kind of poetic that the South Bend Cubs end their season with Kevin Made picking up a final Biggest Yikes award. There's also something poetic about his system-leading seventh Biggest Yikes award coming in part due to a fielding error, as Made's biggest draw is his glove. I promise I'll stop calling things poetic, but there is also something poetic about the fact that this wasn't even that bad of a game for Made.
It's been a rollercoaster journey on top prospects lists for Made this season. He started swinging a scorching hot bat out of nowhere with Low-A Myrtle Beach. It earned the 20-year-old a promotion to High-A, where Made was just sufficiently overwhelmed by the more advanced pitching. Still, a couple of games ago, Made got a Biggest Yes award, and I am proud of him for that. I just couldn't help awarding him with the final Biggest Yikes award for South Bend. You know, it's… poetic.