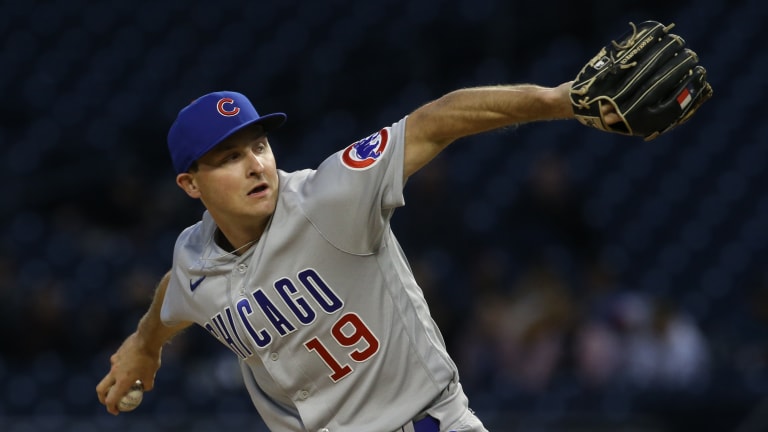 Hayden Wesneski Throws Immaculate Inning in 2nd Start with Cubs
The young righty threw the second-straight quality start of his young career, which included an immaculate inning.
Chicago Cubs' No. 12 prospect Hayden Wesneski has been an exciting piece for the pitching staff since coming over in a trade from the New York Yankees earlier this season. On Thursday, he was stellar in his outing against the Pittsburgh Pirates, earning the win and pitching an immaculate inning in the fifth.
In four outings (two starts) with the Cubs, the former Yankees' No. 2 pitching prospect has been as good as advertised. Wesneski has been effective from the bullpen as well as a starter. In 22 innings pitched, Wesneski has a 2.45 ERA with 24 strikeouts and four walks. In his starts, he's allowed just three earned runs in 13.1 innings pitched with 13 strikeouts and two walks.
Thursday's showing against the Pirates was another glimpse of the potential frontline starter Wesneski could be for the Cubs' pitching staff going forward. The young righty threw 6.1 innings with six strikeouts, and two walks while allowing just two earned runs on five hits in the Cubs' 3-2 win.
With his immaculate fifth inning, Wesneski joined just a handful of Cubs' pitchers to accomplish the feat. He also became just the sixth pitcher to do so this season.
Here's the thing about immaculate innings: they don't come around that often. According to Cubs On Tap insider Joey Ricotta, there have been 317 no-hitters pitched in MLB history and only 109 immaculate innings. At just 24 years old, Wesneski has shown the potential to add to both of those lists throughout the rest of his career.
With 12 games left in the Chicago Cubs' season, there's a good chance Hayden Wesneski could make two more starts. If they're anything like his last two outings, which have featured his frisbee-like slider on full display don't be surprised to see another stellar performance from the young right-hander.