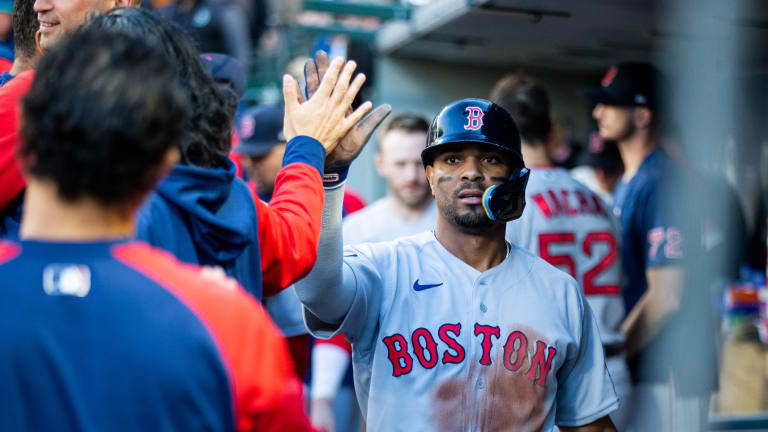 Cubs Prioritizing Xander Bogaerts in Free Agency
The former Red Sox shortstop is a hot commodity this offseason.
According to Bob Nightengale of USA TODAY Sports, star free agent shortstop Xander Bogaerts is a top priority for the Chicago Cubs this offseason.
It's no surprise that the Cubs have significant interest in Bogaerts. Since the end of the 2022 season, reports have indicated the Cubs plan to be major players for one of the star shortstops on the free-agent market. If the North Siders were to put their money in on Bogaerts, it wouldn't be a bad choice of the four. Trea Turner, Carlos Correa, and Dansby Swanson are the other notable free-agent shortstops.
Last year with the Boston Red Sox, Bogaerts slashed .307/.377/.456 (.833 OPS) with 15 home runs, 73 RBIs, and 38 doubles. He also made his fourth All-Star appearance and won his fifth Silver Slugger Award. At the end of the season, the 30-year-old opted out of his remaining three years with the Red Sox, making him a free agent.
Xander Bogaerts' Potential Fit With The Cubs
With MLB Winter Meetings underway in San Diego, rumors and reports will continue to circulate. If the Chicago Cubs are to make an offer for the veteran shortstop, it's assumed they will have to pay a huge chunk of money to the Scott Boras client, and for good reason. In his 10-year career, the two-time World Series champion has averaged a .292 batting average, an .814 OPS, 20 home runs, 88 RBIs, and 39 doubles per season.
If the Cubs were to sign Bogaerts, the question would then become: who plays shortstop for the Cubs in 2023, Bogaerts or Nico Hoerner? The latter is coming off a stellar defensive season and has easily made his case to be the everyday shortstop in 2023. However, if the Cubs plan to pay big for Bogaerts, why wouldn't they start the veteran at short in 2023? Or maybe Bogaerts would be willing to move to second base in 2023? The same could be applied to Hoerner.
There are a lot of questions still up in there no matter what the Cubs decide to do this offseason. But at the end of the day, adding Xander Bogaerts to the roster entering 2023 wouldn't be a bad idea.