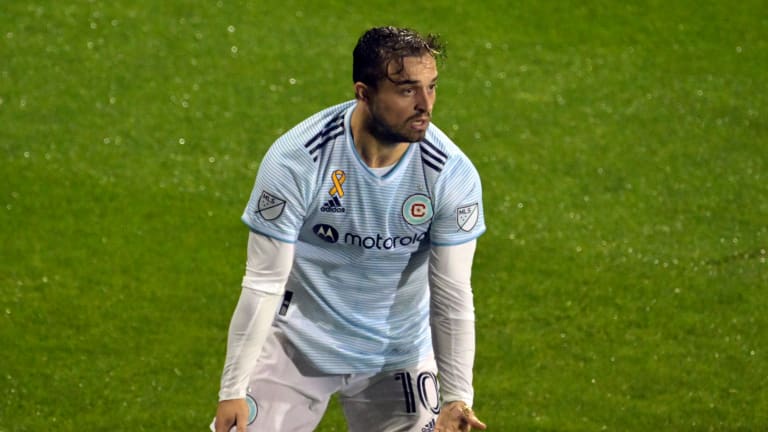 Xherdan Shaqiri Scores 2 Penalty Kicks in Chicago Fire's 3-2 Loss at Montreal
Jonathan Bornstein's two turnovers sunk Chicago, which had its unbeaten streak end at three matches at playoff-bound Montreal.
Xherdan Shaqiri converted two penalty kicks for the Chicago Fire, who had their three-match unbeaten streak (1-0-2) end in a 3-2 loss at CF Montreal.
Kei Kamara scored two goals within nine minutes in the first half for Montreal (17-9-5), which is unbeaten in its past three matches (2-0-1). Ismaël Koné assisted on both of Kamara's goals. Kamara also assisted on Zachary Brault-Guillard's first-half goal.
Gabriel Slonina made two saves for the Fire (9-14-8), who played without Federico Navarro because of yellow card accumulation. Montreal's Sebastian Breze made one save.
"The effort, I thought, was there," Fire manager Ezra Hendrickson said. "But when you play against a team that strong and (as) good as Montreal, you have to really limit your miscues, really limit your mistakes.
"And I thought we lost the game in the first half because all three goals, I mean, I think the first one might have been offside, if that guy is not in [Slonina's] path, maybe he saves that. But the other two goals (were) just mistakes that led directly to goals. We turn the ball over and they go down and punish us."
Koné sent a volley into the box where it deflected off Kamara's foot for a 1-0 lead in the 21st minute. The duo connected eight minutes later when Koné capitalized on Johnathan Bornstein's turnover and sent a pass to Kamara, who finished it at the top of the box for a 2-0 lead.
The Fire earned their first penalty when Jhon Duran was fouled by Brezea. Shaqiri cut the deficit to 2-1 in the 39th minute when his shot deflected off Brezea's left glove and into the net.
But Kamara connected with Brault-Guillard, who restored a two-goal lead in the 44th minute off Bornstein's second turnover.
Durán was fouled again inside the box in the 57th minute, this time by Montreal's Joel Waterman. After video review, the Fire received a penalty kick and Shaqiri sent Breza the other way for the 3-2 final.
"We would have liked to win out the rest of our games, but obviously things happen," Hendrickson said.
"But we are going to keep fighting. We are not going to give up because we are still in the hunt and we still believe in ourselves as a team. So yeah, we are going to go back into the week, prepare for this next game and try to get nine points out of these next three."
Scoring Summary
MTL - Kamara (7) (Kone 4) 21'
MTL - Kamara (8) (Kone 5) 29'
CHI - Shaqiri (6) 39'
MTL - Brault-Guillard (4) (Kamara 7) 44'
CHI - Shaqiri (7) 57'
Stats Summary: MTL / CHI
Shots: 11 / 6
Shots on Goal: 5 / 3
Saves: 1 / 2
Passing Accuracy: 86.5% / 81%
Corners: 5 / 1
Fouls: 16 / 14
Offsides: 2 / 2
Possession: 54.2% / 45.8%
What's On Tap Next For The Fire?
The Chicago Fire head host Charlotte FC on Saturday at Soldier Field. Kickoff is at 7 PM CT and the match will air on WGN.