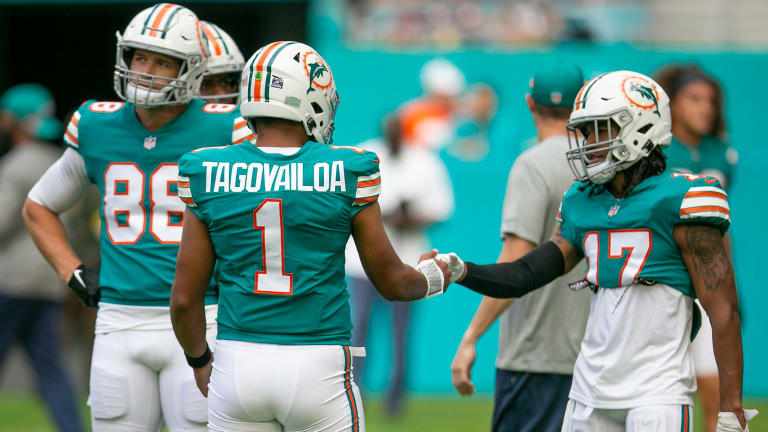 NFL Week 7 Best Bets
It is once again time to rip the sportsbooks to pieces. Check out some of the wagers I've placed, and follow me into battle if you're brave.
Mark this as two Sundays in a row where my stress levels won't skyrocket because the Chicago Bears are attempting to play football. Awesome! Winning bets are the only thing that can make this even better. College football is fun, but nothing beats betting on the NFL. After warming up with Thursday Night Football, It's that time again. Let's smash the sportsbooks to pieces today.
New York Giants @ Jacksonville Jaguars -3 O/U 43.5
New head coach Brian Daboll has this New York Giants team making adjustments at halftime and coming out strong in the second half of games. They have been outscored by 34 points in the first half through six games. However, they've outscored opponents by 45 points in the second half, helping them to a 5-1 record.
On the flip side, the Jaguars have outscored opponents 70 to 60 in the first half. They've also outscored opponents by 14 points in the second half. Instead of banking on the Giants to play better in the second half, I'll take the team that starts the game well more consistently. Perhaps this opens an opportunity to double dip and live bet on the Giants for the second half.
The Pick: Jaguars -1.5 First Half (-110 FanDuel)
Detroit Lions @ Dallas Cowboys -6.5 O/U 48.5
The big storyline for this game is the return of Cowboys' quarterback Dak Prescott. It will be his first game back since injuring his right thumb in Week 1 against the Tampa Bay Buccaneers. Cooper Rush filled in nicely for Prescott, but he struggled in his last game against the Philadelphia Eagles. The former Central Michigan University quarterback threw three interceptions.
Before getting injured, Prescott and the Cowboys' offense didn't play well against Tampa Bay. Prescott was 14 of 29 with zero touchdowns, one interception, a 48.28 completion rate, and a 47.2 quarterback rating. Despite owner Jerry Jones hoping for a quarterback controversy, Prescott is a clear upgrade over Cooper Rush.
Prescott will face a Lions' defense that ranks dead last in points per game allowed (34.0) and yards per play allowed (6.5). They are either last or second-to-last in the following categories - Yards Per Drive, Points Per Drive, and Drive Success Rate.
Using Action Network's NFL Luck Rankings, the Lions are the most unlucky team in the NFL this season (-32.6%). The rankings were created to separate on-field performance from game outcomes. The Cowboys check in as the fourth-luckiest team in the NFL (24.5%). In other words, these two teams are on opposite ends of the spectrum. While the Cowboys have a 4-2 record and the Lions have a 1-4 record, one could argue that the Cowboys deserve a worse record and the Lions deserve a better record.
The Cowboys are the better team all the way around. But are we confident Dak Prescott returns after sitting out the last five games and immediately lights it up?
I liked the Lions earlier in the week when I caught them at +7. However, the fact that Prescott was announced as the starter and the line moved in favor of the Lions being the right side makes me feel better.
The Lions haven't won a road game since Dec. 6, 2020. They are 0-10-1 on the road under head coach Dan Campbell. I think that's making the argument against them, but they will be highly motivated coming off a bye week after a 29-0 shellacking in Foxborough. Ultimately, I think the Cowboys will win, but 6.5 points feel like too many.
The Pick: Lions +6.5
New York Jets -1.5 @ Denver Broncos O/U 36.5
The Jets should be riding high coming into this game after defeating the Green Bay Packers on the road at Lambeau Field last week. Perhaps they are riding too high? Are these teams truly as good or bad as their records indicate? The Broncos are listed as the third-unluckiest team on Action Network's Luck Rankings. Meanwhile, the Jets are the ninth-luckiest team.
The Broncos return home following a second consecutive overtime loss. It's safe to say the Russell Wilson experience isn't going according to plan. However, I'd imagine Subway is very happy, considering the publicity they are gaining from his poor play and general awkwardness in their commercials. "DangeRuss" was ruled out for today's game with a partially torn hamstring. In steps backup QB Brett Rypien to make his second career start.
Something has to give for the Broncos. They are the second-best Total DVOA defense in football and No. 1 against the pass. Zach Wilson hasn't thrown an interception for a couple of weeks, but he's been known to be a risk-taker and gunslinger. I don't trust Nathaniel Hackett as a head coach, but maybe the defense forces turnovers and Brett Rypien takes what's given to him on offense.
The Jets are very much a public bet this week. Regardless of the outcome, I can't get on board with the Jets being a popular public bet on the road at Mile High. With 15-20 MPH projected winds, downfield throws could be impacted. This matchup sets up to be one of the least entertaining games on the slate. Give me the home team in a weird one as a plus-money dog.
The Pick: Broncos ML (+108 FanDuel)
Kansas City Chiefs -1.5 @ San Franciso 49ers O/U 48.5
Nothing beats a good jolt to the system and a morale booster ahead of a difficult matchup. The 49ers shocked the world when they traded for running back Christian McCaffrey earlier this week. He's expected to play, but how well has he learned the playbook in roughly three days? CMC is a difference-maker, but I can't imagine him playing more than 35-40 percent of offensive snaps on this short notice.
The 49ers are a good team that's dealt with injuries. Still, to this point, who have they beaten? Their best win came against the Los Angeles Rams, who haven't looked like the defending Super Bowl champs.
The Chiefs are as legit as any team. Not only have they played well with a 4-2 record, but they are also coming off a close loss to the Buffalo Bills. Oh, and they'll have the much better quarterback on the field in Patrick Mahomes. Since Mahomes became the starter in 2018, they've only lost two games in a row on three occasions. -1.5 is a gift I can't pass up. Lay the points with the Chiefs. I'd play this up to -2.5.
The Pick: Chiefs -1.5
P.J. Walker Over 151.5 Passing Yards (-115 BetRivers)
Understandably, P.J. Walker isn't someone bettors will rush to the window to place wagers on. He's a backup quarterback playing for a tanking team who will face the fourth-best pass DVOA defense.
Still, 151.5 passing yards is a shallow bar for a quarterback in a projected negative game scrip as a 13.5-point underdog. The Panthers will be down early and forced to air it out in the second half. I'd play this to 156.5. 
Kenneth Walker Over 68.5 Rushing Yards (-115 BetRivers)
Unfortunately, Seahawks' running back Rashaad Penny finds himself on injured reserve once again. The talented running back out of San Diego State can't catch a break. Head coach Pete Carroll didn't hesitate to use Kenneth Walker heavily, making the first start of his career filling in for Penny last week. Walker rushed for 97 yards on 21 carries (4.62 average).
Out of a minimum of 20 percent of 119 run attempts, Walker sits first in Breakaway percent (66.7%). But wait, there's more. The rookie has the highest rate of missed tackles forced, with 22 on only 44 rushing attempts.
Clearly, he's taking advantage of his opportunity and will get more this week against the Los Angeles Chargers, who own one of the worst run defenses in football. The Bolts have allowed 6.5 yards per carry over their last three games, which is the most in football. I'm hammering this prop over, and I'd play it to 72.5.
Jaylen Waddle Over 61.5 Receiving Yards (-120 BetMGM) 
The Miami Dolphins are getting starting quarterback Tua Tagovailoa back from a serious head injury, which forced him to leave their Week 4 contest against the Cincinnati Bengals early. The former Alabama teammates have an obvious connection. Of the three games Tua has started and finished this season, Waddle has gone over this total in each. In two of those games, he had over 100 yards.
The Pittsburgh Steelers rank 17th in defense pass DVOA, allowing the third-most passing yards per game (277.8). Waddle also has the fourth-most yards after the catch per reception among wide receivers (7.7). According to PFF, Waddle also has an 83.4 matchup grade advantage, which ranks fifth-best for Week 7. His teammate Tyreek Hill has the most significant advantage. But I'd expect the defensive focus to be on him more. I'd play this to 63.5.
Tua Tagovailoa Over 21.5 Completions (-125 DraftKings)
Since I already mentioned Miami's matchup advantage over Pittsburgh in the passing game, let's talk about some extra reasons to like this prop. Tua returning from injury might scare people away from this. The Dolphins are 7.5-point favorites, and maybe they elect to play it safe, running the ball more in a positive game script.
But there's another option. Miami can utilize the passing attack as an extension of the running game. In other words, to keep Tua from getting hit a ton, they can call more short passes, which, in theory, should increase his completion rate. Tua already does an excellent job with accuracy. He's second in the NFL to Tom Brady with an 81.4 percent On Target rate. Furthermore, his 69.6 percent completion rate is third in the NFL.
Tua completed at least 23 passes in each of his first two games. In Week 3 against the Buffalo Bills, he completed 13 of 18 passes for a season-high 72.22 completion rate. The total number of completions would've been much higher had the Bills not owned the time of possession by 20-plus minutes. Betting on a player to come through in the prop market fresh off an injury is a scary proposition, especially when the injury was as serious as Tua's. Fear will not stop me. Over 21.5 completions is the move.
Follow us on Twitter @OnTapBets and follow me @JoeyKnowsNothin. Let's smash the sportsbooks to pieces today. Best of luck.