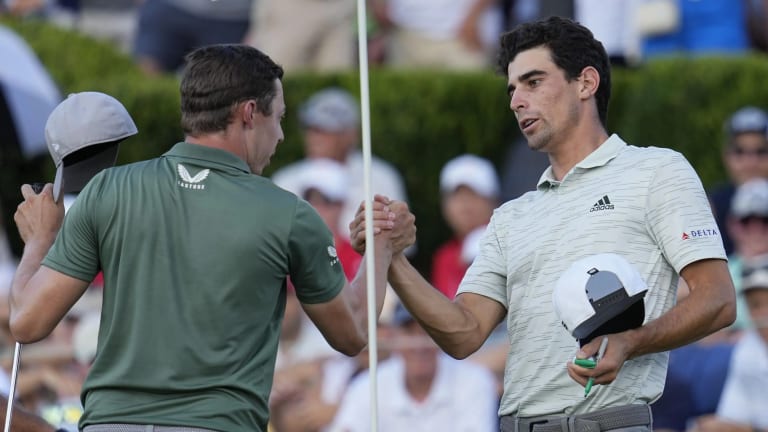 Joaquin Niemann, Cameron Tringale Become Latest Players To Join LIV Golf
Niemann, 23, is currently 19th in the Official World Golf Ranking, while Tringale, 35, is ranked 55th.
Now that the PGA Tour's 2021-22 campaign has wrapped up following Rory McIlroy's incredible comeback victory at the Tour Championship, more players are expected to depart for the Saudi-backed LIV Golf Invitational Series this week.
The first departure was actually announced on Sunday morning prior to the conclusion of the Tour Championship, with Cameron Tringale posting on Instagram that he will be leaving the PGA Tour for LIV Golf.
Tringale, 35, turned professional in 2009 and has made 338 starts on the PGA Tour. In fact, Tringale has netted nearly $17.5 million from the Tour in his career, making the California-native the highest earner who has not won a tournament of all time.
Tringale currently ranks No. 55 in the Official World Golf Ranking, with his best finish at a major championship being T38 at the 2015 Masters.
Along with Tringale, 23-year-old Chilean Joaquin Niemann made his decision to join LIV Golf on Monday morning. Niemann, No. 19 in the OWGR, is a two-time winner on the PGA Tour, most recently having won the 2022 Genesis Invitational.
While Niemann has yet to officially sign the deal with LIV Golf, he is reportedly on his way to Boston and will debut for the series on Friday.
Throughout the past couple of weeks, Niemann has gone back and forth on the idea of joining LIV Golf. According to Jamie Weir of Sky Sports News, Niemann was persuaded by fellow South-American player Camilo Villegas to stick with the PGA Tour, which led to LIV Golf immediately upping their offer. Niemann was supposedly 50/50 heading into the weekend — but the money prevails once again.
Niemann finished T11 at the Tour Championship, earning just shy of $1 million for the result. However, that will be Niemann's final paycheck from the PGA Tour, as he will now be suspended for deflecting to LIV Golf. Niemann will also be forced to miss out on the 2022 Presidents Cup, which is set for Sept. 22-25.
While Niemann's departure may be disappointing, the news should not come as too much of a surprise considering good friends Abraham Ancer and Sergio Garcia are members of LIV Golf. Keep an eye out for Mito Pereira, another close friend of Niemann's, to potentially join LIV in the near future as well.
Cameron Young, Hideki Matsuyama Remain With PGA Tour
While other players like Cameron Smith, Harold Varner III, Marc Leishman, and Anirban Lahiri are expected to make their LIV announcements this week, Cameron Young and Hideki Matsuyama have elected to stick around on the PGA Tour.
Young, 25, is expected to be named PGA Tour 2021-22 Rookie of the Year after five runner-ups and a 19th-place finish in the FedEx Cup this season. Young admitted that joining LIV Golf was tempting, but after the PGA Tour announced severe future changes last week, he decided to stay put.
"With some of the changes coming [to the PGA Tour], that's kind of what really helped me decide to kind of stay and pursue those goals that I have for myself like making a Presidents Cup team and a Ryder Cup team and winning a major, when all of that is just uncertain if you go."
Interestingly enough, Young's name was one of seven used by LIV Golf's website last week to give fans discounted ticket prices for attending their Boston event. The promo codes were removed shortly after being made public, but perhaps Young's decision to remain with the PGA Tour came down to the wire.
Matsuyama, who finished T11 with Niemann at the Tour Championship, also confirmed his loyalty to the PGA Tour on Sunday. Matsuyama, the 2021 Masters champion and eight-time winner on the PGA Tour, has been linked to LIV Golf for the past several months. However, Matsuyama has been leaning towards staying for the past week and announced his decision on Sunday.