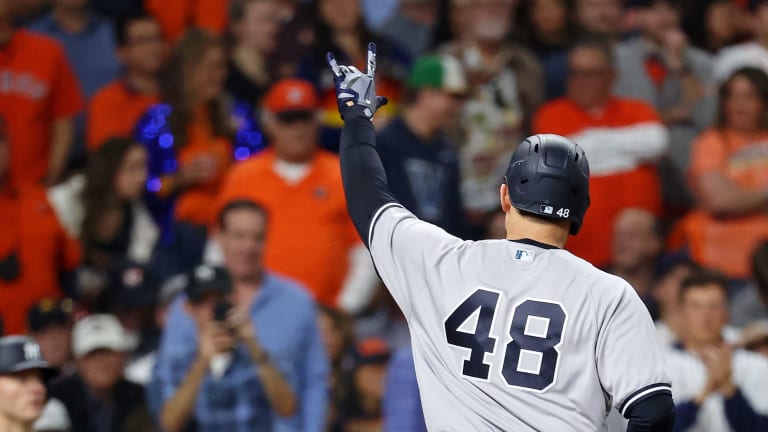 Anthony Rizzo is the Houston Astros' No. 1 Free-Agent Target at First Base
The Astros are hell-bent on getting a top first baseman.
Ahead of last Thursday's deadline, the New York Yankees extended Anthony Rizzo the one-year, $19.65 million qualifying offer after he opted out of his contract. Rizzo has until 3 PM CDT on Tuesday to decide whether he wants to accept or reject the offer.
Now, Rizzo has at least one more powerful team vying for his services. According to Ken Rosenthal of The Athletic, Rizzo has been identified by the Houston Astros as their top free-agent target at first base. He notes Houston is also Jose Abreu and bringing back Yuli Gurriel.
Banning the shift is considered a boost for guys like Anthony Rizzo, whose batting average has recently plummeted. Rizzo has hit no better than .248 since the end of the 2019 season. However, next year that could climb back up because opponents won't be allowed to crowd the right side of the diamond when Rizzo bats.
The lefty slugger and former World Series winner has maintained his power production and even saw an increase last season when he hit 32 homers for the Bronx Bombers. The short porch in right field at Yankee Stadium definitely aided him to a degree.
What type of contract would the Astros be willing to offer Tony? The New York Yankees are probably still the front-runners for Rizzo, but the fact the Astros are hell-bent on getting a top first baseman spells trouble for a team like the Chicago Cubs, who have been linked to Jose Abreu, Josh Bell, and Trey Mancini. The Cubs should be able to win any bidding war they want, but the Astros offer a ready-to-win roster, which might be enough to sway impactful free agents.