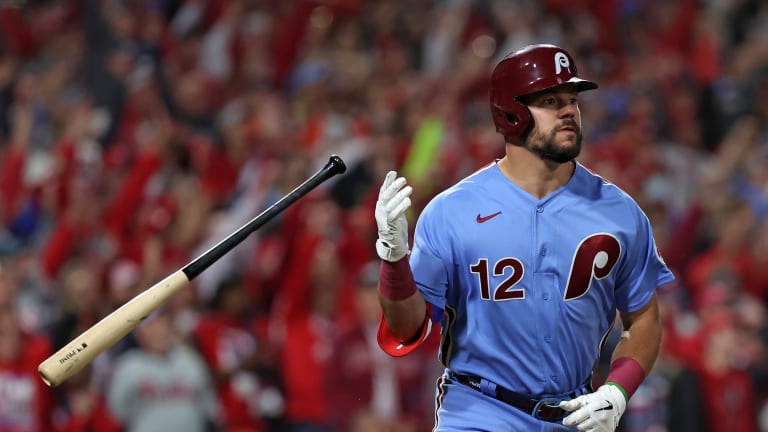 Kyle Schwarber Continues Powerful Postseason With Leadoff Homer in World Series Game 5
The legend of Postseason Kyle Schwarber continued Thursday as he launched his second home run of the World Series.
Well folks, Kyle Schwarber has done it again. Just when you thought he couldn't possibly wow us anymore, he launches a leadoff home run off of Justin Verlander in the first inning of Game 5 of the World Series. As a result, his impressive playoff resume continues to grow.
Schwarber rocked a high fastball on the second pitch he saw for his second home run of the World Series, increasing his 2022 postseason total to five.
Kyle Schwarber has been a consistent offensive threat in the playoffs throughout his career. So far in the 2022 postseason, the former Chicago Cubs slugger has a .934 OPS with five home runs, nine RBIs, 14 walks, and three stolen bases — including the first stolen base of the World Series. And in 15 series since 2015, Schwarber has 14 home runs, 26 RBIs, and an .896 OPS. He hasn't cracked the top 10 in career postseason offensive categories just yet, but at just 29 years old with plenty of baseball left in his career, he will likely join those ranks. 
The Houston Astros currently lead the Philadelphia Phillies 2-1 in the fifth inning of Game 5 of the World Series. Both teams have won a pair of games entering Wednesday, so there's a chance Kyle Schwarber could hit another moonshot. And at this point, would any of us be surprised? Doubtful.