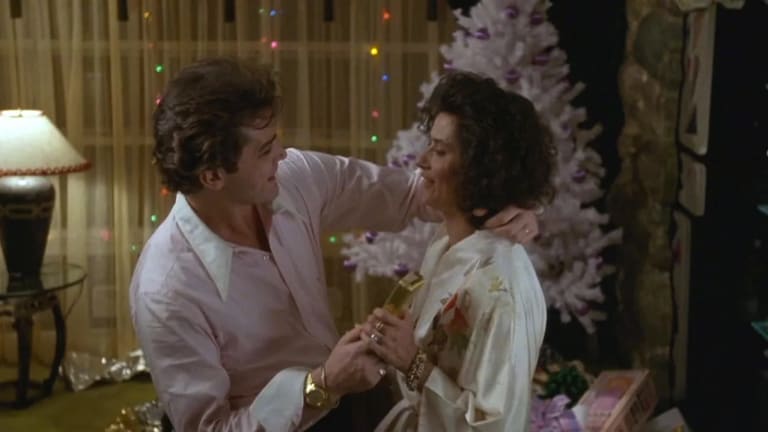 Like Die Hard, These 10 Flicks Are CHRISTMAS MOVIES
We're upping the ante on the "Die Hard is a Christmas movie" claim.
"Die Hard is a Christmas movie."

Every holiday season, this controversial claim circulates around social media platforms and Christmas get-togethers. It's often spewed by contrarians simply looking to get a rise out of the crowd around them. Some refute it in defense of the holiday's traditional media offerings while others legitimately agree or at least entertain the idea to help keep the conversation all holly jolly.
Here at On Tap Sports Net, we'll play ball with the "Die Hard is a Christmas movie" crowd. Consider it a given due to the film's time and place setting.
But we're gonna take it a step further. Let's up the ante with 10 more flicks that are totally Christmas movies.
10. The Godfather
How did Michael Corleone evolve from "Joe College" into one of the most ruthless mob bosses in the country? A Christmastime tragedy.
After shopping for gifts and seeing a show with Kay, the innocent couple passes by a newsstand that alerts Michael of an assassination attempt on his father, Vito.
The rest, as they say, is history.
9. GoodFellas
After the Lufthansa heist, Jimmy Conway informed his crew not to splurge on any big purchases in order to avoid detection. But Johnny Roastbeef and Frankie Carbone foolishly flaunted swanky gifts for their wives at the crew's holiday meetup, so "Jimmy The Grinch" promptly reprimanded them on the spot.
Henry Hill also didn't heed the "lay low" advice, but who could blame him? It was still the season of giving, after all. "Out of sight, out of mind" was how he played Jimmy. Into Hill house stormed ole Hendry with flair, jewelry, a fat stack of cash for Karen plus a big fancy tree — the most expensive one they had!
8. Eyes Wide Shut
It's the most wonderful time of the year!
There'll be rash infidelity
And a masquerade hellscape
When your spouse craves a peer
It's the most wonderful time of the year!
7. The Godfather Part II
The holidays are a time to reconnect with family and friends (of ours).
How thoughtful of the Don to leave his champagne cocktails high up in the Sierra Mountains to surprise Frankie Five Angels IN HIS HOME! on a cold, snowy NYC day.
And who could forget the generous all-gold telephone Christmas gift from United Telephone and Telegraph at the Havana meeting?
But what about the kids, Michael? Not to worry, that's what good ole Consigliere Claus is for.
6. Jaws: The Revenge
The fourth and most insane Jaws movie, Jaws: The Revenge, is 100% a Christmas movie. Decorations all over the place? Check. The first kill scored to Hark the Herald Angels Sing? Check.
It even has ties to the classic Christmas Carol lore. Martin Brody is killed offscreen before the movie (Ghost of Christmas Past). Revenge opens with the killing of Sean Brody (Ghost of Christmas Present) and it follows the shark's attempt to finish off Michael Brody (Ghost of Christmas Future).
5. Invasion U.S.A.
Before Die Hard and even before Lethal Weapon, there was the 1985 Chuck Norris classic, Invasion U.S.A. But in asking the question, "Is ___ a Christmas movie?" I've never heard Invasion U.S.A. mentioned, despite it being marketed as such in its trailer.
Led by an evil villain, Mikhail Rostov (Richard Lynch), a group of guerrilla fighters invade a Florida suburb, forcing retired CIA agent, Matt Hunter (Norris), back into action. And speaking of action, much of it takes place as people put up Christmas decorations and while they do their Christmas shopping, making it seem as if Rostov's war is with Christmas itself.
No tree is safe. No ornament is left intact. No present is completely wrapped. But fear not, for Matt Hunter carries the baddassery of 10 men within his sweet, sweet mullet, and he's ready to save Christmas.
4. Shazam!
This one's pretty simple and it follows the Die Hard model very similarly. A large chunk of the film takes place around Christmastime. While that's already good enough for our criteria, how can a character save Santa Claus, tell him how good they were this year, and not call it a Christmas movie?
Plus, there's enough sorrow around the holidays and people need to laugh. Shazam! is one of the funnier superhero movies in the regular rotation and should absolutely make the holiday display at Disc Replay.
3. Texas Chain Saw Massacre
Christmas is about spending time with family and loved ones. Gathered around the table sharing food and stories of the past. So what if that meal is made up of the latest batch of victims your family took out?
They say anything is an ornament if you put a little hook on it. In that case, Texas Chain Saw Massacre is Christmas through and through.
2. Dumb and Dumber
This is a list of Christmas movies, right? How can we exclude a movie where the main character is named (Lloyd) Christmas?!? Not enough for you?
Half of the movie takes place in a snowy mountain town where two out-of-towners are trying to track down a lovely lady to return her lost briefcase and hopefully ignite a spark of romance. If I hadn't already told you this was about Dumb and Dumber, you'd 100% think this is the plot of a Hallmark Christmas movie. Hell, it might already be one.
1. Hook
Christmas is a classic family holiday. Baseball is America's pastime. Combine the two and you've got some of the key ingredients to Hook.
It was Peter missing his son Jack's baseball game at the aptly named Santa Series. What is more Christmas movie than a tale about a man who is so focused on money and wealth that it drives a wedge in his family life and requires a supernatural situation to finally see the light?
---
There you have it. The next time someone says "Die Hard is a Christmas movie," take it to the next level by mentioning these 10 flicks. Happy holidays; be sure to celebrate appropriately — whatever your definition of that may be.
Stay tuned to On Tap Sports Net's pop culture page for more ridiculousness like this throughout the year.