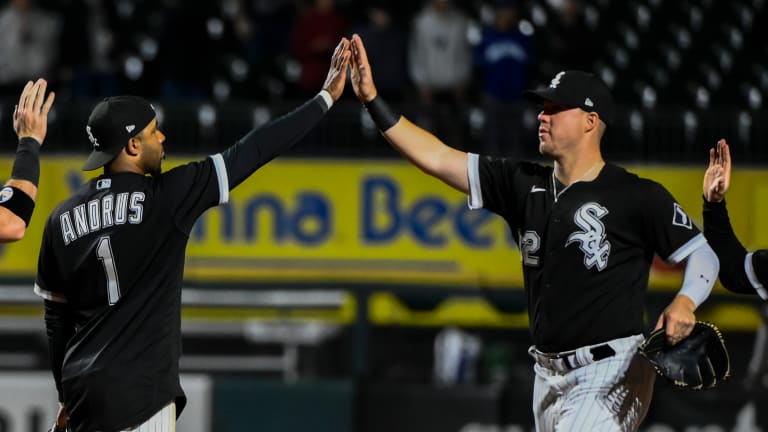 A Pair of 4-Run Innings Propel White Sox to 8-3 Win
The White Sox avoid a losing season with their third straight win on Tuesday.
Lucas Giolito was solid in his final start of the 2022 season. He fanned four and permitted just two hits and two walks. The Chicago White Sox righty finishes his season with an ERA of 4.90 in 161.2 IP. It was a disappointing year for Giolito, who will look to bounce back to his former self in 2023.
The White Sox jumped out to an early 8-1 lead after the fourth. The exclamation point on the back-to-back four-run innings was a three-run homer by Elvis Andrus. It was his third homer in four games. Gavin Sheets, Yoan Moncada, Eloy Jimenez, and Adam Engel each drove in a run with a double. The Sox have won five of their last six. The win clinches at least a .500 finish.
The Twins fell for the fourth straight game. Jermaine Palacios hit his first career homer in the ninth off of Jose Ruiz. Jake Cave opened the scoring with a sacrifice fly, and Nick Gordon added an RBI base hit in the sixth. Twins starter Josh Winder allowed four runs in 2.1 innings. He fanned two and issued a free pass.
Race to Batting Title
Luis Arraez had one hit to maintain his first-place lead for the AL batting title. He extended his hitting streak to eight games and carries a .315 batting average. He can become the fifth Twins player to win the title. Arraez leads Aaron Judge, who is hitting .311. The Yankees slugger can win the AL Triple Crown if he can pass Arraez. Judge homered in the second game of the Yankees doubleheader against Texas on Tuesday, setting the AL record with his 62nd homer. He leads the AL with 131 RBI as well.
End of an Era?
White Sox Slugger Jose Abreu may have played his last game in a White Sox uniform. The 35-year-old is a free agent after the season when his three-year extension expires. Abreu said he's still "hungry" for more baseball, but unsure where that will happen. Miguel Cairo indicated that Abreu - along with a few other regulars - will not play in the season finale.
"I'm a White Sox now and I'll be a White Sox tomorrow," Abreu said through his translator, "What's going to happen after that, we'll see.
What's On Tap Next?
Minnesota's Louis Varland will face Chicago's Davis Martin in the regular-season finale on Wednesday afternoon. You can watch it all on NBC Sports Chicago and Sox On Tap will have the postgame.