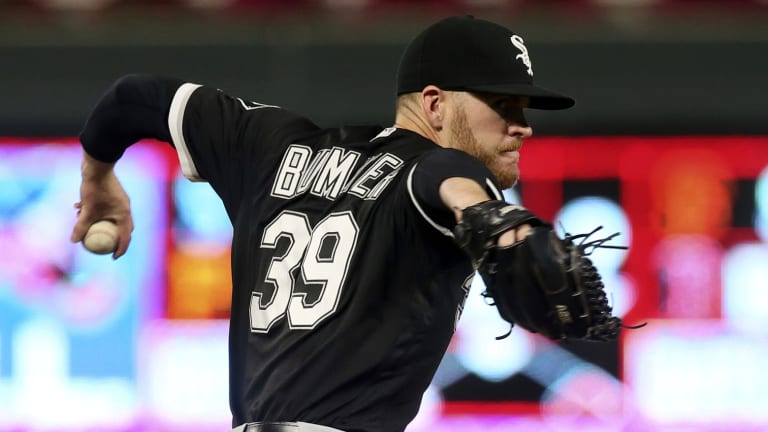 Aaron Bummer to Begin Rehab; White Sox Legends Defend La Russa
The White Sox announced Aaron Bummer will begin his rehab assignment while former South Side legends defended Tony La Russa.
The Chicago White Sox announced that Aaron Bummer will begin a rehab assignment Tuesday with Triple-A Charlotte. He landed on the injured list in June with a lat strain and has not pitched since June 12. Bummer spoke to media in July and eyed a September return, which seems likely at this point.
Bummer pitched in 20 games prior to his stint on the injury list. He posted a 3.06 ERA and 1.58 WHIP. He fanned 21 hitters and issued nine free passes.
"We're definitely moving in the right direction and things are starting to feel a lot better," Bummer said in mid-August. "Once we get through that rehab assignment, we'll be ready when the time comes."
The White Sox have lacked depth in left-handed relief pitching. The South Siders lost southpaw Garret Crochet for the season after he underwent Tommy John surgery late in Spring Training. Bennett Sousa and Tanner Banks both made their MLB debuts in 2022 to fill that void, but did so with minimal success. Rick Hahn traded for left-handed reliever Jake Diekman in effort to improve the situation.
The White Sox pitching staff has the 19th-highest WHIP in the baseball since the All-Star break. They've also allowed the 17th-highest batting average in that span.
White Sox Legends Speak Out
Ron Kittle and Hawk Harrelson were on the links Monday for the White Sox annual 'Field of Greens' charity golf outing. Neither held back when sharing their thoughts about the White Sox and manager Tony La Russa.
"I'm a Tony La Russa fan from way back. I've known him since 1979. There is no better manager in baseball than Tony," Sox great Ron Kittle said. Kittle won Rookie of the Year in 1983 with La Russa as his skipper. "Unfortunately, a lot of the players – they're more interested in social media than they are sitting out there hustling and busting their butt to win or lose the ballgame. You lose a game busting your butt, you tip your hat to the guy. If you do it lackadaisically or lazy, I don't want to put up with that stuff."
Hawk Sounds Off
The former Chicago White Sox' play-by-play announcer Hawk Harrelson elaborated further. "People are getting on Tony's [expletive] and the thing about it is, he can only play with what he's got. If you keep getting these guys going on the DL, you don't have anything."
"We've got people in the stands that know more about the game than I do," Harrelson noted. "They're baseball fans. They're White Sox fans. The thing about it is, if you can't be optimistic then you should go to another sport rather than be pessimistic or getting on Tony's [expletive] or whatever it may be.
"It's not his fault. It's just that simple."
White Sox Broadcasting Update
The White Sox and Royals contest on Thursday will air exclusively on YouTube. NBC Sports Chicago will not air the National Broadcast. Scott Braun and former White Sox' DH/1B Yonder Alonso will be on the call. Game time is at 1:10 PM CDT.
Injury Update
Yasmani Grandal joined the team today in Chicago. Grandal is expected to be activated Thursday.