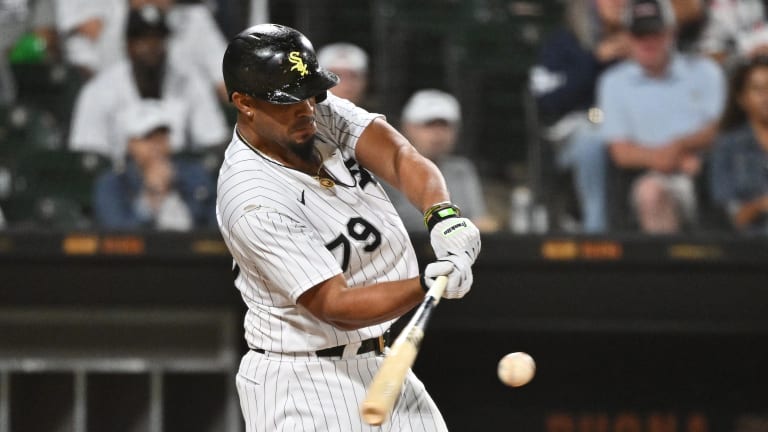 Chicago Cubs Showing Interest in Jose Abreu, Per Report
According to Bruce Levine of 670 The Score, it is the Chicago Cubs, not the Chicago White Sox that are interested in Jose Abreu's services.
Jose Abreu has spent his entire big-league career with the Chicago White Sox. That is a statement that seems likely to change by the time Spring Training arrives in 2023. The 35-year-old veteran first baseman will enter free agency this off-season and early reports indicate that the White Sox will be moving on from their nine-year relationship with the Cuban slugger. 
On 670 The Score's Saturday baseball show "Inside the Clubhouse", MLB reporter Bruce Levine shed some light on where Abreu could potentially wind up next season.
A move across town for Abreu would likely be yet another gut punch to White Sox fans who not only witnessed their team fail to make the playoffs in the middle of their contention window, now face the reality of Jose Abreu potentially wearing another uniform. Remember how weird it was to see Frank Thomas in Oakland? This would probably feel just as uncomfortable.
 However, should Abreu not return to the White Sox, a move to the north side of Chicago would at least theoretically make sense. There are multiple reasons why.
Jose Abreu has spent his entire MLB career in the city of Chicago. He also has hit historically well at Wrigley Field. White Sox and Cubs fans certainly remember this display of power that took place in 2020. 
The Chicago Cubs are also in a position where they are once again looking to compete. Adding a veteran power hitter to the middle of their order certainly wouldn't hurt.
While today's reports indicate there is some interest from the Cubs in bringing Jose Abreu aboard, it is still far too early for any official moves to be made. Abreu and all other MLB Free Agents will be able to officially sign with clubs five days after the completion of the World Series.