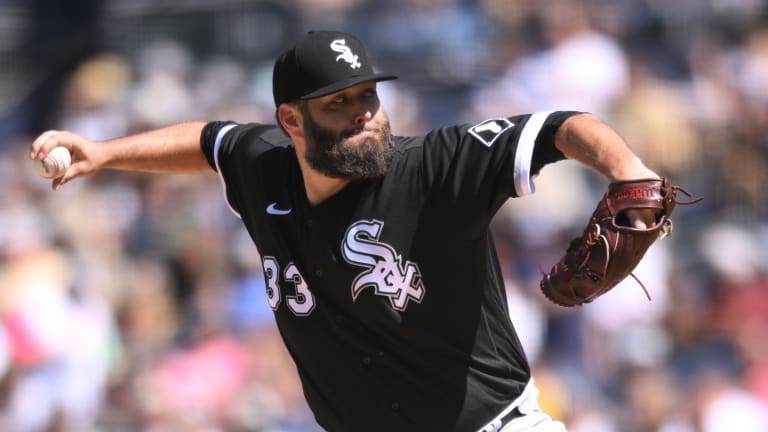 2022 White Sox in Review: Lance Lynn
The big right-hander started slow but finished strong after beginning the season on the injured list.
The Chicago White Sox were hit hard by the injury bug all throughout the 2022 season. One of the biggest losses among the injured was Lance Lynn. He exited his final Spring Training start with a knee issue that required surgery and caused him to miss the first nine weeks of the season. Lynn had a brief rehab stint with Triple-A Charlotte before returning to Chicago, where the results of his 21 starts during the 2022 campaign were mixed.
Lance Lynn's 2022 Season: Rough Start, Strong Finish
After returning from the injured list, Lynn needed some time to get his legs under him. He endured a nine-week layoff after surgery and made just three starts in Triple-A. Lynn made his White Sox season debut on June 13 in Detroit.
The beginning of the year started off poorly. Lynn was roughed up against Oakland on July 29 for four runs in 5.2 innings pitched. He carried an ERA of 6.42 after that game, his ninth start. However, that was the turning point for the big righty. He made some adjustments to his pitching repertoire that paid big dividends for the rest of the year.
Through his final 12 starts of the year, Lynn tossed 74 innings with 75 strikeouts and just nine walks for a 2.43 ERA. He produced 10 quality starts in those 12 outings, representing a stark contrast to his initial performance.
This was the version of Lance Lynn we saw in 2021, a season in which he earned All-Star honors and finished third in AL Cy Young voting. After his final start of 2022, he finished the season with an ERA of 3.99 in 121.2 innings.
Final Grade: B
What's On Tap Next?
The biggest key to the Chicago White Sox 2023 season will be improved health. There are more than a few players that need to bounce back from injuries. Lance Lynn is one of those players that must stay healthy for the entire 2023 campaign. His health is paramount to the success of the team. The South Siders will be counting on Lynn to replicate his results from the back half of his 2022 season, which would provide stability to the starting rotation.