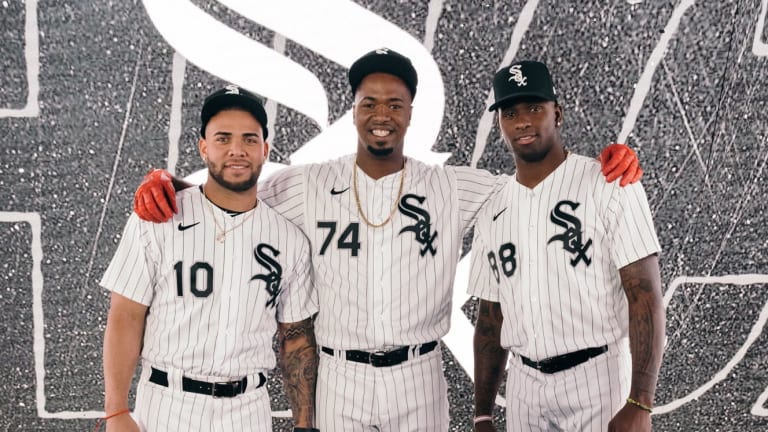 Uneven Early Returns: White Sox Need More From Their Core
Have the early contract extensions given to members of the White Sox core benefited the team to this point?
Early on in his GM tenure, one thing that Rick Hahn was lauded for was his ability to lock up players viewed as core pieces to the Chicago White Sox' future. Deals given to the likes of Chris Sale, Jose Quintana, and Adam Eaton positioned the team (on paper anyway) to establish a well-rounded core. One of the prevailing thoughts behind this business model was that it would allow the team "financial flexibility" to go out into the open market and bring in pieces that were needed to fill gaps.
We all know that didn't pan out during the first rebuild, and as the page turned to rebuild 2.0 the business model stayed in place. We were told tales at events like SoxFest (remember when that was a thing) that this team would have the financial flexibility to augment what was promised to be a dynamic core, the likes of which we hadn't seen before as fans. 
Here we are now three seasons into the "window" coming off a .500 season, and there are more questions than answers surrounding a group that was the talk of prospect evaluators and scouts just a few years ago. Players like Yoan Moncada, Eloy Jimenez, and Luis Robert were given long-term contracts, keeping them in the fold for the foreseeable future. As time has gone on, however, we have to wonder if these deals have had the opposite effect of what was originally intended.
Who's Available?
Since signing their long-term deals with the White Sox, the aforementioned trio has been anything but durable. Jimenez and Robert have played in only 57.8% of eligible games since signing their deals, while Moncada has suited up for 78.1% (and those numbers don't even take into account early exits from games started).
Needless to say, that just hasn't been enough. We talk often that availability is perhaps the most important ability for professional athletes, and this group simply hasn't been available enough to give this team the best opportunity to win on a nightly basis.
This unfortunately opens the three up to a lot of social media fodder about their toughness and desire to play the game of baseball. I'm not interested in having those discussions, but the fact that these three are missing far too often simply cannot be ignored. Will that change with turnover and philosophical changes in the team's strength and conditioning/performance staff? One can only hope.
Inconsistent Performance
While on the field, the three prized former prospects have seen flashes of brilliance giving us a glimpse of the stardom we were promised.  However, the inconsistency has been hard to ignore from each.
Yoan Moncada
Since signing his deal heading into the 2020 COVID-shortened season, Yoan Moncada has slashed .238/.331/.386, good for a 101 wRC+.  Defensively, Moncada has been solid at third base overall, helping to keep his WAR figure positive. The Cuban infielder has amassed 6.0 fWAR in that time, although 4.0 of that value came during his 2021 season.  Subpar 2020 and 2022 seasons have opened Moncada up to a wide array of scrutiny from fans and media outlets around the White Sox.
Heading into the 2023 season, Moncada's deal will begin to escalate as his salary jumps to $17.8 million. I feel confident in saying that even the most ardent supporters of Yoan don't believe he would warrant that salary were he to be on the open market. 
This upcoming season will be a pivotal one for Moncada as he looks to restore his footing on this roster. Should he falter again, while his salary increases in the final year of his deal, the chorus of boos will only grow louder.
Eloy Jimenez
Eloy Jimenez has been no stranger to up and down performance since arriving to the corner of 35th/Shields at the start of the 2019 season. For his career, he's slashed a solid .276/.327/.504, good for a 124 wRC+ and 5.1 fWAR. We have seen flashes of the middle-of-the-order masher we were promised. But at the same time, we've seen a player that struggles to maintain that power for the entirety of a 162-game season. We can't forget the 2021 season when he re-emerged from his torn pectoral muscle to produce a mere 100 wRC+ and simply wasn't the threat in the heart of the order that the team needed.
If Eloy can be the thumper he was when returned from injury on July 6 this past season, many of the previous inconsistencies can be forgotten.  Eloy looked like one of the top sluggers in the league upon his return, producing a 154 wRC+ and 15 homers for a team that desperately needs his power to sustain itself.
The soon-to-be 26-year-old Dominican will earn $10.3 million in 2023, and if he can produce at the level he did when he came back last season, it will be a true bargain. But if he returns to the ground ball machine he was during the 2021 season, the White Sox will again have themselves a player that isn't producing commensurate with his salary.
Luis Robert
Luis Robert is the youngest of the trio, and thus the least finished product. A player that possesses all the physical tools and looks like an Under Armour mannequin, La Pantera was supposed to be an MVP candidate in 2022. Yet, his over-aggressiveness at the plate and various lingering injuries caused his production to wane down the stretch. Long-term questions about his plate approach, particularly his swing-happy presence in the batter's box, have caused some to wonder if he will ever live up to the promise he had just a few years ago.
There is still much of the book to be written on Robert, but the various chapters we have seen to this point are all over the map. In 2020, we saw a rookie that was elite defensively with fantastic raw tools at the plate that needed more seasoning. In 2021, he came back from a torn hip flexor to look like the MVP candidate we were sold on when he defected from Cuba. This past year, it was a Jekyll and Hyde act that has many of us unsure of what to expect from the 25-year-old center fielder.
Robert is slated to earn $9.5 million in 2023, and if he can find his way back to the player he was in the second half of the 2021 season, the White Sox will have one of the biggest bargains in the sport. However, his ability to do so given his health history and flaws in plate approach makes it far from a guarantee.
Flexibility?
As I alluded to earlier, one of the goals of signing these three players to long-term deals that were described at the time as "team friendly" was creating both roster and financial flexibility. Yet, health and performance inconsistencies have done the opposite. For a team that is in need of reshaping its roster, the three formerly high-prized prospects have actually hindered the Sox' ability to do so.
If they were to move on from any of the players (not that I'm advocating this), the team would be selling low on the potential upside. Yet, if the White Sox continue to stand pat, they run the risk of the contracts for Eloy Jimenez and Luis Robert going underwater the way the deal has for Yoan Moncada. Essentially, the team is caught between a rock and a hard place right now.
Given that the Chicago White Sox are owned by a man who refuses to operate like he owns a major market team, Rick Hahn had no choice but to use the early extension business model. He knows that if the three had performed to their prospect pedigrees, the likelihood of them being at 35th/Shields long-term was slim to none. There are risks in all deals when you give guaranteed contracts to young, relatively unproven players.
The Sox extracted tons of value early on in Hahn's tenure from these types of deals, perhaps causing him to get complacent in thinking the practice would always work out to the team's benefit. As it stands today, these three are poster children for risk management in the game of baseball.
All three have the opportunity to right the proverbial ship in 2023 and potentially springboard the White Sox back into contention.  They will be sorely needed if this team is to bounce back from one of the most disappointing and deflating seasons in recent memory.