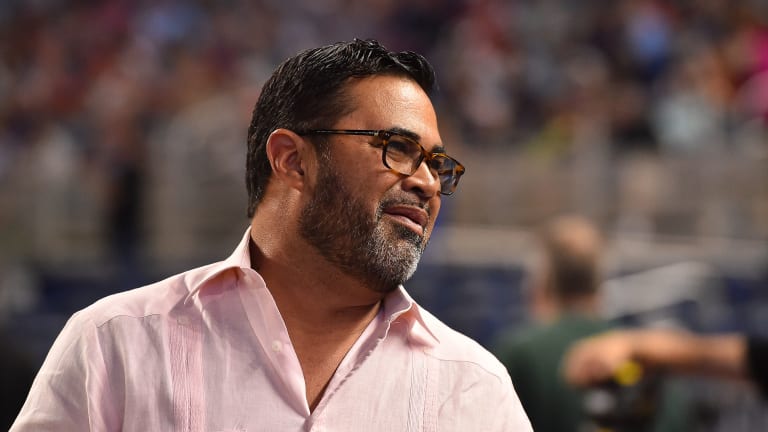 White Sox Reportedly Interview Ozzie Guillen
Guillen's name has been amidst rumors of interviewees over the last couple of weeks.
Enrique Rojas of ESPN reports that the Chicago White Sox interviewed former manager Ozzie Guillen on Monday. This report follows conflicting reports regarding the 2005 World Series champion. Rojas states that this is Guillen's second meeting with the team and he first met with owner Jerry Reinsdorf. The most recent meeting took place with general manager Rick Hahn. These multiple meetings may have been the root cause of last week's confusion.
The former Sox skipper famously led Chicago to its first World Series title in 88 years. Guillen has been a staple of the White Sox studio broadcast, where he offers his unique brand of colorful analysis on pre- and post-game shows. He made his thoughts about a return to the White Sox dugout known on the final post-game show of the season with some bold comments about his unique qualifications for the job.
The temperature continues to elevate when it comes to Ozzie Guillen and a handful of other White Sox manager candidates. Various names have been reported, rumored, and interviewed since the conclusion of the season. David Kaplan recently reported that credible sources have informed him that Guillen is a serious candidate.
The Chicago White Sox infamously hired retired Hall of Fame manager Tony La Russa in 2020. Chicago's managerial hires in the past have had former ties to the team, and hiring Guillen would follow that precedent. Conversely, the White Sox front office lacks predictability.
La Russa's hiring was announced two days after the conclusion of the 2020 World Series. This year's Fall Classic is underway and a new manager could be hired anytime. Ozzie Guillen's name has churned out of the rumor mill multiple times and typically where there is smoke there is fire.