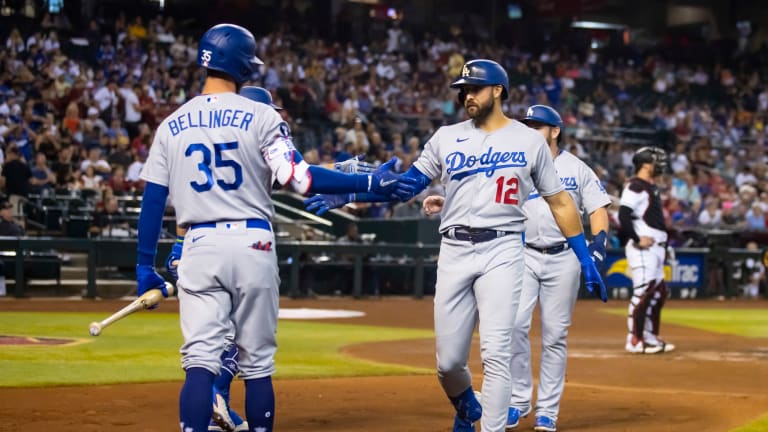 White Sox Free Agency: Hard Pass on Cody Bellinger and Joey Gallo
Should the White Sox gamble on a change of scenery benefitting a couple of past sluggers?
It's fantasy GM season for baseball fans. Supporters of all 30 clubs are doing their annual offseason plans, trying to figure out how they want their favorite team to behave this winter. For Chicago White Sox fans, it's a challenging time of year. An owner that isn't willing to push in all the chips needed to be a true contender leaves many trying to be realistic by shopping at bargain stores instead of the luxury ones that other true major market teams peruse.
The sad reality we are faced with causes the fan base to often look for reclamation projects to plug holes instead of going for more certainty. This has been kicked into overdrive in recent days with the news of the Los Angeles Dodgers' decision to non-tender 2019 NL MVP Cody Bellinger. He joins another darling of the fan base, Joey Gallo, in the open market, making him available to all teams.
While Bellinger and Gallo check boxes on the surface — left-hand hitting power bats, above average outfielder — they miss the mark in some key areas. Yes, you could argue that shoring up the team's outfield defense should be a priority this winter, but I personally don't feel that either player is the best option.
Both Bellinger and Gallo are trending the wrong way offensively, and if you were awake for more than 27 consecutive minutes of the 2022 White Sox season, you know that this team's most glaring need is to fix its offense. We saw how a team that hits for power, the Philadelphia Phillies, can overcome their defensive deficiencies to win a pennant. That, in many ways, should serve as a foundation for the White Sox this winter.
Ideally, you would love to bring in multi-dimensional players that provide value on both sides of the ball, but again, we're White Sox fans and we need to temper our expectations. So if we have to pick one, give me them big boppers that are going to make the ball go far. 
Cody Bellinger
Cody Bellinger looked like a top-five player in the sport when he won the 2019 NL MVP for the Los Angeles Dodgers. He hit 47 home runs in spacious Dodgers Stadium, putting up 7.7 fWAR and showing defensive versatility by playing first base and various outfield spots. In fact, for his first four full seasons, Bellinger showed he was a star in the making.  During that time, he slashed .273/.364/.547, good for a 137 wRC+, crushing 123 home runs across 2,083 plate appearances. The Dodgers looked like they had the next face of their franchise.
Since the euphoria of the 2020 championship faded, Bellinger has looked like a completely different player in the batter's box. Over the last two seasons, his slash line is a gut-wrenching .193/.256/.355, good for a 69 wRC+ and 29 home runs across 900 plate appearances.
His plate discipline and expected values have also taken a nosedive, leading many to believe this isn't just a blip on the radar caused by bad luck.
Cody Bellinger's splits

| | 2017 -2020 | 2021 -2022 |
| --- | --- | --- |
| BB% | 12.4% | 7.7% |
| K% | 21.5% | 27.1% |
| xwOBA | .375 | .279 |
Simply put, Bellinger is making less contact over the last two seasons than when he initially entered the league, and when he does put the bat on the ball, it is nowhere near as impactful. This is not a positive trend for a player that is 27 and should be in the prime of his career.
Joey Gallo
Joey Gallo is the "three true outcomes" poster child for the modern era. We're not here to debate whether TTO players are positive or negative, but Gallo is certainly the player that first comes to mind when thinking about these types of players in the game today.
Gallo was a top prospect coming up through the Texas Rangers system and struggled initially during his first two big league seasons. However, starting in 2017 he started to emerge as a middle-of-the-order masher that could provide positive value in corner outfield spots. Think of him as a more athletic version of Adam Dunn (go back and look at Dunn's career before coming to the White Sox).
Gallo's power emergence was the type of thing that modern analytical baseball minds salivated over. A player that hit the ball hard, far, and often enough that he could balance out the significant swing-and-miss in his game. From the start of the 2017 season until his trade to the Yankees last July, Gallo's offensive line read .214/.340/.507, good for a 120 wRC+ and 138 home runs spanning 2,020 plate appearances. Sprinkled in their was positive corner outfield defense, making him a hot commodity at the 2021 trade deadline.
After arriving in the Bronx, however, Gallo spiraled offensively. With the Yankees and subsequently the Dodgers, his offensive value completely cratered. In the time since leaving Texas, Gallo has slashed .160/.288/.379 with an 89 wRC+ and 32 home runs across 638 plate appearances. The home run numbers are fine by themselves, but the lack of contact is troubling to say the least.
Gallo has seen a decline in his expected offensive values during this downturn, as well. From the start of the 2017 season until the trade to New York, he put up a .372 xwOBA. This is the type of figure you see from some of the top sluggers in the sport. Since donning Yankee pinstripes, that number has fallen to a .301 xwOBA. His BB% has remained relatively unchanged, yet he his K% has now ballooned to a whopping 39.3%. Yes, it was always high, but that figure is simply unsustainable.
Need For Certainty
If the Chicago White Sox are going to reshape their roster in 2023 and claw their way back atop the AL Central, players with profiles similar to Cody Bellinger and Joey Gallo should not be on the shopping list. Yes, both are left-handed. Sure, both play above-average outfield defense, checking boxes that this team desperately needs. However, there is too much uncertainty surrounding both players offensively for this White Sox team to gamble.
If a well-oiled machine like the Los Angeles Dodgers, who have made the playoffs every season for the past decade, has decided that neither player could be fixed to their satisfaction, what makes fans think the White Sox can turn them around? A new coaching staff and potential new philosophies could help, but if LA couldn't get these two turned around at the plate, I have less than zero confidence in the White Sox organization being able to do so.
With the White Sox battling their own level of uncertainty with players currently on the roster, adding external question marks surely isn't the best course of action. I know on the surface people think because of superficial reasons maybe these two will bounce back to the form they displayed a few seasons ago, but the 2023 White Sox simply cannot afford the risk. The roster will have too much volatility due to injuries and inconsistent performance to gamble on castoffs from successful organizations.