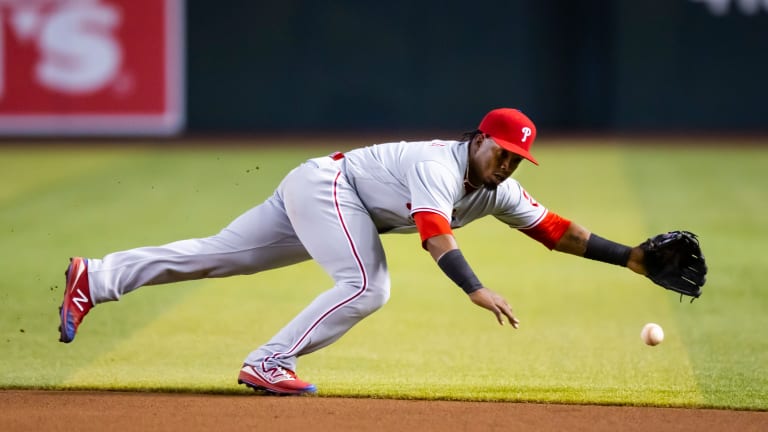 Unfinished Business: How The White Sox Could Address 2B and RF Entering 2023
The Sox' options for meaningful improvement provide another litmus test for their seriousness as a contender.
The Chicago White Sox have addressed a few glaring needs and added depth to the organization so far this offseason. However, there are still a few areas that need fortifying before the team heads to Spring Training.
Rick Hahn said at the GM meetings earlier this month that the Sox payroll will remain "largely the same" as it was in 2022. The additions of Mike Clevinger and Andrew Benintendi plus arbitration projections will put the White Sox payroll at roughly $185 million. This is still short of their $193 million mark on opening day last season. The Pale Hose may have $8 million or so left in their budget, meaning they can still add to the roster externally. However, it's difficult to discern what Hahn means by "largely."
Nevertheless, that won't stop us from speculating how their remaining needs could be addressed.
Second Base
Second base has been a revolving door for the White Sox for some time now. Former first-round pick Nick Madrigal held the position in 2020 and the first half of 2021. The Sox eventually dealt him their crosstown rivals in exchange for closer Craig Kimbrel. The trade did not work out well for either party thus far, and Madrigal could be the odd man out for the Cubs in 2023 after some free-agent additions.
The South Siders have utilized veterans Ceasar Hernandez and Josh Harrison in the position since, but the results were sub-par.
A Familiar Face?
Could a reunion with Madgrial be in the cards for the White Sox? Seems unlikely.
Madrigal comes with injury concerns, and if healthy, prospects Romy Gonzalez or Lenyn Sosa have the potential to match or exceed Madrigal's production. Madrigal made mistakes on the bases and in the field that were damning to his billing as a prospect. He may still have some unlocked potential, but his inability to stay on the field makes it seem unlikely.
The White Sox have many issues with players staying on the field, so adding further uncertainty to the starting lineup would be misguided. Hard pass.
Free Agency
If Chicago has the financial flexibility often touted by the front office, the free-agent market offers solutions.
The Philadelphia Phillies have had a raucous offseason adding the likes of Trea Turner and Taijuan Walker. The reigning NL champs may not have a need to bring back Jean Segura. With the addition of Turner, the Phillies can make Bryson Stott their permanent second baseman. Segura, who played just 98 games in 2022, seems like the odd man out.
The 32-year-old veteran free agent has been durable throughout his 10-year career. The floor for Segura is roughly the same as one would expect from Josh Harrison, but his ceiling is higher. Segura posted a 3.7 WAR at second base in 2021. Chicago has not had a second baseman with a 3+ WAR season since Yolmer Sanchez in 2017. Segura is a flawed player and isn't quite the right fit for a team that needs left-handed hitting, but few options exist at this point.
The determining factor will — as almost always — be a financial one. Per Spotrac, Segura's market value is roughly $5 million, which is feasible for the White Sox. Those estimates, and maybe even 10% more, still fit in the White Sox' current market.
Right Field
It's best Sox fans don't think about the number of players that have patrolled right field over the last decade. Luckily, Chicago has top-100 prospect Oscar Colas ready for the opportunity to take over the starting duties.
Colas is a promising young talent despite only having one year of minor-league experience. But it would be prudent for the White Sox to consider external options to help ease Colas into the fold and improve their depth.
Trades
The trade partner and player have to align to make any deal a reality. One of those realities could consist of Seth Brown and the Oakland Athletics.
Brown is yet to hit arbitration but is scheduled to do so after 2023. Oakland tends to move their players before arbitration as a cost-cutting measure. He provides a solid left-handed bat with some power and has hit 20 and 25 home runs in the last two seasons, respectively. The 30-year-old can play both corner outfield positions and first base. Brown leaves a lot to be desired in the outfield, but Chicago's lineup needs power.
The White Sox' existing core has yet to prove a full season of durability. Eloy Jimenez played in just 84 and 55 games last two seasons and Andrew Vaughn saw the field 127 and 134 times, respectively. Colas will eventually find his way into the outfield mix, but pairing him with Brown would alleviate pressure from the inexperienced Cuban.
The South Siders would have to acquire Brown via trade, and they may have the capital to do so. Oakland just shipped catcher Sean Murphy to Atlanta via a three-way deal with Milwaukee. In exchange, the A's received a handful of low-level prospects. The trade seemed lop-sided on paper, but the A's have been known to "do their own thing".
Jose "Popeye" Rodriguez or Bryan Ramos could be enough to sway the Athletics, depending on their wants. Nevertheless, the trade value simulator shows the White Sox have a player or two of equal value.
The Time is Now
Whether Chicago White Sox are active in free agency or not at this point, they have some decent fallback options. However, an opportunity to add certainty and power to their lineup exists, and they should act on it.
Second base and right field are two positions ripe for improvement and those upgrades could be enough to tip the scales in their favor in the AL Central or wild card race. They have the financial flexibility and trade capital to make these acquisitions happen. The ball is in the front office's court to show fans how serious they are about contending in 2023.