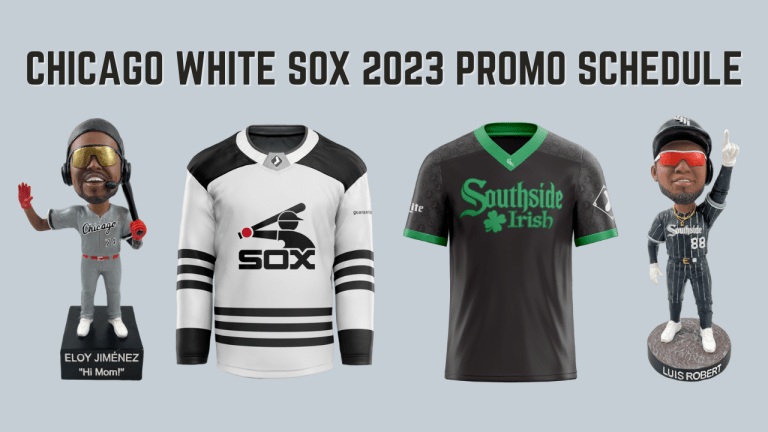 White Sox 2023 Promotional Schedule: Giveaways, Key Dates, Fireworks, and More
Here are the key dates for giveaways, theme nights, fireworks, and more on the White Sox 2023 promotional schedule.
MLB's offseason is just getting underway, but fans are already itching to get back to the ballpark. The Chicago White Sox only added to that urge Thursday when they released their 2023 promotional schedule.
The highlights are the Eloy Jimenez 'Hi Mom' bobblehead and the Luis Robert bobblehead. Per usual, the White Sox will offer a Hawaiian shirt, but in an interesting development, hockey, basketball, football, and soccer jerseys are also among the giveaways. The South Siders have done a couple of each in previous years, but this season will feature the full boat.
Here is the initial White Sox promotional schedule for 2023. Expect more giveaways and theme nights to be announced at a later date. 
Chicago White Sox 2023 Promotional Schedule
Monday, April 3 vs. Giants (Home Opener) - 2023 Magnetic Schedule
All fans
Saturday, April 15 vs. Orioles - 1993 American League West Division Champions Crewneck
First 15,000 fans | Available in adult M or adult XL only
Saturday, April 29 vs. Rays - White Sox Hockey Jersey
First 20,000 fans | Available in adult M or adult XL only
Saturday, May 13 vs. Astros - Eloy Jimenez 'Hi Mom' Talking Bobblehead
First 20,000 fans
Saturday, June 3 vs. Tigers - White Sox Bucket Hat
First 10,000 fans 21+
Saturday, June 10 vs. Marlins - White Sox Hawaiian Shirt
First 20,000 fans | Available in adult M or adult XL only
Saturday, June 24 vs. Red Sox - White Sox Basketball Jersey
First 20,000 fans | Available in adult M or adult XL only
Saturday, July 8 vs. Cardinals - Luis Robert Bobblehead
First 20,000 fans
Saturday, August 12 vs. Brewers - White Sox Football Jersey
First 10,000 fans | Available in adult M or adult XL only
Saturday, September 2 vs. Tigers - White Sox Soccer Jersey
First 20,000 fans | Available in adult M or adult XL only
Saturday, September 16 vs. Twins - Halfway to St. Patrick's Day Southside Irish Jersey
First 10,000 fans | Available in adult M or adult XL only
Saturday, September 30 vs. Padres - Hispanic Heritage Night
Post-Game Fireworks
All Fridays except for Tuesday, July 4
April 28 vs. Rays
May 12 vs. Astros
May 19 vs. Royals
June 2 vs. Tigers
June 9 Marlins
June 23 vs. Red Sox
July 4 vs. Blue Jays
July 7 vs. Cardinals
July 28 vs. Guardians
August 11 vs. Brewers
August 25 vs. Athletics
September 1 vs. Tigers
September 15 vs. Twins
September 29 vs. Padres
Family Sundays
April 16 vs. Orioles
April 30 vs. Rays
May 14 vs. Astros
May 21 vs. Royals
June 4 vs. Tigers
Jun 11 vs. Marlins
June 25 vs. Red Sox
July 9 vs. Cardinals
July 30 vs. Guardians
August 13 vs. Brewers
August 27 vs. Athletics
September 3 vs. Tigers
September 17 vs. Twins
October 1 vs. Padres
RELATED: Chicago White Sox 2023 Spring Training Schedule, Including World Baseball Classic Opponent