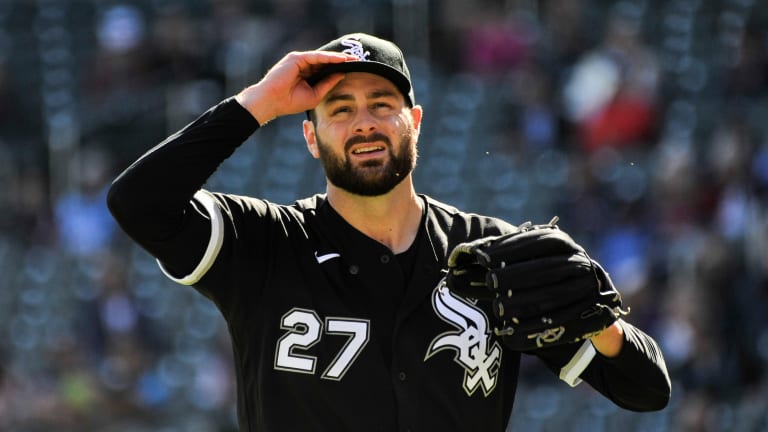 White Sox Rumors: Lucas Giolito on the Trade Block
Jon Heyman mentioned Giolito as a name that teams are asking about in trades.
Lucas Giolito's name has recently made its way into the rumor mill. Jon Heyman recently spoke with Jon Heyman and Joel Sherman on MLB Network regarding off-season activity. Among a variety of topics, Heyman was asked "is there one player in particular" he was hearing a lot about the trade market. Giolito was one of the players he mentioned specifically.
This does not come as much of a surprise based on White Sox GM Rick Hahn's comments on the offseason. In his season-ending press conference, Hahn spoke about how the trade market might be more fruitful than free agency.
Lucas Giolito's Uncertain Future With The White Sox
Giolito is entering his final year of arbitration with the White Sox. Per MLB Trade Rumors, he is likely to receive roughly $10.8 million, which is roughly a $3 million raise over his 2022 salary. That figure is a bit steep considering Giolito's regression last year and multiple areas on the White Sox roster that need to be addressed.
In 2022, Giolito was not the same pitcher Chicago had grown accustomed to. While he did have two stints on the injured list, he still managed to make 30 starts. However, the results were disappointing considering his track record. Giolito appeared to cement himself as one of the better pitchers in the American League from 2019-2021.
He finished 2022 with a 4.90 ERA after tossing 161.2 innings. He fanned 177 hitters but held a WHIP of 1.435 as he allowed a lot of hard contact. There were rumors that the Sox tried to sign him to a contract extension and also ran into some issues with arbitration last year. It seems highly unlikely he'll be pitching for the South Siders long-term.
Lucas Giolito's trade value has definitely taken a hit due to his 2022 performance. He also has just one year of control remaining. However, a contending team with deep pockets, such as the Los Angeles Dodgers, may have no issue re-signing him if he bounces back. What the Chicago White Sox are willing to accept in a trade at this point is anyone's guess. We will have more updates to come as the offseason gets underway.