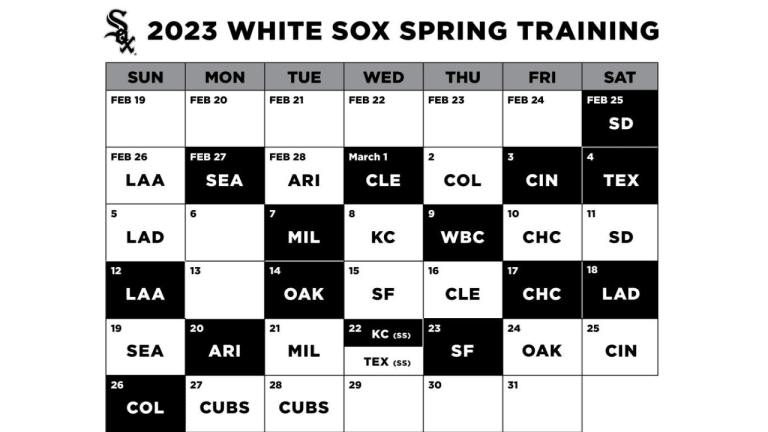 Chicago White Sox Release 2023 Spring Training Schedule
Here's how the South Siders' 2023 Cactus League slate will play out.
On Wednesday afternoon, the Chicago White Sox announced their 2023 Spring Training schedule. After a delayed start in 2022 due to the lockout, MLB clubs will return to the typical late-February kickoff timeframe for exhibition games in 2023.
The White Sox open their 2023 Spring Training slate against the Padres on Feb. 25 at Camelback Ranch. They'll hit the road for Tempe to visit the Angels the following day. After nine games in as many days to open the schedule, the South Siders have an off day on March 6.
A unique twist for 2023, the White Sox will host a World Baseball Classic team on March 9. The opponent will be announced at a later date. A Crosstown Classic in the desert follows as the South Siders visit the Cubs on March 10. The Sox have their second and final off day of the spring on March 13.
As part of a stacked second-to-last weekend of Cactus League action, the White Sox host the Cubs on St. Patrick's Day. The second Battle of Camelback Ranch in 2023 sees the Sox host the Dodgers on March 18.
Chicago's lone split-squad day takes place on March 22 with a home game against the Royals and a road tilt vs. the Rangers. The White Sox' 2023 Spring Training schedule wraps up with a pair of games against the Cubs in Mesa on March 27 and 28.
Then it's on to the regular season, which features a challenging opening month. The South Siders begin the real deal on March 30 in Houston.
Chicago White Sox 2023 Spring Training Schedule